Event posted by

Marisa Pettit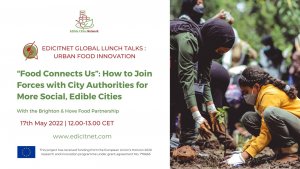 Tuesday, 17 May 2022 -

12:00

to

13:00 (Europe/Brussels)
In the bi-monthly webinar series EdiCitNet Global Lunch Talks we are exploring experiences from different countries around the world: challenges, opportunities and best practice cases for greener, more liveable and more edible cities.
EdiCitNet Global Lunch Talk #2: "Food Connects Us": How to Join Forces with City Authorities for More Social, Edible Cities
The Brighton & Hove Food Partnership is a non-profit organisation helping people learn to cook, eat a healthy diet, grow their own food and waste less food. They run their own community kitchen, act as a connecting hub for citizens looking to volunteer in community gardens and community food projects, support food banks and help to tackle food waste through a range of different programmes.
The organisation believes that good food is a right for all, brings power and energy to everyone and is a joy to be shared. In this webinar they explore why food is such a meaningful area for cross-city and cross-sectoral partnership, and share how they've used food as a galvanising force to build up a close working relationship with our local authority. They reflect on the advantages and challenges of having a non-governmental organisation working closely with the local authority around issues of food, as well as sharing some practical tips to other NGOs looking to build up alliances around food.