Event posted by

Nadine Moreby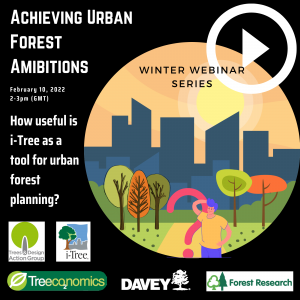 Thursday, 10 February 2022 -

14:00

to

15:00 (Europe/Brussels)
How useful is i-Tree as a tool for urban forest planning?
Join us at the final webinar in our Winter series, and hear Keith Sacre (Treeconomics/Barcham Trees), Sue James (TDAG) and Kieron Doick (Forest Research) discuss whether i-Tree has been an effective catalyst for urban greening.
Much has been written about comprehensive tree strategies and urban forest master plans. An integral part of either is the need for an evidence base to provide an answer to the question, 'What have we got?'
One of the principle tools used internationally is i-Tree.  This webinar will examine the use of i-Tree in the preparation of such strategic plans.  It will examine the information i-Tree provides and how useful this information actually is in delivering a sustainable urban forest.  There will be an examination of i-Tree itself, coupled with an examination of what has actually been achieved from the many i-Tree studies now completed in the UK.
It will ask and attempt to answer questions, such as: Why should we undertake an i-Tree study?  What information will be gained and why is this useful?
In addition, the webinar will question how imaginatively the information gleaned is being used and to what purpose.
Does the accumulation of data and a deeper understanding of the urban forest actually make any difference to working practices and does it influence best practice, not only in planning the urban forest, but in delivery on the ground?
Questions will be asked about the gaps in the resulting knowledge base and how other tools might be used to supplement and enhance i-Tree studies.
For any manager or owner of tree populations interested in maintaining, enhancing and sustaining their urban forest, this webinar is one not to miss.
Registration is free.