Event posted by

Elena Ricci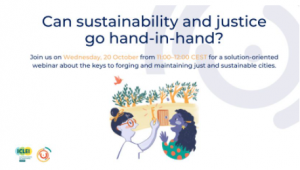 Wednesday, 20 October 2021 -

11:00

to

12:00 (Europe/Brussels)
In a sustainable and just city, the economic, political and social choices that have created unsustainable and unjust structures are put under the microscope. Participate in this webinar to learn more about challenges related to the tension between social justice and ecological sustainability. Plus, learn about practical examples and resources on how to actually start thinking and building cities that are both sustainable and just.
This event is co-organised by the UrbanA project and by ICLEI Europe, targetting for city-makers across Europe and beyond. By city-makers we mean civil society organisation representatives, local governments administrators, decision-makers, activists, researchers, citizens and practitioners. Anyone who has an interest or passion in sustainable and just cities.
Speakers include Celine Fabrequette, from the European Network for Community Led Initiatives on Climate Change and Sustainability (ECOLISE), and Filka Sekulova, from the Barcelona Lab for Urban Environmental Justice and Sustainability (BCNUEJ).