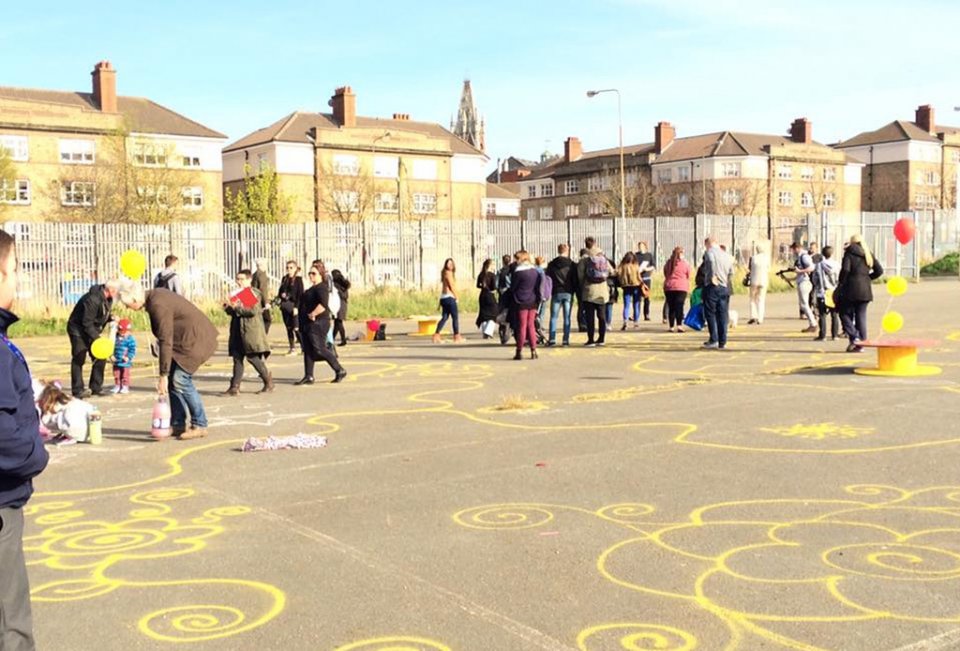 Objective:
Activating community based projects in a deprived neighbourhood, Mountjoy Square.
The Project
The Goal 
To create a roadmap for communities who want to activate projects or practices to solve issues or implement ideas in urban areas.
Local Task Force
The local task force comprised the Dublin City Council, the University College Dublin (UCD), local authorities, different community groups, Code for Ireland and local small and medium enterprises (SME's).
The Process
The project is researching and observing active projects that were initiated by communities. It currently organises the acquired data into useful resources, which includes validating "ComPass" as a tool with communities and practitioners. Click here to watch Brigdefoot Street pop-up event and Click here to watch ComPass presentation.
Existing Dynamics
The project built on separate pilots and projects in the knowledge sharing process and sought common pace. Existing projects included Cork Street Park Campaign, Mountjoy Square Society, Granby Park, The Art Tunnel Smithfield, Bridgefoot Park Community Campaign, and Ballyfermot.
Obstacles
The obstacles the project faced were the insufficient human resources across the institutions. In addition, the long life span of place-based projects versus the short lifespan of research processes made validation difficult.
Resources
The project's main resources were dependent on human resources and the willingness and openness to share knowledge resources. As the process depends on sharing of knowledge, the project period was insufficient to continue testing and validating the tool "ComPass".
Strokes of Luck
The project has benefited from the community, who had the will to share knowledge and contribute to the project. Also, the presence of the networking culture gave a push to the project concept.
The Achievements
Short-term results
The knowledge of the communities that was shared was found useful by other communities. For example, Cork Street Process informed Bridgefoot Park process which was then adapted to local needs. The roadmap contains data and is in the process of organising it into useful seed resources, the communities and Code for Ireland provided their validation for this data.
Long-term benefits 
The long-term benefits of the project will be the contribution of sources of knowledge from different communities and the increase in social capital through networking and knowledge sharing activities.
Key Lesson Learned
Roisin Byrne, UCD:
"The project has shown that communities have the capacity and the willingness to participate in shaping projects in their cities. Also, the quality of support for communities at many different levels is a crucial aspect. In addition, the project showed that shared governance is a possibility that we can carry on."