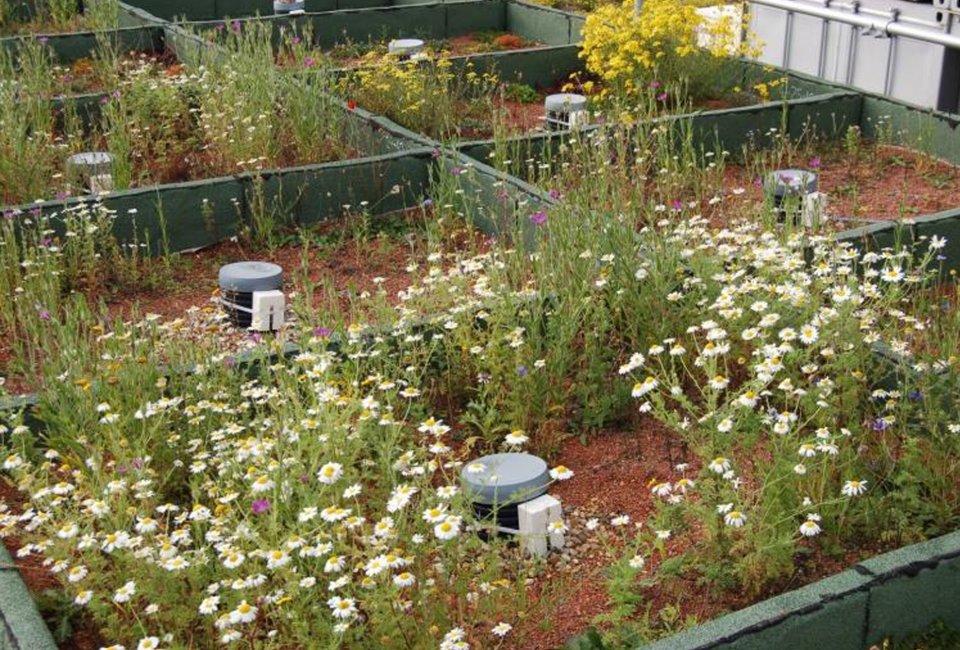 Objective:
Boosting ecosystem service performance through green roof design in Barking Riverside.
The Project
The Goal 
The aim of the project is to assess the impact on ecosystem service provision of moving from industry standard green roof designs to designing roofs for locally important biodiversity.
Local Task Force
University of East London (UEL) took the lead on the project with support from the project's main partners, Barking Riverside Ltd, the London Borough of Barking and Dagenham, the Green Roof Consultancy, the Environment Agency, ABG Ltd and Hertalan Ltd.
The Process
Researching and experimenting locally contextualised green roofs designs and implementing two design experiments on-site at Barking Riverside development.
Existing Dynamics
The existing knowledge transfer partnership, which was researching the ecosystem service costs of moving from standard green roofs to bio-diverse green roofs, was already established. This enabled the continuation of the working relationship within TURAS, including expanding the experiment to establish a larger scale for green roofs design.
Obstacles
Since the experiment was taking place on an active construction site, the Barking Riverside development, restrictions on site and delays in the construction had knock-on effects on both the beginning of the experiment and the roll out of site-wide implementation. It also led to unforeseen additional costs to cover health and safety requirements and other equipment costs.
Resources
The project received financial resources, green roof design, and biodiversity expertise in addition to land availability. Working with the development provided an opportunity for scaling-up positive results through incorporation within the development project.
Strokes of Luck
The main opportunities that pushed the project forward were the willingness of partners to work together and identification of shared goals. In addition, the inclusion of a requirement to the planning consent for the developers to work with local academics helped support delivery.
The Achievements
Short-term results
The project produced better green infrastructure designs that are contextualised to the location ecosystem service requirements.
Long-term benefits 
The results of the experimental work were integrated into the future site master planning. Thus, once implemented within the development project, it will positively contribute to climate change adaptation and urban resilience. 
In comparison, the green roofs designed for local biodiversity performed as well as, or better than, industry standard green roof systems regarding biodiversity, water attenuation, and thermal insulation.
Key Lesson Learned
Stuart Connop, UEL:"When aiming to integrate innovative Green Infrastructure design elements in site master planning and overall development schemes, it is critical that both planning authority and developers are fully engaged in the process (beyond a single member of staff)."