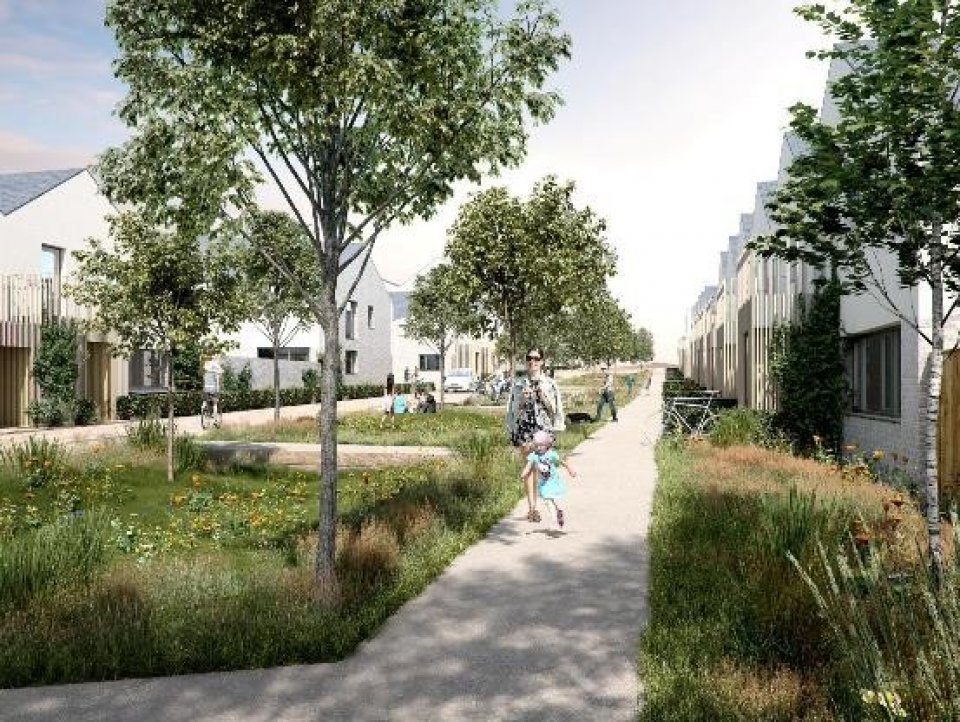 Area characterisation:
This development is located on the northern edge of the Southmead area of Bristol and was a former primary school site owned by the Bristol City Council.
Objective:
To create a development on a brownfield site where Green Infrastructure (GI) is integral to the layout of dwellings and create a sense of place whilst delivering a rich mix of housing tenures with a focus on affordability for local people.
Actions:
Bristol City Council sold the former primary school site with the aim for it to be regenerated into a highly sustainable, yet affordable housing development.
This development scheme has a unique partnership between HAB Housing, United Communities, Bristol and Bath Regional Capital (BBRC) and Cheyne Capital. Community involvement and consultation throughout the design and planning process has led to overall community support for the project with few objections to the application.
The scheme is also working to the Gloucester Wildlife Trust's Building with Nature benchmark, which sets the standard for Green Infrastructure in new developments. This has ensured that the development, consisting of 161 highly sustainable yet affordable homes, has GI at the heart of its design. The homes were designed around a central green corridor with existing trees and hedges used to define boundaries. The central green corridor links the development to an existing park, improving connectivity, as well as providing foraging opportunities for bats. The development also includes a communal wildlife garden and edible planting which will improve sense of place and sustainable food production.
United Communities and Cheyne will be in charge of the long term maintenance of the development.
Potential impacts/benefits:
Potential impacts/ benefits

Challenges addressed

Enhancing sustainable urbanisation

Restoring ecosystems and their functions

Developing climate change mitigation

Developing climate change adaptation

Public health and well being

·Increase well being

·Increase accessibility to green open spaces

·Improve air quality

Urban Regeneration

· Changing image of the urban environment

·Greater ecological connectivity across urban regenerated sites

·More energy efficient buildings

Social Justice and social cohesion

·Social inclusion

·Increase social interaction

Green Space management and enhancing/conserving urban biodiversity

·Increase biodiversity

·Carbon sequestration and storage

·Reduce run off
NBS benefits
Reduce run-off
Carbon sequestration and storage
More energy efficient buildings
Greater ecological connectivity across urban regenerated sites
Increase Biodiversity
Changing image of the urban environment
Improve air quality
Increase accessibility to green open spaces
Increase social interaction
Increase well-being
Social inclusion
Transferability of the result:
A good model for innovative funding partnerships that can be used for developments that aim to include social housing and GI. Particularly useful for sites with bat populations as a good example of onsite ecological mitigation.
Lessons learned:
Green infrastructure can be effectively designed into new developments
It is important to ensure that the landscape designed is the landscape delivered and that it is maintained in the right way.
Financing:
The project is funded as a collaboration between, a locally based Housing Association United Communities, Cheyne Social Property Impact Fund and Bristol and Bath Regional Capital.