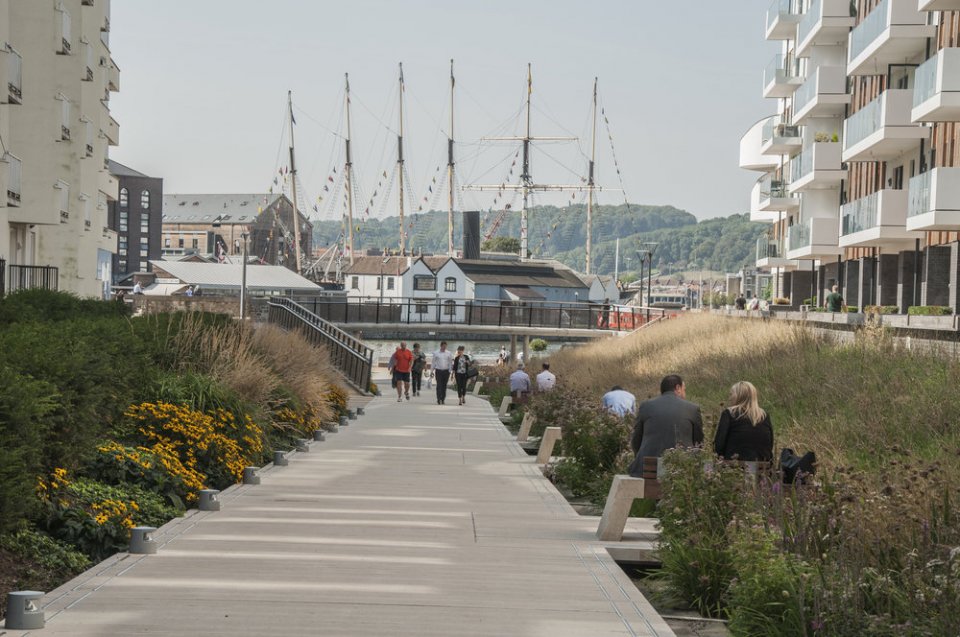 Area characterisation:
Located on the edge of Bristol's harbour, this site was previously a post-industrial wasteland with a former gas works called Canon's Marsh. The 16.3 acre site had been derelict for 30 years.
Objective:
To regenerate a brownfield site into a vibrant public space and reconnect the city with its waterfront, integrating art and ecology.
Actions:
This development brought 664 new homes around Bristol's harbourside with green infrastructure used throughout. 
This included a 40m x 8m green wall, green roofs and sustainable urban drainage systems (SuDS). A tree lined promenade, planted with wild flowers, leads from the Millennium square to the waterfront, Increasing access to the water's edge. The SuDS collect rainwater from roofs through a series of collection dishes, channels and rills that irrigate the vegetation planted along the promenade.
Floating reed beds were also constructed to filter rainwater and surface water before it enters the harbour as well as enhancing biodiversity and green space within the city. Pontoons and walkways alongside the reedbeds enable people to explore this new green space. The promenade also completes the Brunel Mile public walkway which connects Temple Meads station to the historic SS. Great Britain.
The planning of this project involved numerous stakeholders, including artists and ecologists as well as public consultation.
Potential impacts/benefits:
Potential impacts/ benefits

Challenges addressed

Enhancing sustainable urbanisation

Restoring ecosystems and their functions

Developing climate change mitigation

Developing climate change adaptation

Water Management

· Reduce costs for water treatment

· Improve water quality

· Reduce run off

Green Space management and enhancing urban biodiversity

· Increase amount of green open spaces for residents

· Increase biodiversity

· Carbon sequestration and storage

· Increase infiltration/ water storage

Urban regeneration

· Increase well -being

· Changing image of urban environments

· Increase quality and quantity of green and blue infrastructure

Public Health and Wellbeing

· Increase social interaction

· Increased cultural richness and biodiversity
NBS benefits
Increase infiltration / Water storage
Reduce run-off
Carbon sequestration and storage
Increase Biodiversity
Increase quality and quantity of green and blue infrastructures
Increased cultural richness and biodiversity
Changing image of the urban environment
Improve water quality
Increase amount of green open spaces for residents
Increase social interaction
Increase well-being
Reduce costs for water treatments
Transferability of the result:
Can be used in cities with neglected watersides.
Lessons learned:
Developments can successfully involve local communities and different stakeholders in the planning process and can use the city's existing culture to enhance the area.
Financing:
This redevelopment which cost £120 million has been financed by a mixture of public and private money. It has received over £44 million from the national lottery and a further £44 million from Bristol Council and partners including Nestle.