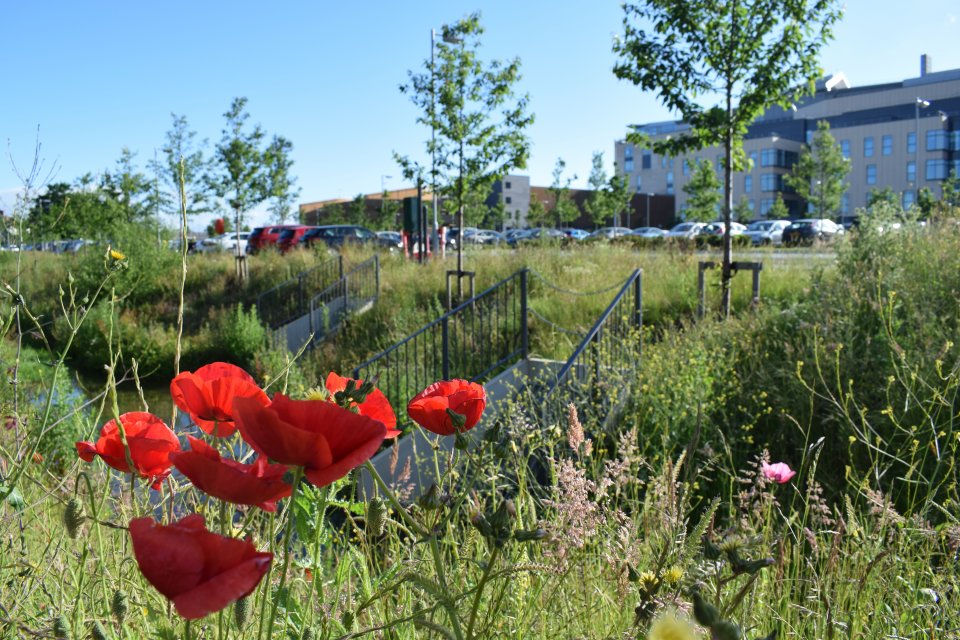 Area characterisation:
Located in the Northern suburbs of Southmead, Bristol. Southwest of the hospital is a local nature reserve, Badock's wood, through which the River Trym runs through.
Objective:
To deliver an exceptionally sustainable healthcare facility, delivering long term environmental, social and financial benefits for patients, visitors, staff and the local community.
Actions:
The Brunel Building was designed to be highly sustainable, maximising natural daylight through orientation, as well as natural cooling and energy efficient heating. Sustainable urban drainage systems (SuDS) including 6 sedum green roofs and therapy gardens, were created to slow down rainwater runoff, which is collected from the roofs and used for ground maintenance and irrigation. Runoff from the car park passes through 444m of swales which clean the water before entering the 4 attenuation ponds. Landscaping on site includes the provision of over 700 trees and shrubs, including small coppices and orchards, resulting in recognition as an NHS Forest site. Two large insect hotels have also been constructed and the North Bristol NHS Trust (NBT) worked with Urban Buzz to create wildflower swathes.
Health and well-being were also firmly in mind when designing the green infrastructure for this building. The herb garden on the roof of the building not only acts as a green space but also as a source of medicinal herbs that are used in cooking to benefit the patient's health. The 12 large therapy gardens and 6 garden courtyards are also used for physiotherapy and rehabilitation of patients.
The site is maintained and managed to a high standard by the Private Finance Initiative (PFI) contractors Carillion and reviewed by the NBT who are creating a biodiversity management plan. The herb garden is managed by the NBT with the help of volunteers.
Recent surveys of the attenuation ponds stated that the invertebrate biodiversity was excellent for an urban environment. The SuDS have reduced surface water runoff by almost 40% and water consumption by 25%, which has led to an annual saving of approximately £130,000.
Potential impacts/benefits:
Potential impacts/ benefits

Challenges addressed

Enhancing sustainable urbanisation

Restoring ecosystems and their functions

Developing climate change mitigation

Developing climate change adaptation

Water Management

· Reduce costs for water treatment

·Increase quality and quantity of blue green infrastructure

· Reduce run off

· Increase infiltration/ water storage

Climate resilience

· Carbon sequestration and storage

· More energy efficient buildings

Public Health and Wellbeing

· Provision of health benefits

· Increased cultural richness and biodiversity
NBS benefits
Increase infiltration / Water storage
Reduce run-off
Carbon sequestration and storage
More energy efficient buildings
Increase quality and quantity of green and blue infrastructures
Increased cultural richness and biodiversity
Provision of health benefits
Reduce costs for water treatments
Transferability of the result:
Can be designed into all new hospital developments and some aspects can be brought into existing hospitals.
Lessons learned:
PFI can be good for ensuring the maintenance of GI as it is written into a contract. However, it is important to ensure that the PFI contractors have the right knowledge about maintenance of GI.
Volunteers are important in the implementation of GI as well as its maintenance. Could be used to oversee projects when others may not have the time.
It is important to determine the right plants for the landscape and the environment. Certain plants may not survive on a roof top because the conditions are different to ground planting. 
Financing:
Total cost £430million. Private Funding Initiative (PFI) funded most of the works and fund its maintenance. The roof top herb garden was funded by Southmead Hospital charity, Carillion Services and the Hospital Company.