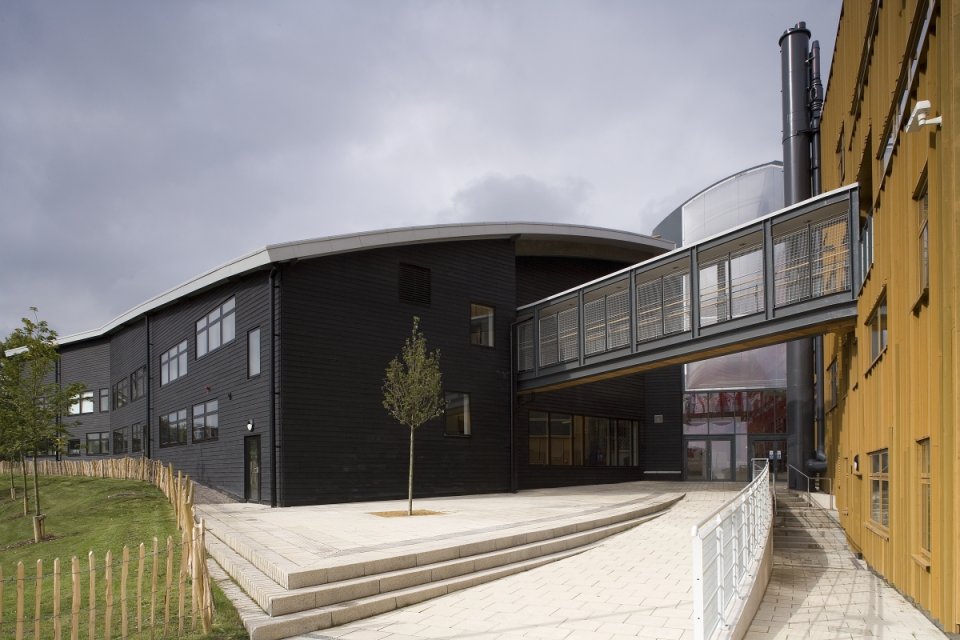 Area characterisation:
Located on a sloping site within a conservation area of the East Bristol suburb, Redland. The site was previously playing fields.
Objective:
To build a school that would blend into the surrounding hillside and to ensure that all water would remain on site to prevent flooding of the local drainage system.
Actions:
The building design uses the natural slope of the site and a sedum green roof covers the main school building. This green roof is accessible to the students, with wheelchair access, and can act as an outdoor classroom, where students can learn about geography, meteorology and sustainability.
To reduce the runoff of the site, sustainable urban drainage systems (SuDS) were created including permeable sports pitches, swales with weirs to control the rate of runoff and two retention ponds, planted with a selection of bog loving species. The runoff from the green roof enters the other SuDS being filtered along the way and is stored in the retention ponds. There is also a storm water overflow to a nearby water source. This was designed to protect allotments and properties downhill, from the school's run-off and reduce pressure on the local drainage system. The biodiversity of the site was also increased through the planting of 160 trees and hundreds of shrubs and border plants.
The green infrastructure of this site is managed during the school's routine grounds maintenance and includes checking the weirs for silt build up and weeding the green roof which has low maintenance sedum planting.
Potential impacts/benefits:
Potential impacts/ benefits

Challenges addressed

Enhancing sustainable urbanisation

Restoring ecosystems and their functions

Developing climate change mitigation

Developing climate change adaptation

Water Management

· Improve water quality

· Reduce costs for water treatments

· Increase population and infrastructure protected by NBS

· Increase biodiversity

· Reduce load to sewer system

· Reduce runoff

Climate resilience

· Carbon sequestration and storage

· More energy efficient buildings

Public Health and Wellbeing

· Increase well-being

· Increase accessibility to green open spaces
NBS benefits
Reduce load to sewer system
Reduce run-off
Carbon sequestration and storage
More energy efficient buildings
Increase Biodiversity
Improve water quality
Increase accessibility to green open spaces
Increase population & infrastructures protected by NBS
Increase well-being
Reduce costs for water treatments
Transferability of the result:
The green roof can be used for any schools as it can provide educational benefits. The landscaping can be used in future developments that need to retain views and blend into the surrounding landscape.
Lessons learned:
Green infrastructure can also function as an educational aid and can increase the well-being of students.