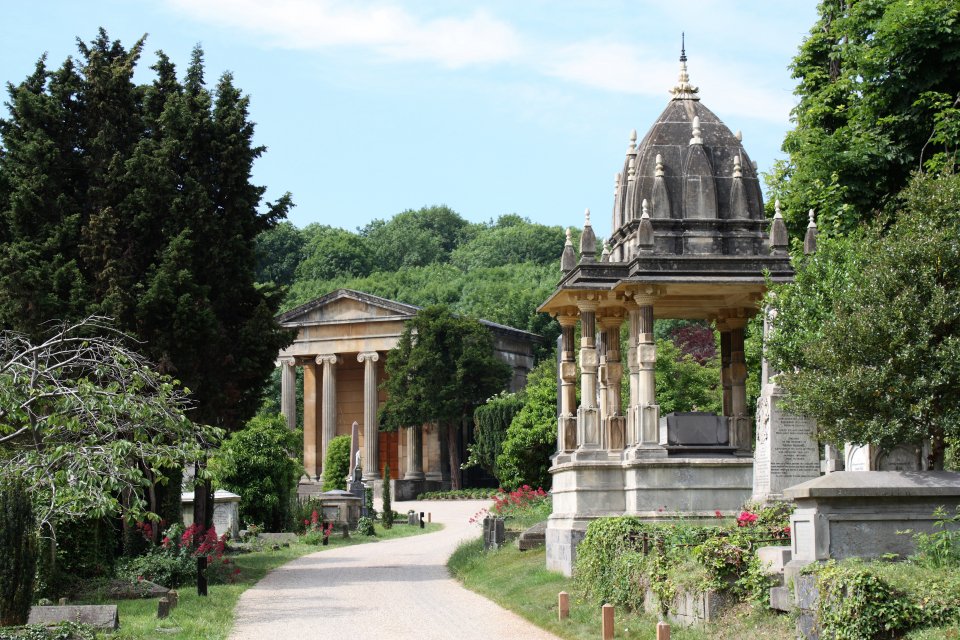 Area characterisation:
The 17ha site is located on steep hillside 2km south east of Bristol's city centre to the south of the A4, Bath Road. The site is located in the Arnos vale conservation area and has considerable ecological and heritage importance.
Objective:
To restore a Victorian cemetery from a state of neglect to provide a community green space, whilst maintaining and celebrating the heritage of the site as well as its conservation and ecological value.
Actions:
Arnos Vale Cemetery was originally privately owned and in a state of neglect. The owner planned to sell the site for commercial development, which was fought against by the Friends of Arnos Vale. In 2003 the site was compulsory purchased by the Bristol City Council and the Arnos Vale Cemetery Trust was set up to restore and protect it.
The restoration of the site included 4 listed buildings and tombs, regeneration of footpaths, eradication of invasive Japanese knot weed and management of existing secondary woodland. The landscape management plan focuses on conserving the existing grassland and woodland habitat and improving them to benefit wildlife. This includes rotational cutting of scrub and bramble and thinning the woodlands to allow more vegetation below. The management is split into tasks which can be carried out by community volunteers and tasks that need to be tackled by forestry contractors. Many parts of the cemetery have been purposefully left unmanaged and are now havens for wildlife. 
There is now a café and one of the restored buildings is used as a conference space for environmental education and research. It is now a self-sustaining business gaining income through educational events and producing logs and charcoal.
Potential impacts/benefits:
Potential impacts/ benefits

Challenges addressed

Enhancing sustainable urbanisation

Restoring ecosystems and their functions

Developing climate change mitigation

Developing climate change adaptation

Urban regeneration

· Changing image of the urban environment

Public Health and Wellbeing

· Increase well-being

· Increase cultural richness and biodiversity

Green space management

· Improve air quality

· Increase accessibility to green open spaces

· Increase biodiversity

· Greater ecological connectivity across urban regenerated sites

· Carbon sequestration and storage

· Reduce run off

· Reduce temperature at meso or micro scale
NBS benefits
Reduce run-off
Reducing temperature at meso or micro scale
Carbon sequestration and storage
Greater ecological connectivity across urban regenerated sites
Increase Biodiversity
Increased cultural richness and biodiversity
Changing image of the urban environment
Improve air quality
Increase accessibility to green open spaces
Increase well-being
Transferability of the result:
Can be used in areas with heritage sites that need to maintain existing woodlands.
Lessons learned:
It is important to harness the community and volunteers for help with the management of GI.
It is possible to find innovative ways for GI to become self-sustaining and generate income.
Financing:
The total cost of the regeneration project was £9 million, with £4 million from the Heritage Lottery Fund and £2 million from Bristol City Council. Further funding came from English Heritage and Arnos Vale Cemetery Trust.