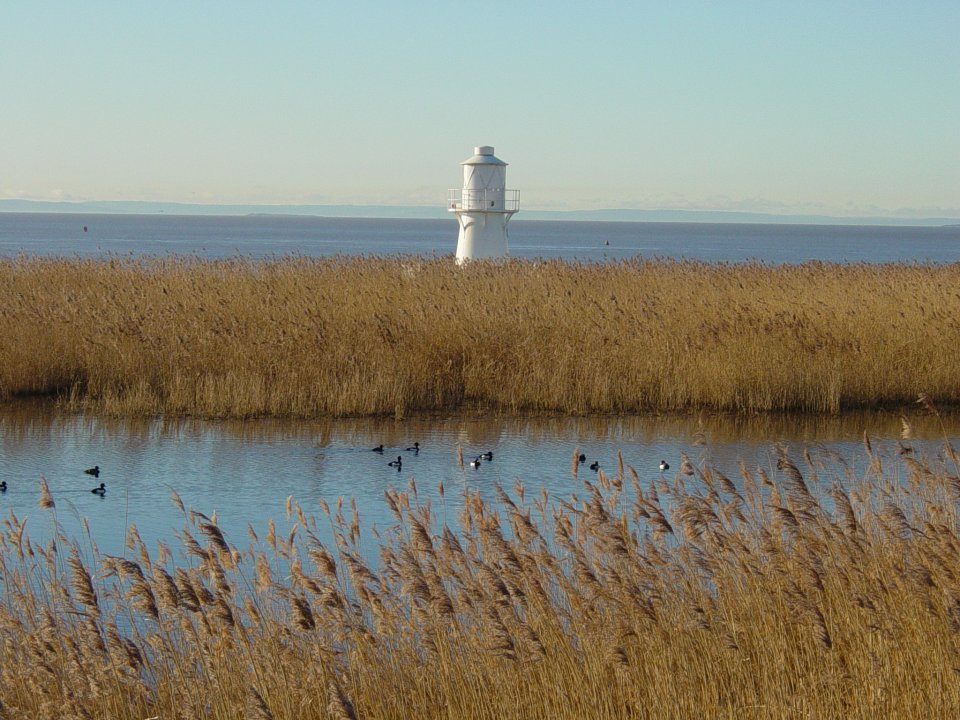 Area characterisation:
The site lies between the Severn Estuary and the River Usk on the South Wales coast within the Gwent levels which is the largest manmade drainage system in Wales reaching from Cardiff to the Severn Bridge and beyond. The Gwent Levels consist of a mixture of habitats such as coastal floodplains, drainage channels, saltmarshes and mudflats.
Objective:
To create a new wetland reserve on a brown field site and agricultural land to mitigate the loss of mudflats in Cardiff Bay and the two designated species that were displaced when the Taff/Ely SSSI was destroyed.
Actions:
The 438.6 hectare nature reserve was created to mitigate for the loss of mudflats when the Cardiff Bay Barrage was built. A further 427.12 Ha of saltmarsh and mudflats were leased from the Crown estate in 2002, taking the overall size of the NNR to 865.72Ha. Over 30 Ha of reed beds were planted on what were the nearby power stations pulverised fuel ash disposal areas. A number of wet furrows were excavated to help manage water levels on the reserve to support breeding lapwing and red shank. A 6km network of paths has been resurfaced to allow access for all. The reserve provides a variety of habitats including reedbeds, saltmarsh, saline lagoons and lowland wet grassland. The site is now home to a breeding population of bearded tits and attracted breeding avocets. An Environmental education and visitor centre was opened on the reserve in 2008 and attracts over 100,000 visitors per year.
Natural Resources Wales (NRW) manages the reserve and works in partnership with Newport City Council (NCC) and the RSPB. The reserve is also within the boundary of the Living Levels Landscape Partnership scheme (LLLP) set up in 2014 and supported by the Heritage Lottery Fund. This large partnership (see organisations), led by the RSPB, aims to reconnect people and communities to their landscape and provide a sustainable future for its wildlife and heritage.
Part of the LLLP's scheme to increase understanding and appreciation, will see the Newport Wetlands Vistor Centre showcasing the ways the Gwent Levels landscape has been created and maintained through history. This will Include a relief model showing the historic drainage system and sea defenses. Cameras will also be installed to show the wildlife that is hidden within the waterways or reedbeds.
Potential impacts/benefits:
Potential impacts/ benefits

Challenges addressed

Enhancing sustainable urbanisation

Restoring ecosystems and their functions

Developing climate change mitigation

Developing climate change adaptation

Water Management

· Reduce costs for water treatment

· Improve water quality

· Improve connectivity and functionality of blue and green infrastructures.

Coastal resilience  

· Better protection and restoration of coastal ecosystems

Public Health and Wellbeing

· Increase accessibility to green open space

· Increased cultural richness and biodiversity
NBS benefits
Better protection and restoration of coastal ecosystems
Improve connectivity and functionality of green and blue infrastructures
Increased cultural richness and biodiversity
Improve water quality
Increase accessibility to green open spaces
Reduce costs for water treatments
Transferability of the result:
Can be used in areas of development that require or would benefit from a new wetland, or existing wetlands that need better management.
Lessons learned:
Creating new wetlands and reed beds can clean up a polluted area where wildlife can thrive.
Financing:
The Cardiff Bay Development Corporation funded the purchase and construction of the reserve. A European Objective 2 grant, supported by the Welsh Assembly Government, funded the reserves new environmental education and visitor centre. Funding also came from Newports European Partnership, Newport City Councils Landfil Tax Credit Scheme and Visit Wales. The LLLP is funded by the Heritage Lottery Fund.