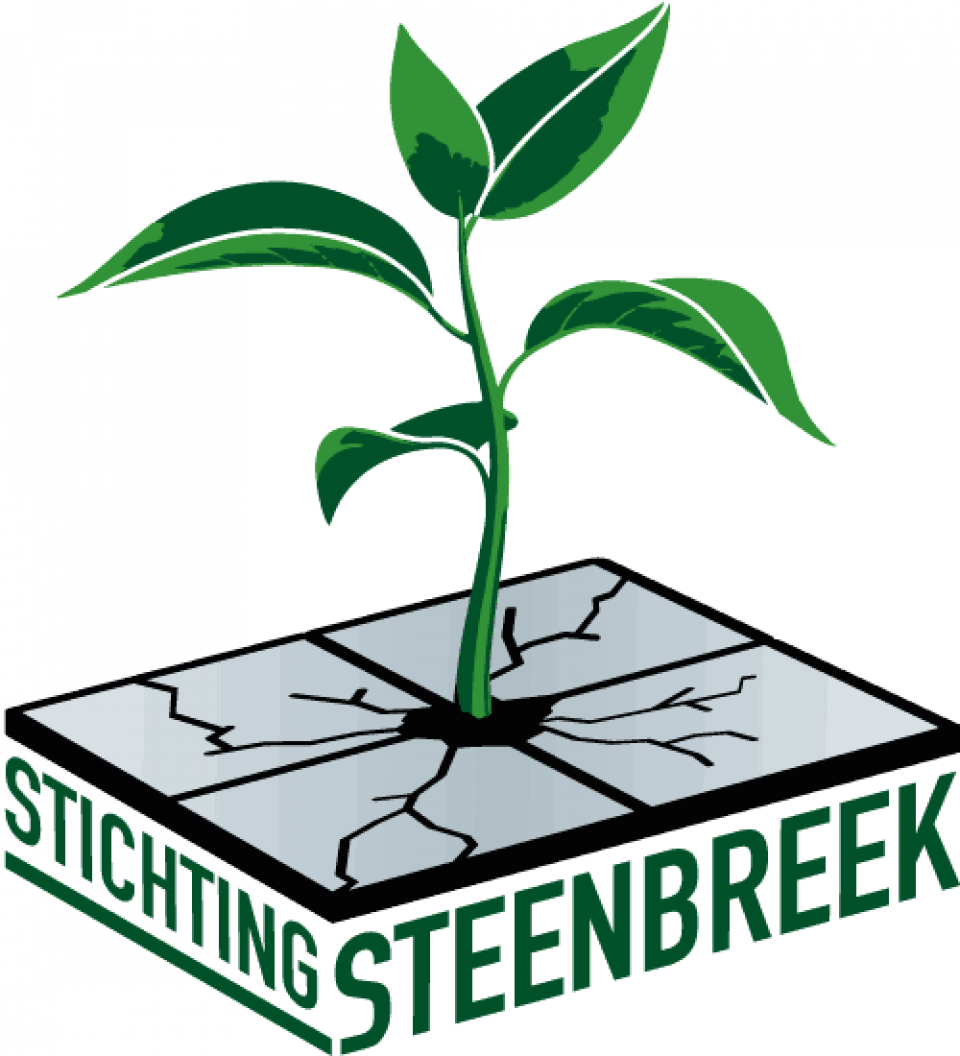 Area characterisation:
Scale of the project: neighbourhood
Scales impacts from this NBS action: neighbourhood
Urban density in which the NBS is implemented: medium
Objective:
Operatie Steenbreek  is a foundation that organizes awareness raising campaigns and offers assistance with regards to greening private gardens. Many gardens and streets in the Netherlands are covered with tiles that cannot absorp the rainwater from heavy rainfall.
The idea behind the initiative is to encourage citizens to remove the tiles and stones from their gardens/backyards and replace it with grass, plants and trees for better drainage and to increase the biodiversity.
Thanks to an app., citizens can be adviced and exchange plants with neighbours. Citizens can furthermore measure the performance of their own green garden and discuss the results in focus groups as a kind of citizen science. The initiative calls this form of science the BIMBY (Biodiversity in my back yard) method following Beumer and Martens (Beumer & Martens, 2014; Beumer, 2014).
Actions:
Operatie Steenbreek offers help to municipalities in setting up an "Operatie Steenbreek" initiative in their own town or city and adapt it to the local circumstances.
The national platform provides opportunities for municipalities to share information, experiences and knowledge.
The project is already implemented in many cities in the Netherland: Alkmaar,  Eindhoven, etc.
Potential impacts/benefits:
At a neighbourhood scale impact :
To raise awareness and offers assitence with regards to greening private gardens
To increase urban green area in order to drain rainwater and prevent flood risks
To increase the biodiversity
Creat social cohesion and enhance citizens projects
To dissemenate methodologies amongst as many Dutch municipalities as possible
NBS benefits
Developing climate change adaptation; improving risk management and resilience
Flood peak reduction
Increase infiltration / Water storage
Increasing infiltration
Reduce flood risk
Reduce run-off
Reducing temperature at meso or micro scale
Carbon sequestration and storage
Restoring ecosystems and their functions
Greater ecological connectivity across urban regenerated sites
Improve connectivity and functionality of green and blue infrastructures
Increase achievements of biodiversity targets
Increase Biodiversity
Increase quality and quantity of green and blue infrastructures
Increased cultural richness and biodiversity
Changing image of the urban environment
Creation of green jobs relating to construction & maintenance of NBS
Improve air quality
Improve water quality
Increase accessibility to green open spaces
Increase amount of green open spaces for residents
Increase awareness of NBS solution & their effectiveness and co benefits
Increase communities' sense of ownership
Increase population & infrastructures protected by NBS
Increase social interaction
Increase stakeholder awareness & knowledge about NBS
Increase well-being
Increase willingness to invest in NBS
Provision of health benefits
Reducing wind speed
Social inclusion
Social learning about location & importance of NBS
Lessons learned:
Operatie SteenBreek community is structured around a website that creates conditions for citizens to green their gardens and exchange about it. The key point to  insure the effectiveness of the initiative is a strong and organized networked organisation which is an hard task concerning citizen projects. 
To increase the efficiency of the communication around methodologies, Operatie SteenBreek created the "NBS ambassadors", real Process enablers to bring knowledge to the citizens.
Finally, we can notice the role's ambiguity generated by the complex governance structure, that was the most important governance barrier in this project.
Financing:
Global (estimated) cost of the project: unknow
Financing mechanism Cluster: cluster4 public private
The project has been replicated in many other municipalities in the Netherlands and it is financed by municipalities. Furthermore, volunteers work for the organization and investements for greening the gardens are done by private citizens. Overall, most of the measures are on a low budget basis.
NBS classification
Parks and gardens
Objects Shapes
Urban green space management
Strategies actions
Direct human interventions
On the Ground
Private gardens
Stakeholder Participation/Participatory Planning and Governance:
GOVERNANCE MODEL:
Governance Cluster: cluster5 network governance
Governance model: Collaborative governance
It's a (loosely organised) networked organisation that creates conditions for citizens to green their gardens.
---
Expected time for the NBS to become fully effective after its implementation: medium (between 2 to 5 years)
Feedback: The project has already been adapted to new requisites. More partners are involved and the project has been replicated in many other municipalities in the Netherlands.
Expected life time of the intervention: more than 30 years
State of progress of the project: Ongoing (project not delivered)
Success and Limiting Factors:
Process enablers:
Knowledge drivers → Awareness → NBS ambassadors
Awareness raising campaign aims to stimulate private citizens to green their gardens Tools and such are meant to remove knowledge barrier for greening gardens
Process inhibitors:
Governance barriers → Complexity of governance structure → Role ambiguity
There are many partners involved. Hence there are issues with ownership (organisational aspect). Furthermore, the project depends on citizens who volunteer to green their garden. There are no other incentives rather than knowledge/ awareness
---
BUSINESS MODEL:
Business cluster: Social
Business model: Adopt a stewardship role
Further information
Nature4Cities (https://www.nature4cities.eu/) aims to develop a knowledge diffusion around Nature-Based Solution (NBS) and a decision support platform through new collaborative models.
teenBreek is part of the Nature4Cities's pioneer case studies database, it will feed the observatory, NBS pre-selection and replication tools, gathered into the Geocluster4NBS.
SteenBreek was chosen as a pioneer case study for the following reasons: 1) low budget project. 2) sharing economy (app. to exchange plants).
Nature4Cities project has received funding from the European Union's Horizon 2020 research and innovation program under grant agreement No 730468.