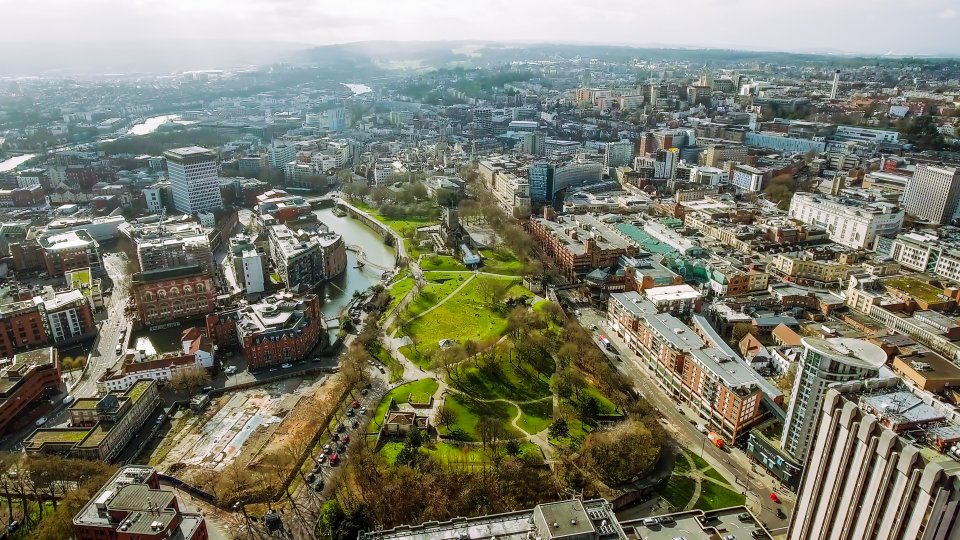 Objective:
All of the challenges identified in the Bristol Development Framework Core Strategy (1) concern areas which would benefit from NBS. Furthermore, the 20:20 plan – Bristol's Sustainable City Strategy (2) – has identified climate change as one of three key challenges. It acknowledges the potential for green infrastructure, such as trees, green walls and roofs, to minimise and mitigate the urban heat island effect, while Sustainable Urban Drainage Systems (SUDS) are seen as an important part of flood management. Bristol's Parks and Green Spaces Strategy (3) includes a 20-year investment programme for the future provision of green space, including natural habitats, so that the public has ready access to good quality green space for formal and informal activities. This is seen as vital for encouraging active and healthy lifestyles and for furthering Bristol's efforts to become a green and sustainable city. The objective is also to provide demonstrable evidence of the benefits of investing in green spaces, focusing on where the investment is needed most and encouraging local communities to get involved in the management of their green space. In the GREEN SURGE review of the status of green space planning and management in the European city regions selected, only Bristol and Barcelona were found to explicitly embed the (urban) green infrastructure concept in terms of connectivity and multi-functionality.
Financing:
Finance may come from the Statutory Authority, while some schemes involve a partnership with various environmental NGOs.
Challenges:
Bristol is a city covering 11 153 ha, with a population in 2012 of 428 423 and public green recreational space of 27.3 m² per inhabitant (GREEN SURGE City profile). The Bristol Development Framework Core Strategy sets out strategies for development to 2026 and identifies a number of issues that need to be addressed in order to achieve the desired vision of a sustainable future. These include: providing an environment for healthier living and addressing social and health inequalities; access to local facilities for sport and leisure; urban regeneration and renewal; protecting and enhancing the natural environment; climate change adaptation and mitigation; and reducing pollution (1). The Strategy also commits to maintaining and improving a network of green infrastructure (GI).
Impacts:
The city's Parks and Green Spaces Strategy is pivotal in setting the objectives for green spaces and GI and, as the above table shows, the benefits are extensive. In line with the actions under the strategy, there are a number of tree-planting initiatives in Bristol to help further the aim of increasing tree cover in the city. The 'One Tree per Child' initiative aims to plant 24 000 trees in schools, parks and open spaces, with 39 000 trees already planted since 2014 and plans in place to plant a further 24 000 by 2020. 'Tree Pips' involves children in tree planting, while also teaching them about the benefits of trees and involving them in workshops investigating trees and wildlife. A further initiative, 'TreeBristol', encourages the sponsorship or adoption of trees.
The Local Flood Risk Management Plan (4) encompasses a range of measures to reduce the risk of flooding and recommends the use of green areas and waterways, which are seen as generating wider benefits. The plan also encourages the re-introduction of green areas, which, although small, may have a cumulative effect over time. The 20:20 plan also recommends that GI, including small-scale features such as trees, green walls and roofs, landscaping and water features, should be part of building designs as they can reduce surface water runoff and provide flood storage capacity.
Multiple Benefits:
The above-mentioned NBS projects are regarded as multi-purpose, and their continued roll-out by Bristol City Council should make a valuable contribution to the Council's sustainability aims. Green spaces can, for example, help promote healthy lifestyles and social inclusion, as well as enhancing connectivity for wildlife. Thus, the Council is committed to protecting, providing, enhancing and expanding GI and building it into all new developments (1).
Integration:
GREEN SURGE analysed the biocultural dimensions of the city and the planning, governance and implementation of GI. This analysis revealed Bristol's prominent position in terms of integrating GI principles into planning, as seen in its Parks and Green Space Strategy (D5.1), and in other planning documents, including those mentioned above. The multifunctionality of green space is a key consideration in relation to GI, but it is not pursued as a separate objective in Bristol's planning documents (GREEN SURGE City Portrait). Funding appears to play a crucial role in determining the degree to which many of the proposed action plans are successfully implemented.
Stakeholder Participation/Participatory Planning and Governance:
GREEN SURGE ascertained that the principles of urban GI planning are fully integrated into Bristol's Parks and Green Space Strategy (2008), which contributes in turn to the Development Strategy. The wider community, including Friends of Parks, local school children and the Bristol Biodiversity Partnership, has a major role in green space planning, governance and maintenance. Bristol seeks to involve the public in the planning, implementation and management of its GI ((3); D5.1), recognising the importance of working with local people, rather than imposing plans on them (D6.1 and 6.2). NGOs, businesses and research institutions are also involved. Researchers have considerable input into green space planning (5.1), helping the city acquire valuable expertise, for example, on how urban green space should be developed and maintained and on open space accessibility solutions (D6.1). The Bristol Natural History Consortium – a network of stakeholders from environmental NGOs and businesses – strives to help the local community understand and engage with nature. One of their activities, BioBlitz, is a series of events which aim to improve wildlife monitoring and environmental awareness (D6.1).
Potential for new economic opportunities and green jobs in the EU and in global markets:
Bristol enjoyed 4.7 % growth in the green economy in 2012 and aims to become a European hub for the low-carbon industry, with a target of 17 000 new jobs in the creative, digital and low-carbon sectors by 2030[1] and plans at a more general level to support the development of a green economy through partnership with local businesses and researchers.
---
[1] http://ec.europa.eu/environment/europeangreencapital/winning-cities/2015...
Success and Limiting Factors:
Bristol explicitly embeds the GI concept in its planning documents, facilitated by the national planning policy framework, but financial constraints are becoming an issue (D5.1).
Engagement with local communities enables specific cultural and user groups to be involved in planning their neighbourhood, and the Localism Act 2011 facilitates this.
In GREEN SURGE, Bristol underlined the importance of having highly skilled experts working for urban green areas in the municipality and/or in connected research institutes (D5.1).
The Council recognises that a site's value cannot be determined in purely financial terms, but must also take into account wider criteria such as its contribution to the local community and its ecological value (3).
Drivers:
In the GREEN SURGE review of strategic urban green infrastructure planning and implementation in 20 European cities, Bristol was identified as one of only two cities that explicitly embedded the (Urban) Green Infrastructure concept (D5.1), aided by the national planning policy framework. The city benefits from involvement in the project by gaining knowledge and ideas, but time constraints and staff continuity often pose problems. As the UK's greenest city, Bristol became the European Green Capital in 2015, when it was heralded as an efficient city with a growing green economy and impressive investment plans for transport and energy[1].
---
[1] http://ec.europa.eu/environment/europeangreencapital/winning-cities/2015-bristol/
Monitoring and evaluation:
Although Bristol expressed low satisfaction with monitoring and evaluation in the GREEN SURGE review owing to resource constraints, there are a number of mechanisms in place. The Development Strategy, for example, has an annual monitoring report which monitors social, environmental and economic issues against targets, with a more comprehensive review every 5 years. The Parks and Green Spaces Strategy (2008) aimed to assess customer satisfaction with the quality and number of parks and green spaces, access to parks and green spaces, and the number and frequency of visits through the annual Quality of Life Survey. The goal was to increase the number of park visits and visitors, especially by those from 'hard-to-reach groups'.
Contacts:
GREEN SURGE: Alexander van der Jagt, Forest Research; email exchange Bianca Ambrose-Oji
Dr Nick Michael, Nature Conservation Officer (Planning), Bristol City Council
Richard Ennion, Bristol Parks Department, Bristol City Council