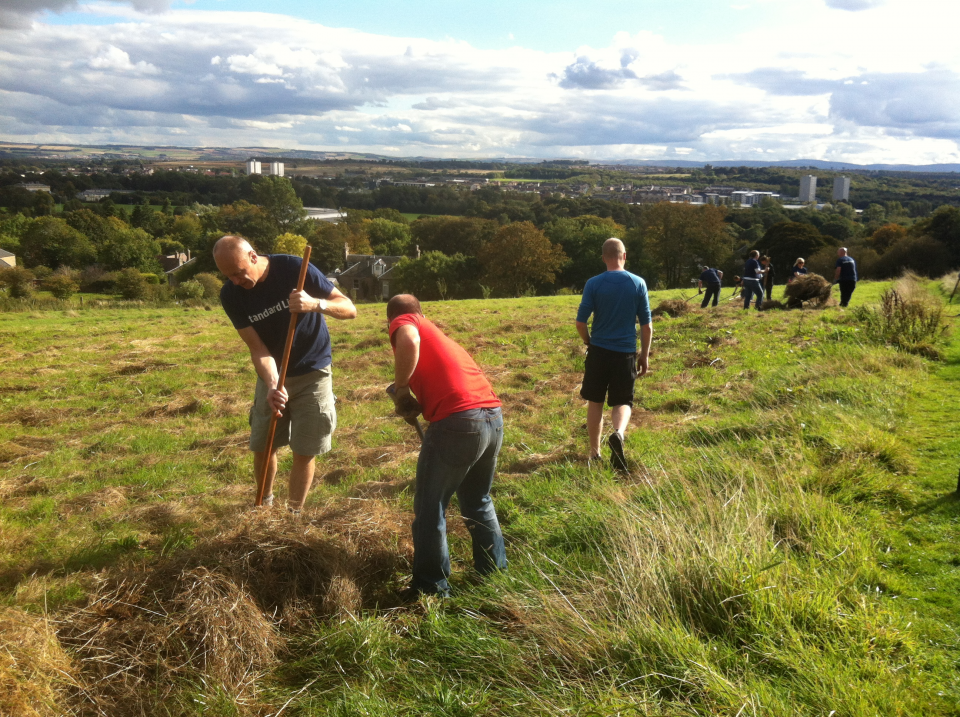 Objective:
Key documents for green space and NBS at local level are the Local Development Plan and the Open Space Strategy. The Local Development Plan seeks to protect and enhance the environment and address the challenge of climate change. This will be partly achieved by using new development projects to enhance the green network. The Plan also identifies areas for conservation, and the different functions and benefits of urban green space are considered in terms of their contribution to the environment as well as their social and economic value.
The CEC's Open Space Strategy seeks to address the main challenges by promoting healthy lifestyles, mitigating and adapting to climate change and making good use of land by ensuring the provision of new open spaces, often as part of new developments. This will help compensate for the decrease in financial resources available for new green spaces. The Strategy also seeks to create or improve access to existing spaces, as well as making strategically significant improvements to such spaces, and includes a proposal to increase the number of allotments and community gardens. As an example, the National Health Service Lothian proposes the creation of new community gardens as part of a redevelopment masterplan at the Royal Edinburgh Hospital in Morningside. Encouraging small-scale communal food growing areas in tenement backgreens (shared green spaces behind tenement squares), often facilitated by the Edinburgh Community Backgreens Initiative, can help meet sustainability and health objectives.
Edinburgh's green network forms part of a wider Central Scotland Green Network (CSGN), which is identified as a national development in the National Planning Framework. The Edinburgh and Lothians region covers about 171 500 ha, and its Forestry and Woodland Strategy 2012–2017 Vision aims to create expanded networks of woodland by 2050. This will contribute to a strong, sustainable economy and is an important element of a healthy, resilient environment as well as playing a major role in the quality of community life.  There is a five-year target to support the creation of at least 180–250 ha of new woodland each year across the region and to improve the woodland habitat network (although most of the opportunities for this are in the surrounding regions). In terms of climate change, the strategy seeks to promote woodland management and creation as a key component of sustainable flood management initiatives, while using both the expanding woodland cover and compensation of any woodland losses to development by means of new planting, to increase carbon sequestration and reduce net carbon emissions.
Sustainable Edinburgh 2020 (SE2020) also provides opportunities for NBS, with its vision of Edinburgh as a 'low carbon, resource-efficient city, delivering a resilient local economy and vibrant flourishing communities in a rich natural setting', where people have easy access to green space and natural resources and protected and conserved.
Actions:
Initially, the FP7 project GREEN SURGE was involved in mapping domestic garden features such as trees, shrubs and grass, which then could be correlated with pollinator presence. This work is being followed up by the Pollinator Pledge project which aims to encourage 10 000 individuals, organisations and businesses to get involved in creating more pollinator-friendly green spaces in Edinburgh[1] and to enable the CEC and other landowners to understand how, and where, they can improve green spaces for pollinators across the city.
Granton Community Gardeners is grassroots community gardening initiative in an area of multiple deprivation in northern Edinburgh. It was started in 2010 by local people living in flats without a garden, who wanted to grow vegetables near their homes.  It is a good example of a project with multiple benefits, as it generally aimed to enhance green spaces, support gardening and food production, promote community cohesion and encourage healthy habits and environmental awareness. The benefits, however, have been more in terms of the social dimension.
The Duddingston Field Group is made up of local residents who came together to request a lease on a 2.5 ha field which had become vacant. They aimed to create and manage semi-natural habitats, especially woodland, using sustainable practices and promoting environmental education and recreation. Since that the group's aims were compatible with the CEC's approach to green space management, the CEC supported the initiative, and the group has planted more than 2 000 trees, a community apple orchard and a willow coppice, and has created walkways to improve access (GREEN SURGE City profile).
---
Lessons learned:
A Social Return on Investment valuation of Edinburgh's parks concluded that they are worth over £100 million per annum, primarily due to the revenue they generate from visitors for local business and the economy (£51 million per annum). Their health and well-being benefits are worth £40.5 million per annum and their impact on social inclusion and community capacity is calculated to be worth over £6 million (CEC, 2015).
Using the i-Tree Eco model, it was estimated that in 2011 the structural value of trees in Edinburgh was £382 million, as they provided £484 689 per annum of non-traded value through net carbon sequestration that year. The total value of carbon stored in Edinburgh's trees would accrue to £35 million by 2050 (CEC, 2014b). The carbon stored in the trees of Edinburgh is equivalent to the annual emissions of 20 801 people. The annual value of Edinburgh's urban forest is calculated as £1.82 million, with carbon sequestration worth £1 million, air pollution removal £575 000 (avoided damage to health, buildings and crops) and £247 000 in avoided wastewater charges through rainfall interception and stormwater retention (Forest Research, no date). Such figures can provide a starting point for dialogue, but a full asset valuation is probably needed to produce real changes in the perception of the true economic value of green space. The mapping of the city's green infrastructure, and its quality, carried out as part of the Open Space Strategy has led to developers paying for green space improvements across the city and to better coordination of green space investments by different departments.
Financing:
Increasingly, community groups and other stakeholders can help the Council by applying for third-party funding. In St Andrew Square, Essential Edinburgh took the lead in organizing consultations involving the private owners, the CEC and Scottish Enterprise. Successful negotiations resulted in the implementation of a £2.6 million programme of improvement works, funded by the CEC and Scottish Enterprise. In the case of Granton Community Gardens, businesses made contributions, either financial or in-kind, as part of their Corporate Social Responsibility Programme, while volunteers contributed tools and materials. For Duddingston Field Group, the main source of funding is grant aid, but it also receives donations, both financial (e.g. apple tree sponsorships and organizing events) and in-kind (e.g. trees).
Budget cuts are a challenge, so there is a strong desire to increase the involvement in planning of community groups, NGOs and business representatives. The obligation imposed upon developers to deliver green space as part of new planning proposals is unique to cities within the British planning family, and provides a real opportunity for planners to improve the city's GI (GREEN SURGE D7.2). An exercise aimed at mapping the city's GI and its quality, carried out as part of the Open Space Strategy, has already resulted in developers paying for green space improvements across the city's network. Moreover, it has led to better coordination of green space investments by different departments (GREEN SURGE D7.2).
Challenges:
With a population of 480 300 inhabitants (core city), Edinburgh faces three main challenges, as identified in its Local Development Plan: climate change, demographic change and sustainable economic growth. The City of Edinburgh Council (CEC) is committed to addressing the reduction of greenhouse emissions through renewable energy, recycling and sustainable transport and buildings while using the green network to capture and store carbon, and to contributing to climate adaptation through preventing flood risk.
Impacts:
The FP7 project GREEN SURGE collaborated with its case study cities in, among other things, Urban Learning Labs (ULL) (which included Edinburgh). This allowed their approaches to green infrastructure planning and governance to be studied, and novel concepts and methods developed to better understand and evaluate the role of GI in addressing major urban challenges. These challenges include biodiversity protection, climate change adaptation, enhancing social cohesion and supporting the transition towards a green economy. It is difficult to identify tangible impacts. Within the Edinburgh Focal Learning Alliance, GREEN SURGE undertook to carry out a small number of projects as part of its Action Programme, including meeting the desire to map the ecological connectivity of urban green spaces in order to identify gaps in the network. GREEN SURGE mapped the green spaces and classed domestic garden features (i.e., trees, shrubs and grass), which were correlated with pollinator presence data to measure how pollinator biodiversity is linked to environmental variables measured at different scales. This model has been extended using connectivity data derived from habitat suitability models in order to find gaps in the ecological network for pollinators.
The mapping and modelling associated with the Pollinator Pledge has already has shown that the rivers and canals which  connect the city from east to west are important habitat corridors, and that allotments and trees also have a positive effect on pollinator habitats, while large, homogeneous areas of improved grassland appear to be avoided. Taking account of health deprivation in the city, GREEN SURGE, together with stakeholders, was able to concentrate on neighbourhoods where targeting the creation of pollinator-friendly green space would provide strong benefits to pollinators while improving human mental health and well-being.
Edinburgh has a comparatively low (about 5%) extent of forests and green urban areas, and a high proportion of agricultural land and semi-natural areas, especially in the outer part of the city. This results in quite a large (3°C) UHI effect compared to other GREEN SURGE cities (GREEN SURGE D3.2). More green areas would help reduce this figure, contributing to climate adaptation.
Multiple Benefits:
All the projects were involved in restoring ecosystems and their functions by changing land use to provide different and more diverse habitats, sometimes for specific groups such as pollinators. This has led to additional benefits, such as recreation opportunities in the case of Duddingston Field Group, while the Granton Community Gardens has resulted in the sustainable production of local food, along with educational opportunities. All projects have led to greater community involvement, and Granton Community Gardens to greater social interaction and cohesion.
Integration:
The concept and application of GI is already integrated into many city plans, and the city encourages NBS-like actions, as well as community involvement in green space management, such as Friends of Parks groups. GREEN SURGE's research has helped shape the Pollinator Pledge project, and the partners are still in the process of developing it further. It is consistent with the CEC's aims of improving the green network in the city, although the CEC is not an active partner. Climate change adaptation and the promotion of quality of life and human well-being are also part of the CEC's plans, and the projects can contribute know-how to these objectives and help deliver them.
Stakeholder Participation/Participatory Planning and Governance:
In Edinburgh there is a good partnership between the local authority and non-governmental stakeholders (community groups, scientists, NGOs) involved in urban green space planning, as seen in the case of the learning alliance partnership Edinburgh Living Landscape. This partnership brings together the CEC, the Royal Botanic Garden Edinburgh, the Scottish Wildlife Trust, the University of Edinburgh and others. GREEN SURGE also became involved. Some of the impact that GREEN SURGE is trying to achieve is through Edinburgh Living Landscape, i.e. activities not necessarily directly affecting those of the CEC. The CEC regularly consults individuals and communities about their plans, and has used a variety of methods including surveys and consultation via mail and at events to gain an understanding of the green space needs of citizens. It also supports local community involvement in green space management (e.g. the Duddingston Field Group). This is sometimes done to save management costs. In Edinburgh, Friends of Parks and allotment groups allow local people to contribute to decision-making about and maintenance of their local green space, providing examples of co-management. The CEC has also prepared a start-up information pack for communities interested in setting up a Friends of Parks group and it is increasingly involved in providing advice, organizing network events and training, and communicating about funding and relevant projects (GREEN SURGE D6.1). In some cases the CEC relies to an extent on non-governmental actors for green space planning, design and management, and this can be a benefit of involvement in EU projects. Challenges relevant to participatory governance can include the complacency of non-governmental actors, the need to create temporary green space on agricultural and brownfield sites, and over-subscription and demand for allotments. The Pollinator Pledge is a good example of a project which engaged multiple stakeholders, recognising that local interventions, such as promoting wildlife-friendly gardening in private gardens, schools and communities, or community food growing, could be important ways forward.
Some of Edinburgh's major parks are privately owned, and businesses are increasingly becoming aware of the value of green spaces in developing strong and resilient corporate strategies. For example, Essential Edinburgh, a company acting on behalf of enterprises in the Central Edinburgh Local Business District, has played an important role in opening up St Andrew Square, a private garden in the financial district, to the public. This was done to improve the area's attractiveness to visitors.  Since the Square was opened to the public, a large number of exhibitions and events have been held in its gardens. It also has a café which funds the maintenance of the green space (GREEN SURGE D6.1).
Potential for new economic opportunities and green jobs in the EU and in global markets:
Visitor attractions like big parks can have a positive influence on surrounding businesses, especially if the services offered match the needs and interests of visitors, potentially leading to an aggregation of different types of business around green spaces (GREEN SURGE D4.2). This was tested by looking at the density of cafés around green spaces; in Edinburgh peak density was at 100–200 m. There were also signs of an increase in nearby property prices and in the turnover of local business in the area managed by the Duddingston Field Group study.
Success and Limiting Factors:
Opportunities to tie in with existing plans; for example, the Pollinator Pledge fitted into Edinburgh Council's aims to improve biodiversity and the amount and quality of the green network, and to increase provision for food growing and allotments which are good for hoverflies, while the gardeners sought to plant flowers for pollinators.
Community-led initiatives benefit when they receive a high level of support (e.g. finance, advisory and/or material support) and trust from the local authority. The success of the Duddingston Field Group has led to the CEC having more confidence in the community, possibly creating space and support for the rise of other initiatives.
Key individuals, in the Parks department for example, have been important in promoting the naturalisation of the CEC's property, e.g. through woodland planting on managed grasslands.
In the Duddingston Field Group there is tension created by the need to involve (too) many different user groups and the desire of volunteers to have a tranquil green space, but a close-knit community and the flexible management approach has helped keep conflict to a minimum.
The CEC has been investing in the Green Network as part of the Open Space Strategy, but the estimated costs for continuing from 2015 are £3 000 000, hence the need to tie it in with development and to make sure there are sufficient resources for ongoing management and maintenance. This can be a factor for success as well as a limiting factor.
Drivers:
Both Edinburgh City and the CEC were keen to change the city's land to mitigate climate change and increase public engagement around NBS, so GREEN SURGE came at an opportune time and their proposed activities were going in the same direction. However, there is a limitation in that projects run for a set period of time and it takes a while to build relationships and embed new thinking or models in practice, and so the return on/impact of this investment in terms of time and resources is not usually seen during the project.
In 2015, Scotland received €15 million in funding from the European Regional Development Fund for Smart Cities Scotland, which aims to make Scottish cities more efficient and greener while making them more attractive to potential investors[1]. Edinburgh is part of this programme.
---
[1] https://www.scottishcities.org.uk/media/press-releases/smart-cities-scot...
Monitoring and evaluation:
The Council carries out quality audits on all urban parks on an annual basis using Green Flag criteria[1], while the quality of open spaces is audited every five years. A pollinator monitoring strategy is being produced for Edinburgh, which if adopted, and the Pollinator Pledge project implemented, could enable the success of the project to be evaluated. At the moment, however, it is not possible to evaluate this particular project as the plan has not been fully developed or implemented.
---
[1] Green Flag criteria include environmental management (e.g. managing environmental impact, climate change adaptation strategies, eliminating the use of peat) and biodiversity, landscape and heritage (e.g. appropriate management and conservation of natural features, wildlife and flora).
Impacts of EU research and innovation projects:
GREEN SURGE viewed the results of their research as being fed back to the partners based on practice, e.g. on valuation approaches, good practice of strategic planning for green infrastructure and on good practice of grassroots movements for creating and managing green infrastructure. A number of workshops were held within the ULLs for this purpose and they have supported the development of enhanced strategies for GI planning and governance in ULLs such as Malmö and Edinburgh. Other less tangible impacts are awareness of new knowledge and changing attitudes to partnership working. By supporting research activities, municipalities can gain expert knowledge, for example on how urban green space should be developed and maintained and on open space accessibility solutions (Stephan Pauleit, pers comm.; GREEN SURGE D6.1).
While the CEC got involved in response to requests from the GREEN SURGE researchers, it has not yet taken any action which can be directly attributed to GREEN SURGE or its findings.  The Council has continued to prepare strategies for green space provision and management and to implement them together with various partners and communities. In this respect, being included in the scope of such international projects as a case study helps a local authority 'raise its game' in its activities.
Contacts:
Anton Stahl Olafsson and Sander van der Jagt, GREEN SURGE
Ben Wilson, Planning and Transport, City of Edinburgh Council
David Jamieson, Parks, Greenspace & Cemeteries, City of Edinburgh Council