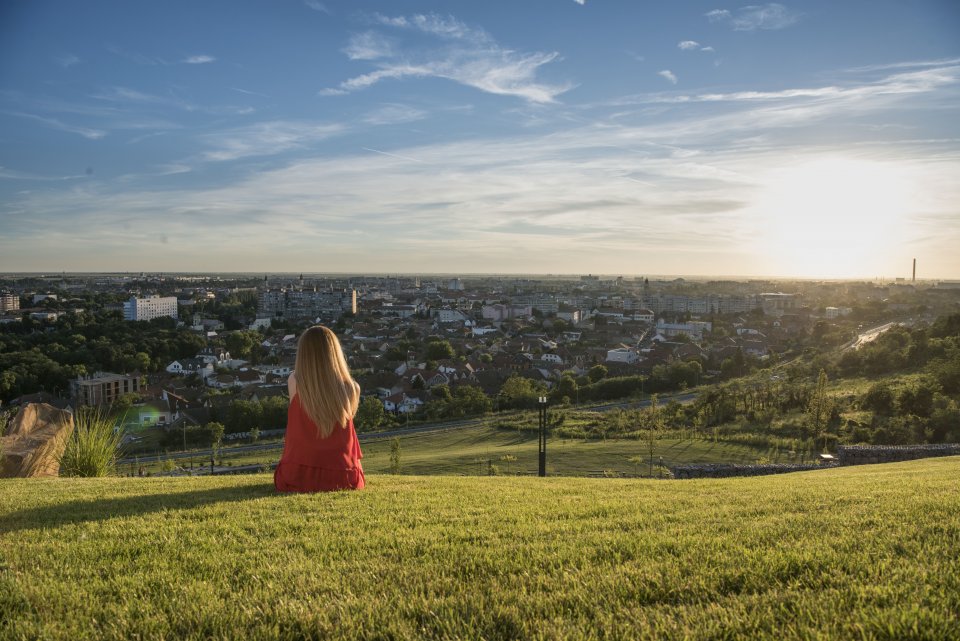 Objective:
The above-mentioned challenges are addressed in Oradea's plan for a green area within a 5 minute walking distance from anywhere in the city, evaluated in its Urban Development Plan 2030. Oradea's main objective is to improve quality of life for its citizens, including by prioritising the increase of leisure opportunities.
Actions:
To achieve its objectives, Oradea has planned to increase its 2 million m² of green areas to 2.3 million m² within 10 years. The goal is to improve this not only in absolute terms, in total surface area, but also in spatial distribution affecting individual streets. Construction areas are also targeted, for instance a southwest green corridor is planned to be developed on 10 000 m² of construction sites. Also, 12.000 m² of decayed area is in the final stages of being reshaped as a park with sports and leisure facilities, including a lake in the most densely populated district of the city. In addition, pedestrian areas, playgrounds and cycling paths are being built on the banks of the Crișu river, in areas that were destroyed as a result of construction work. Lastly, according to the agreement concluded by the city and owner associations for housing estates, operators must develop 60.000 m² of green areas and 20.000 m² must be provided for resident use.
Lessons learned:
Based on the personal observations of city administration officials, quality green areas enable people to have a better quality of life and to spend time outdoors. Businesses, especially those closely related to the city through contracts and partnerships, can be encouraged to take part in the rehabilitation and creation of green areas through procurement calls. They can of course identify trends in the changing needs of the city, citizens and market themselves, but fulfilling procurement call conditions and recognising the economic benefits of developing nature-based solutions often makes them more interested in investing in plans that aim to create a more pleasant landscape with quality green areas. A close partnership between the city administration and the private sector is crucial, as is the involvement of citizens, who can trigger further development of green spaces with private requests.
Financing:
Financing is realised through the city budget, as well as national and EU sources.
Challenges:
Oradea, the capital of Bihor county and the Crișana region, is located in the northwest of Romania. With approximately 200.000 inhabitants, Oradea has a historical city centre with increasing building coverage, which has an ever growing pressure on the green spaces (even though the city is one of the greenest large settlements in Romania, with 24.3 m² of green space/capita). Due to the growing number of vehicles in the city (increased from 70.000 to 97.000 in recent years), continuously deteriorating air quality represents one of Oradea's key challenges. Improving quality of life and increasing opportunities for leisure activities are also priorities for the city's administration.
Impacts:
According to the observations of city officials, citizens are actively using the new areas, and spend more time outdoors than they did previously. It can be presumed that the green corridors contribute to connectivity and more biodiversity in addition to having improved air quality and climatic conditions. Nature-based solutions impact job creation as well — not only are there jobs directly linked to the city administration's creation of more green areas, investment and development companies also employ people to create green areas as they see many benefits of nature-based solutions (e.g. selling properties at higher prices due to nearby green areas). This leads to positive cooperation in public-private partnerships between companies and city authorities on using nature-based solutions and working together to create blue-green areas.
Multiple Benefits:
NBS Project 1: Green area rehabilitation and development of green infrastructure
Green area rehabilitation and development of green infrastructure in Oradea is expected increase biodiversity and improve the conservation of linked habitats. It also likely contributes to improving air quality, the absorption of greenhouse gases and reducing the urban heat island effect. Provision of green active travel routes and places contribute to reducing energy use and car numbers and to more frequent public transport use, which leads to less GHG emissions from transport. More green areas and leisure opportunities improve both the mental and physical health of local residents. Green areas can also mitigate social pressure on densely populated neighbourhoods and improve social dynamics (e.g. allow different age and social groups to meet).
NBS Project 2: Lake creation
Lake creation provides new habitats and richer ecosystems, improves air quality, water cycles and climatic conditions. It also provides recreational opportunities and encourages the sharing of social space, which improves health and social dynamics.
NBS Project 3: Creation of outdoor leisure areas (e.g. cycle paths, playgrounds)
Creating outdoor leisure areas, such as cycle paths, playgrounds and pedestrian paths, is expected to  reduce car use and thus reduce energy and greenhouse gases, contributing to cleaner air. More walking, cycling and leisure activity options may drive a more active lifestyle with more social interaction, which leads to fewer mental and physical health problems.
Integration:
Green area planning and development is integrated into strategic and operational decisions and planning (Urban Development Plan 2030). However, current objectives that integrate nature-based solutions at local or national level are limited. On the other hand, pragmatic decision-making is making it possible to develop green and blue areas and to integrate them in the decisions and activities of the city administration, businesses and local residents. The most important instruments that define green space protection and development are Oradea's legally binding documents, including land use planning instruments, the 429/2009 Local Decree on Organisation, Development and Maintenance of Green Spaces and the Green Cadastre of Oradea, which categorises the various green areas. The city also attempts to drive the prioritisation of green area creation and rehabilitation in public procurement and in its partnerships with 44 companies.
Stakeholder Participation/Participatory Planning and Governance:
Stakeholders are involved through consultations, public participation, public debates, partnerships and voluntary days. Citizens may also submit requests directly to city hall.
Potential for new economic opportunities and green jobs in the EU and in global markets:
Many businesses that work in partnership with cities are encouraged to include nature-based solutions in their planning and implementation phases (e.g. through procurement calls and partnership documents). Planning, construction and property development companies are gradually recognising the benefits of including green areas in their developments and include such investment in the planning phase. The development and maintenance of green areas provide green jobs in the city.
Success and Limiting Factors:
The main success factor of developing green areas in Oradea is the mayor's support, as the vision of having a green area within a 5 minute walking distance from anywhere in the city came from the mayor himself. Pressure from citizens and owner associations, stakeholders' understanding of the multiple benefits of green areas, and knowledge of new and innovative measures that improve quality of life are also important here. Limiting factors include administrative difficulties, long and bureaucratic public procurement processes, and limited financing, especially for the management and maintenance of green areas.
Drivers:
Main drivers include an understanding of how nature-based solutions contribute to improved quality of life, political support from the mayor's office, and pressure from citizens and owner associations to increase the number of green areas.
Monitoring and evaluation:
There is no monitoring in place.
Impacts of EU research and innovation projects:
Participating in EU projects is very useful for learning about new innovative measures, receiving help with the planning processes that will make the vision a reality, and developing public-private partnerships. The Green Surge project under FP7 contributed to improving the understanding of how green areas and nature-based solutions contribute to development and shared lessons learnt from other cities on this subject.
Contacts:
Ciprian Barna, A.D.I. Zona Metropolitană Oradea
Further information
Interview with Oradea city administration. 3 March 2017 10:00 EET.
Morar, T., Radoslav R., Spiridon, L. C. and Pacurar, L. 2014. Assessing pedestrian accessibility to green space using GIS. Transylvanian Review of Administrative Sciences. No 42 E/2014, pp. 116-139
Planul Urbanistic General Oradea (Masterplan Oradea 2030). 2013. Available at cdni.bihon.ro/2013/7/Masterplan-Oradea-2030.pdf
Száraz, L. and Gerohazi, É. 2015. GreenSurge case study city portrait Oradea. Available at http://greensurge.eu/products/case-studies/Case_Study_Portrait_Oradea.pdf
Acknowledgments: Éva Gerőházi and Stephan Pauleit, for their valuable comments.