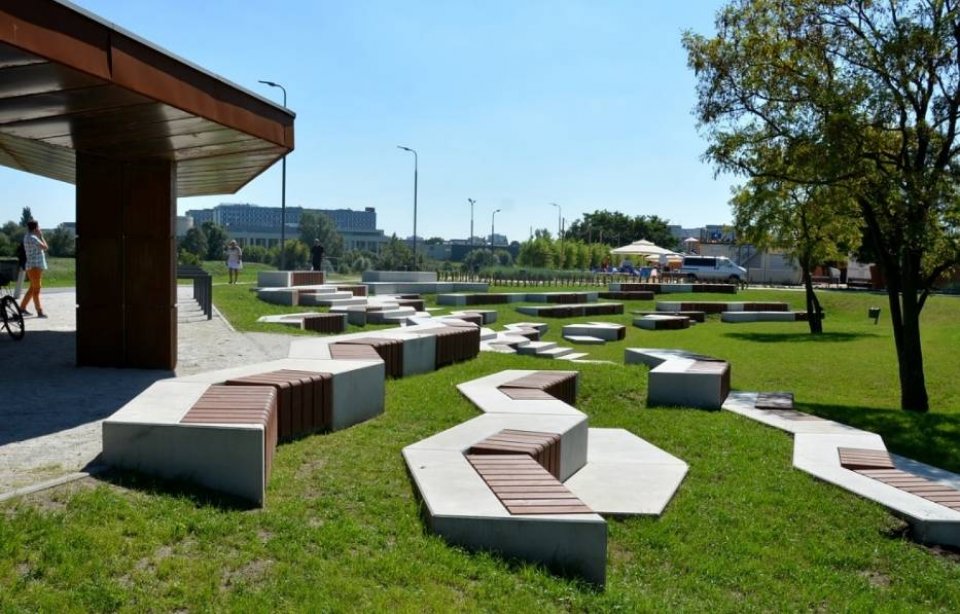 Objective:
The primary goal of the city strategy (Development Strategy for the City of Poznań 2030) is to improve quality of life for all inhabitants, in such a way that everyone feels that they have a stake in co-creating the city. One of the five strategic objectives of the city strategy –  'A green, mobile city' – sets out NBS objectives, while the other strategic objectives, including 'Friendly housing estates' and 'The spirit of community and social dialogue' contain elements of NBS. NBS objectives are also incorporated in the documents on strategy and additional spatial planning (Development Strategy for the River Warta in Poznań 2012–2030, Environmental Protection Programme for Poznań 2013-2016 looking ahead to 2020), with the aim of revitalising and protecting the green wedge areas along the Warta, Cybina and Bogdanka rivers. These objectives are intended to protect the green areas from new developments, preserve existing parks and green areas and create new parks and recreation areas. The Development Strategy for the River Warta in Poznań 2012–2030 aims to create extra space for the river Warta, deepen the Bogdanka river bed, build additional river channels and increase recreational activities on the rivers. In addition to the NBS-related objectives mentioned above, NBS are recognised as tools for contributing towards social objectives in all strategic city documents (developing environmental education, supporting and creating new open public spaces, making the city family- and senior-citizen-friendly, supporting cultural and sporting activities for social development and improving the health of residents).
Actions:
Poznań's green areas currently constitute around 27% of the city's area, most of which is taken up by communal forests (2 580 ha) and parks (over 526 ha). The city authorities focus on effectively managing and revitalising the green wedge system, while creating new sites in spite of the limited available space. In recent years, 18 000 trees have been planted solely alongside roads. Efforts have been made to prioritise green space over concrete areas through transitional elements, such as containers with various seasonal flowers, to improve the urban environment. Parking places in sealed areas have been transformed into green areas, e.g. the square at Poznań City Hall and at Kolegiacki Square, which has improved soil quality and climatic and water conditions. In the city centre, a new park – the Stare Koryto Warty Park – has been built on a 3.5-ha-area that previously consisted of undergrowth, which includes a playground, an exhibition space, an amphitheatre and fountains. On the Warta River, four seasonal beaches have been created where local citizens can relax in summer. Community gardens (a tradition covering 3.1% of the city) have also been set up, with the aim of maintaining resident participation. After a pilot stage to build gardens in schoolyards, the city authorities now intend to involve pensioners as well. During the programme the authorities provide inhabitants with plants and gardening tools. Furthermore, the city authorities are planning to identify more areas available for residents to develop gardens. The public bicycle system has been upgraded with new public bikes and additional cycling routes that supplement public transport, with the ultimate aim of having a complex and comprehensive cycling route system throughout the city.
Lessons learned:
The main driver for implementing NBS is the need to keep residents in the city and to combat air pollution and climate change. In addition, a changing trend in the behaviour of citizens can be detected, as residents ask for more green investments to be carried out and start taking the initiative for planning and carrying out these projects themselves. This shows that when there are financial possibilities available to inhabitants (in this case under the Poznań Civic Budget), the inhabitants suggest and then choose the projects, e.g. which projects are intended to improve the city's environmental quality.
Due to lack of space in the inner city, sometimes the only opportunity for greening is along the roads and streets. Here there is a conflict with underground and other infrastructure and in many cases greening is difficult. Spatial planners and designers are very interested in creating green areas in the city. In practice, however, extensive green spaces are not in the interests of developers, which often leads to a conflict between planners and investors. The key lesson here is to have more dialogue with the other responsible sectors, showcasing the multiple benefits of NBS while at the same time employing technical solutions to enable NBS.
Financing:
The city's own budget provides the largest financing share for green investments, followed by the national fund for environmental protection and EU funding. Funding for maintaining and establishing green areas comes mostly from the city budget. EU funding is available for certain projects and activities e.g. EU funding is used for a current development project involving a 14-ha park and the purchase of native plants for the park.
Challenges:
According to city officials, the key social challenge facing the city of Poznań – Poland's fifth largest city of approximately 550 000 inhabitants – is to develop a resident-friendly space, whose inhabitants will want to live and spend quality time in the downtown area, thus reversing the trend among residents to move out of the inner city to the suburbs. An additional challenge is to prevent air pollution and minimise the effects of climate change, including extreme weather (droughts and heat waves). The main way of addressing these issues is to keep the city green and to continue developing the spatial arrangements for green areas: a wedge system that was established in the 1930s. It will be difficult for the city authorities to do this, as there is limited space to be turned into greenery as a result of extensive sealed areas, pressure from new investments, and car parks. Moreover, there is little public awareness of environmental matters and the benefits of nature-based solutions.
Impacts:
The impact of having an extended green wedge system expanding through the city and of investing in green infrastructure can be seen by the fact that 55 % of the city has a high cooling capacity according to recent research carried out under the MAES (Mapping and Assessment of Ecosystems and their Services) urban project. In Poznań, 69 % of green infrastructure is available within 300 m, which can  help maintain an active urban population. According to city officials, the above actions increased green areas both quantitatively (area) and qualitatively (biodiversity, connectivity), which improved the quality of public space. Transforming car parks into green areas (along with the new cycling system and pedestrian areas) may have helped reduce vehicle use in the city centre. A large number of people choose to go out on foot or by bike. The 30-km riverside zone with seasonal beaches is also used more frequently – thousands of people are currently using these sites, which were previously wasteland. There is also a knock-on effect among residents. When locals see the results of investing in green areas in other streets and neighbourhoods, they ask for similar investment for their areas too. This can be seen through the personal requests made by citizens to the city authorities or through the Poznań Civic Budget (an initiative whereby citizens submit project ideas to the local authorities, followed by a public vote and implementation of the most popular projects), where plenty of project ideas are related to urban green areas.
Multiple Benefits:
NBS project 1: Maintaining the green wedge system
The green wedge system and its effective maintenance and management play a significant role in improving quality of life thanks to cooler microclimatic conditions, a reduced heat island effect, increased biodiversity and habitat connectivity, and improved risk management and air quality. The close proximity of green spaces may also enable citizens to lead a more active lifestyle and participate in more outdoor activities, reducing potential health risks. More time spent outside can result in improved social interactions between different social and age groups and can benefit social dynamics.
NBS project 2: Planting 18 000 trees on the roadside and using urban green elements
Planting trees and using portable containers of various plants over concrete surfaces can lead to improved quality of life for citizens as a result of enhanced aesthetic values, better microclimatic conditions, a reduced heat island effect and improved air quality. The close proximity of green spaces may also enable citizens to lead a more active lifestyle and participate in more outdoor activities, reducing potential health risks. More time spent outside can result in improved social interactions between different social and age groups and can benefit social and economic dynamics (e.g. increased tourism).
NBS project 3: Transforming car parks into green areas
Transforming parking places into green areas can improve water retention and soil functions due to the better environmental qualities of vegetated coverage for sealed areas. It can also lead to reduced vehicle use, delivering improved air and noise indicators and boosting participation in physical activities. In turn, this can improve people's health and promote more joint use of public spaces and a better urban environment.
NBS project 4: Community gardening
Urban gardening can create community awareness and interactions between various social and age groups, and present opportunities for improving physical and mental health from being outside and producing local food. Urban gardening can also increase urban biodiversity.
NBS 5: Creating seasonal beaches
Creating seasonal beaches can lead to social benefits, such as more people staying in the city and more tourists visiting the city because of such attractions. The beaches also increase the availability of shoreside recreational areas for people using the beaches and swimming sites.
Integration:
The general objectives of the city strategy (Development Strategy for the City of Poznań 2030) include both NBS objectives and objectives to be achieved with various NBS (e.g. to make the city more attractive to residents so that they do not move out to neighbouring areas or to attract more tourists, e.g. with the seasonal beaches). Poznań also participates in various other initiatives, such as the MAES urban initiative, developing the Polish National Urban Strategy or major efforts to adapt to climate change. Relevant NBS at  city level are also taken into consideration for these strategic documents.
Stakeholder Participation/Participatory Planning and Governance:
The interest of non-governmental actors (NGOs) and citizens in taking part in city planning and policy-making developments has increased due to the new tools available that enable participation and information sharing. These include local district councils (the lowest level of self-governance with some authority over local issues), the Poznań Civic Budget initiative, increased communication through social media and a continuously updated website. Furthermore, the city authorities make a concerted effort to raise environmental awareness through hearings, consultations, leaflets, urban games and programmes (e.g. urban gardening). NGOs play an important role in aiding and monitoring the activities of the city authorities and in advocating for the protection of green spaces.
Potential for new economic opportunities and green jobs in the EU and in global markets:
According to the city authorities, one of the attractions of NBS is increased potential for tourism. For instance, the city beaches were set up as part of a tourism project through the Poznań Civic Budget initiative with clear potential for tourism and the economy. Under the project 'Plażoada – the route of the three lakes', it is planned to develop five municipal beaches at the three lakes, connect them with a consistent system of hiking and cycling routes and supplement them with infrastructure such as decking, open-air gyms and children's playgrounds. Moreover, new housing projects are being built in the vicinity of green areas and the presence of green clearly represents an added value, which attracts property developers.
Success and Limiting Factors:
The main success factor has been the involvement of citizens in developing green areas, which was aided through the Poznań Civic Budget initiative and different tools used by the government (programmes, leaflets, consultations). The main limiting factor has been the low environmental awareness of the sectors playing an important role in developing NBS (e.g. underground infrastructure, spatial planners and designers).
Drivers:
The main drivers for developing NBS are the specific and direct effects of having better quality of life thanks to green areas. In addition, the economic aspect plays a key role, as there is no doubt that property developers and the market itself provide higher prices for areas with blue-green spaces. Moreover, direct feedback from citizens, e.g. through the Poznań Civic Budget initiative applications, clearly shows that people request more greenery and want to take part in the projects themselves. Such initiatives and activities are also visible in the media. Poznań takes part in numerous EU NBS projects, such as the Interreg projects, SULPiTER for creating Sustainable Urban Logistics Plans (SULPs) or EcoTale on internalising the environmental, spatial and social costs caused by transport. Poznań has also participated in the URBACT network (European Territorial Cooperation programme) and REFILL on reusing vacant spaces for innovation, while the city authorities contribute to EU research projects, such as ESMERALDA on mapping ecosystem services and the MAES urban case study.
Monitoring and evaluation:
Only the investment stages are monitored. Output indicators are specified in the 2030 city strategy (e.g. average annual concentration of PM10 suspended in air, area of green spaces, recovered ecological continuity of water courses and protection of water resources). The main indicators also provide the bases for developing new investments in green areas.
Impacts of EU research and innovation projects:
There was no direct link between the FP7 project GREEN SURGE and the implementation of the above-mentioned NBS. However, Poznań is now part of the NBS demonstration project Connecting (Horizon 2020).
Contacts:
Roman Przybylski, Department of Transport and Greenery, Poznań  
Acknowledgments: Jakub Kronenberg, Stephan Pauleit, Poznań City Hall staff.  
Further information
City of Poznań. Green areas. Available at http://www.Poznań.pl/mim/wos/en/green-areas,p,11565,11568.html
Development Strategy for the City of Poznań 2030. Available at http://www.poznan.pl/mim/public/main/attachments.html?co=show&instance=1...
Development Strategy for the River Warta 2012-2030. Available at http://www.dorzeczni.pl/upload/articles/pdf/strategy_en.pdf
Ecotale homepage. Available at http://www.ecotale.eu/home-3
Environmental Protection Programme for Poznań 2013-2016 looking ahead to 2020. 2013. Available at http://www.poznań.pl/mim/wos/program-ochrony-srodowiska-dla-miasta-Poznańia,doc,519/program-ochrony-srodowiska-dla-miasta-Poznańia-na-lata-2013-2016-z-perspektywa-do-2020-roku,62928.html
European Commission. 2016. Mapping and assessment of ecosystems and their services. Urban ecosystems. 4th report. Available at http://catalogue.biodiversity.europa.eu/uploads/document/file/1340/MAES_...
Ponizy, L. and Stachura, K. 2016. Future of allotment gardens in the context of city spatial policy - a case study of Poznań . Quaestiones Geographicae 36(1), Bogucki Wydawnictwo Naukowe, Poznań, pp. 121–127.
Skype interview with the city authorities of the Department of Transport and Greenery, Poznań. 20th March 11:00 CET.
Tonko, A and Kronenberg, J. 2015. GreenSurge case study city portrait, Poznań. Avaialble at http://greensurge.eu/products/case-studies/Case_Study_Portrait_Poznan.pdf
URBACT. Refill project. Available at http://urbact.eu/Refill
Zwierchowska, I, and Mizgajski A. 2016. Potential of Polish cities providing ecosystem services. European Ecosystem Services Conference, Antwerp 22th September, 2016.