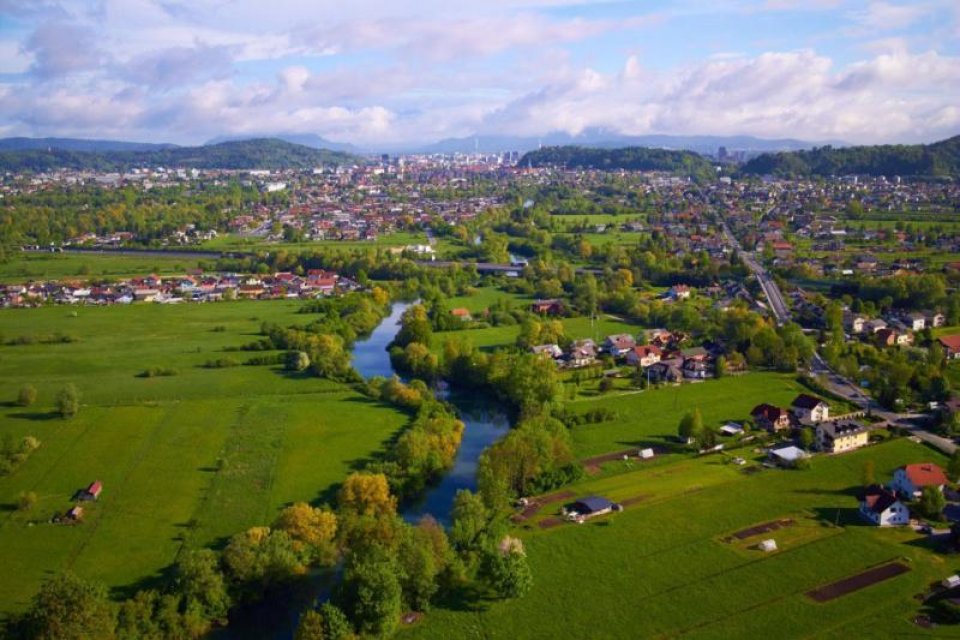 Objective:
In the framework of "Vision Ljubljana 2025", the city has adopted several sustainability-oriented strategic documents, especially the:
Urban Master Plan (83% of all city development is directed towards renewing existing developed areas and brownfields). This is the most important planning instrument for green spaces in the city.
Environment Protection Programme 2014-20, aiming to protect and enhance the natural environment in the city.
Actions:
The city administration has closed the city centre for motorised traffic, renovated it and created an urban "Ecological Zone", gradually expanding it so that today it covers over 100,000 m2.
Biking and sustainable mobility have been promoted, in line with providing new green areas for social and sporting activities on former degraded areas. Finally, the river Ljubljanica has been the focus of an ecological restoration project.
While these measures have been planned separately at different times, taken together, they can be seen to have clearly enabled synergies in tackling a series of challenges by providing key ecosystem services.
Thus, even if not explicitly following a systemic NBS approach from the outset, the cumulative effect of these measures is greater than merely a series of individual projects.
Lessons learned:
The Green Surge case study (2015) concluded that the most important factor for implementing nature-based solutions is availability of funding.
Other helpful factors:
clearly articulated programmes, with clear timeframes and detailed plans
implementing administrative procedures in time (e.g. arrangement of land ownership and different permits)
Challenges:
In Ljubljana numerous green initiatives have been undertaken to regenerate the city, mitigate climate change and preserve ecosystems, while at the same time improving quality of life and boosting tourism.
Impacts:
In 2007 Ljubljana established the "Ecological Zone" in the city centre, an area closed to all motorised traffic, with various green spaces. Access to the zone is restricted to pedestrians and cyclists. And pedestrians can also use electric vehicles (the Kavalir) or a public bike sharing system in the zone.
Within the Ecological Zone, the embankments along the river Ljubljanica were renovated and repurposed in 2012, and several new bridges have been built connecting all the key areas of the city centre. This has created a high-quality public space, enabling full accessibility and shortening routes for pedestrians and cyclists.
The renovated river banks expand into parallel public spaces and are linked with new arrangements of nearby squares and streets. All the bank renovations include planting new vegetation, which improves the microclimate around the river, provides shade and generally improves their appearance.
This refurbishment of the banks and bridges of the river Ljubljanica is an example of linking green spaces with urban rehabilitation.
In Ljubljana, almost 3/4 of the city's surface area is green areas (and 16.5% is Natura 2000 areas). From 2013 to mid-2016 the city administration ran a series of tree-planting campaigns that planted over 13,500 trees in the city, mainly along main roads, parks and hills.
Almost 81% of the green areas are on the outskirts of the city (contiguous freshwater, forest and agricultural areas), connected to the historical centre via green wedges and riparian corridors.
The other 19% of the green areas are in the city proper, directly contributing to citizens' quality of life: gardens, parks, playgrounds, green areas between apartment buildings, etc.
Furthermore, between 2009 and 2016 Ljubljana created 90 ha of new public green areas in the city on former brownfield/degraded lands.
One of these is the Sava Recreational and Educational Centre (see Figure 1) on a previous brownfield site along the Sava River. The newly established green area, which includes 8 km of cycling and walking paths, represents the first step towards connecting the Sava River from its source all the way up to the state border.
The Path of Remembrance and Comradeship (PRC) is the backbone of Ljubljana's green system. It is a continuous circular green corridor and is popular for sports and leisure activities (see Figure 2).
It is the longest tree-lined avenue in the city, with more than 7,000 trees along 34 kilometres, and contains numerous memorials, rest points and other features, including a public orchard (108 trees, of various fruit species).
Furthermore, vegetable gardening is an increasingly popular activity (see Figure 3). The Urban Master Plan specifies this dedicated land use; the city has developed model allotments on city-owned land, such as in Dravlje (51 allotments), Štepanjsko Naselje (14 allotments), Ježica (258 allotments) and Park Rakova Jelša (320 allotments).
The city is the intermediary between the allotment owners and people seeking to cultivate them. Around 82% of allotment users live in apartment blocks or towers, and for them gardening represents an important contact with nature and a chance for recreation and relaxation.
Ljubljana also has a thriving bee-keeping community. Over 300 keepers maintain more than 4,500 beehives, housing as many as 180 million bees. To promote bee-keeping, the city created the Bee Trail - a circuit where visitors can discover Ljubljana's beekeeping heritage and the significance of bees for our survival.
The aim of Ljubljanica Connects funded by Life+ - is to improve connectivity between Natura 2000 sites. Started in 2012, the project aims to remove barriers to fish migration, enhance and restore habitats, improve the water management infrastructure, and put in place a water monitoring system.
This will restore the river Ljubljanica's function as a corridor (see Figure 4), improve water management and so provide better links between Natura 2000 sites. The fish species in question are Danube roach, Danube salmon and striped chub. The total budget is €1.19 million, with the EU paying almost half.
Multiple Benefits:
Green areas have an important role in enabling ecosystem functions, such as climate change mitigation and improving health and recreation for residents. For instance, the Path of Remembrance and Comradeship is a key element of the city's green infrastructure, offering recreation to residents, in both summer and winter.
In 2010 the city declared 1,200 ha of Ljubljana territory as "forests of special purpose", with great value as a CO2 sink. Ljubljana's green areas also help mitigate the 'heat island effect', as defined by the European UHI project (started in 2011).
Stakeholder Participation/Participatory Planning and Governance:
This happened in various ways:
Citizens are encouraged to participate in tending garden allotments.
Several different actors are usually involved in green space planning, to different degrees - especially for major plans (Urban Master Plan, Environment Protection Programme, Sustainable Urban Mobility Plan).
Who? City employees from different departments, public companies and institutions, NGOs, private sector representatives, scientists, neighbourhood associations, community groups, residents.
How? The process of creating these documents included workshops, presentations, roundtables, exhibitions, public debates and coordination with various sectors.
Success and Limiting Factors:
Drivers:
The City of Ljubljana recognised that nature-based solutions provide key ecosystem services to residents, both improving citizen's wellbeing and attracting more tourists, while at the same time improving the city's climate change resilience.
"In Ljubljana, green equals quality of living. We are proud of our annual record in tourist visits. And according to the Commission's Perception survey (Flash Eurobarometer 366 - Selected Data), 92% of citizens are happy to live in Ljubljana" (City of Ljubljana, 2015).
Monitoring and evaluation:
While there is no direct, long-term monitoring of the NBS projects, vulnerability and threats to water sources are evaluated based on climate indicators.
These indicators are determined by CC-WARE (Mitigating Vulnerability of Water Resources under Climate Change) - a joint international project with the participation of the Slovenian Ministry of Environment and Spatial Planning, the Ljubljana Public Water Utility and the University of Ljubljana.
The project will evaluate extreme weather events and their impact on ecosystems whose existence depends on the presence of water, and on the link between surface and groundwater. The test area is the Ljubljansko Barje wetland (major source of drinking water as well as an area of ecosystems that need water to exist).