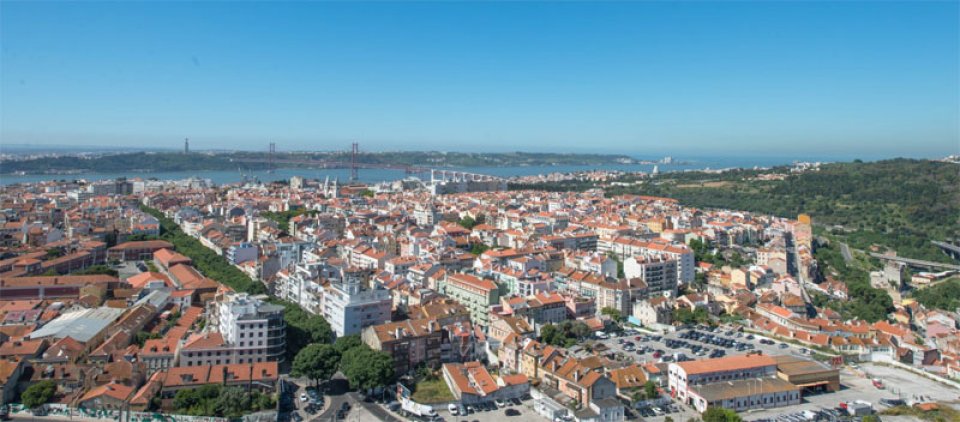 Objective:
To tackle these challenges, the city has taken a series of measures in the context of the Master Development Plan. The plan sets out guidelines and objectives for specific planning and local development. In particular, the municipal ecological structure takes into account ecological principles and the importance of preserving natural, forest, agricultural and cultural heritage. Together with the Biodiversity 2020 Strategy, the city also approved the Biodiversity Action Plan in 2016, putting implementation actions in the context of green infrastructure and climate change adaptation and mitigation.
Actions:
Connecting green spaces by creating green corridors has been one of the main priorities. The best example is the Main Green Corridor, connecting Monsanto Forest Park to the city centre through Eduardo VII Park. Furthermore, the Eixo Central revamping project, currently being developed, shows how planting street trees and making green areas can create synergies and improve existing grey infrastructure. This helps reduce traffic, giving pedestrians and cyclists more space. Greening these infrastructures makes better ecological connections possible and contributes to air pollution control. Street trees make the city more attractive, better connect green spaces and provide shade for cyclists. As part of its Green Plan (2008), Lisbon also set up a working group to promote and enhance urban agriculture, emphasised in the Biodiversity 2020 Strategy.
While these measures have been planned separately at different times, taken together, they can be seen to have clearly enabled synergies in tackling a series of social challenges by providing key ecosystem services.
Thus, even if not explicitly following a systemic NBS approach from the outset, the cumulative effect of these measures is greater than merely a series of individual projects.
Lessons learned:
In the 1998 World Exhibition, the city of Lisbon promoted the regeneration of its eastern waterfront, today known as Parque das Nações. Previously an obsolete industrial area, with contaminated soil, today the area boasts 110 ha of green spaces, real estate, business centres and modern transport connections. Although it did not adopt an NBS approach from the beginning, the project made it possible to regenerate an obsolete and contaminated area through sustainable urbanisation, with the emphasis on green spaces. The project made better connections with Lisbon's ecological structure possible, as well as pollution control and monitoring. It has also made it possible to requalify the Tagus river salt marshes, focusing on biodiversity conservation and monitoring (especially migratory birds). This in turn created new opportunities for birdwatching tourism. The Polis projects have since replicated this experience in other urban areas in Portugal, providing cities with regenerated spaces, a better environment and better quality of life. These projects helped mainstream the idea that a healthy environment and urban regeneration have to complement each other in innovative ways.
The case of Lisbon also shows that even during a financial crisis a city can improve its citizens' wellbeing and its ecological structure with small-scale, concerted measures that are relatively cheap to implement.
Financing:
The most common ways of financing the implementation of nature-based measures are:
the municipal budget (general);
municipal budget, decided on through participatory budget voting;
European funds (mostly structural and cohesion funds 2007-2013);
Lisbon´s Casino direct funding obligations;
partnerships with private companies resulting from municipal taxation and charges for permission to use public space during occasional events or as direct compensation from services that require municipal authorisation;
sponsorship from national and private companies.
Challenges:
Over the last few decades, Lisbon has lost a third of its residents (Green Surge: Lisbon case study) as a result of uncontrolled urban development (urban sprawl in the suburbs coupled with depopulation and decaying neighbourhoods in the historical centre). This has led to a deterioration of the quality of life in the city. It is currently facing challenges such as the 'heat island effect', floods, air pollution and unequal distribution of green spaces.
The city administration has invested in the regeneration of the city, bearing in mind the importance of the environment and people's wellbeing. This regeneration is part of the city's strategy to enhance its tourism potential and attractiveness.
Impacts:
Lisbon started implementing its strategy for urban agriculture in 2007. Integrated into the municipal ecological structure, together with other green areas and corridors, urban agriculture provides better ecological flows and landscape functions. In this way it provides key ecosystem services, helps regenerate abandoned areas in the city and offers recreational opportunities, contributing to healthy lifestyles. Several parks have been created, with all the necessary amenities (lawn areas, playground, kiosk, fitness equipment, bike lanes) and with designated areas for agriculture. These are integrated into the city's ecological structure, as defined in the Master Development Plan. In addition to plots, the City Council also provides shelters for storage, water irrigation, training and technical support.
The first two parks were opened in 2011: Granja Farm (see Figure 1), with 56 plots of 150 m2 each, and Campolide Gardens, with 22 plots between 50 and 100 m2. About a thousand applications were submitted for these plots, awarded by public tender. The number of applications reflects citizens' demand for urban agricultural spaces. In 2015, Lisbon had 11 parks of this kind in total, serving more than 400 families, in 2015 (City of Lisbon). 
Another major aspect of what the city is doing to tackle its climate resilience challenges by promoting green infrastructure is the creation and connection of green areas. Between 2009 and 2013, Lisbon created 108 ha of new green areas. Up to 2017, 75 ha are expected to be added to that, spread over a total of 6 green corridors.
Monsanto Forest Park is the largest green area in Lisbon, with 1123 ha (approx. 10 km2). The 2.3 km green corridor connecting the park to the city centre (the Main Green Corridor, see Figure 2), created in 2012, is considered one of the city's largest green infrastructures. In specific areas, biodiverse extensive meadows (see Figure 3) were created instead of lawns. These offer greater diversity of species, making the green area more balanced and requiring less water and fewer nitrogen fertilizers to maintain it.
Creating these green areas and green connections has a cooling effect to counteract the 'urban heat island' effect typical of Lisbon and other southern European cities. A case study in Lisbon has demonstrated the potential contribution of even small green areas to mitigating the 'urban heat island' effect and the potential additional effect of global warming in the city. That is why it is so important to create and connect green areas to counteract rising temperatures.
Trees along Lisbon's streets also play a key role in mitigating and adapting to climate change (see Figure 4). It has been estimated that Lisbon's 42,247 street trees provide services valued at about € 7.5 million annually, for € 1.7 million spent managing them. For every € 1 invested in tree management, residents receive € 4.48 in energy saving, cleaner air, increased property value and CO2 sequestration (Benefits and costs of street trees in Lisbon, Portugal).
Tree planting has therefore been one of the main ways of greening existing grey infrastructure. The requalification of the Eixo Central project is an example of how nature can improve grey infrastructure. The project involves creating green areas, such as street trees and pocket parks, in some of the main avenues of central Lisbon. This will increase green connectivity and contribute to air pollution and noise control (a 50% reduction in traffic noise is expected). It will also improve the drainage system (in the context of the municipal drainage plan to prevent flooding). Reducing space for car traffic will make new, greener space available for pedestrians and cyclists.
Multiple Benefits:
Agriculture allotments and green areas, integrated into the municipal ecological structure, provide better ecological flows and landscape functions. In this way they provide key ecosystem services such as CO2 and NO2 sequestration, reduction of the 'urban heat island' effect, air and water pollution control and soil desertification prevention. They also help regenerate abandoned areas in the city and can reinforce biodiversity policy, as well as being important NBS areas for flood control. They offer recreational opportunities, contributing to healthy lifestyles by serving as a basis for a bicycle and pedestrian network. Ultimately they make the city attractive, especially given the current tourism strategy (regeneration of the historical centre and the river bank), and create jobs and growth.
Stakeholder Participation/Participatory Planning and Governance:
Lisbon has different partnerships for specific scientific, economic and management actions for the protection and enhancement of green spaces. There are several research protocol agreements between Lisbon and universities on landscape architecture, land use planning, climate change, biodiversity and ecology, as well as partnerships with private companies for sponsoring and funding projects related to green spaces.
In 2008, Lisbon was one of the first European capitals to adopt a participatory budget process at a municipal level to involve its inhabitants in drawing up and ranking the proposals to be included in a predetermined proportion of the city council's budget. Many projects chosen by citizens relate to the creation of green spaces, with a total annual budget of € 2.5 million.
Besides the participatory budget, which allows citizens play a part in deciding how to use the municipal budget, there is another municipal programme that connects citizenship with entrepreneurship projects (the BIP-ZIP programme). The project makes it possible to create and develop several community projects, including some that embrace nature-based solutions.
Local communities, universities, R&D centres and NGOs are heavily involved in implementing the Biodiversity Action Plan.
The urban allotment garden programme involves citizens, as well as NGOs providing training in organic agriculture. In this respect, Lisbon was also involved in the European project COST TU1201 which contributed to the development of a research platform on urban allotment gardens.
Success and Limiting Factors:
The urban regeneration measures taken so far have shown how the restoration of Lisbon's historical quarters and its riverfront, using nature-based solutions, helps both to improve the wellbeing of its inhabitants and make the city more attractive.
The Riverfront General Plan, being implemented since 2008 (see Figure 5) has been promoting regeneration of the riverfront based on environmental concerns, making Lisbon more competitive as a welcoming city for people and investments. It includes measures for the integration into the city's ecological structure (further connection with other green areas and corridors in the city, as well as the city's drainage plan for flood control). It creates a diverse range of leisure and sports activities, joining the new urban spaces with the river and protecting the city from rising sea water levels due to climate change (Lisbon: a new relationship with the river).
Drivers:
In 2012 the new Master Development Plan adopted the ecological structure as the overarching guiding principle for urban land use, envisioning actions to set up urban allotments, create green areas and improve the water cycle. The adoption of these ecological principles gives an approach that makes urban regeneration possible and creates jobs by enhancing public spaces, in particular green spaces, and better connecting them.
In March 2010, a cooperation protocol was set up between Lisboa E-Nova, Lisbon Municipality and the Institute for Nature Conservation and Biodiversity, to increase the biodiversity potential of Lisbon by 20% by 2020. Lisboa E-Nova (Lisbon's Municipal Energy and Environmental Agency) is a non-profit association operating under private law. It develops and defines the energy and environmental indicators and goals for the city of Lisbon. In September 2012, the Biodiversity 2020 Strategy was finalised. The document includes an urban biodiversity matrix of indicators and a characterisation of biological diversity in the city. The Biodiversity Strategy was translated into an Action Plan, adopted in 2016, which includes biodiversity enhancement for adaptation purposes (Lisboa E-Nova, 2016).
Lisbon joined the Covenant of Mayors in 2009 and Mayors Adapt in 2014. In 2016, the city is set to be the first European capital to sign the new Covenant of Mayors for Climate and Energy. It is also working on urban pilot studies as part of the EU MAES initiative (Mapping and Assessing Ecosystems and their Services).
Monitoring and evaluation:
While the Portuguese Environment Agency monitors the air quality in the city, Lisbon's Biodiversity Action Plan has 23 indicators for monitoring, including several that are directly related to NBS implementation (e.g. CO2 sequestration or the use of green areas by people). A milestone report will be published in 2017 when it will be possible to evaluate the achievements up to then. Meanwhile, current NBS implementation is based on previous technical evaluation of efficiency and on financial advantages compared to conventional solutions.
The Green Structure Department manages and monitors green spaces. It is part of a larger department that includes the project design group, the tree street management group, the Biodiversity Action Plan group and a specific subgroup for Monsanto Forest Park.
Within the municipality of Lisbon, since 2014 the parish councils manage and monitor local parks as part of the decentralisation of municipal administration. At regional level, the Regional Coordination and Development Committee for Lisbon and the Tagus Valley coordinates land use planning. This committee is responsible for implementing the Regional Land Use Plan for the Metropolitan Area of Lisbon.