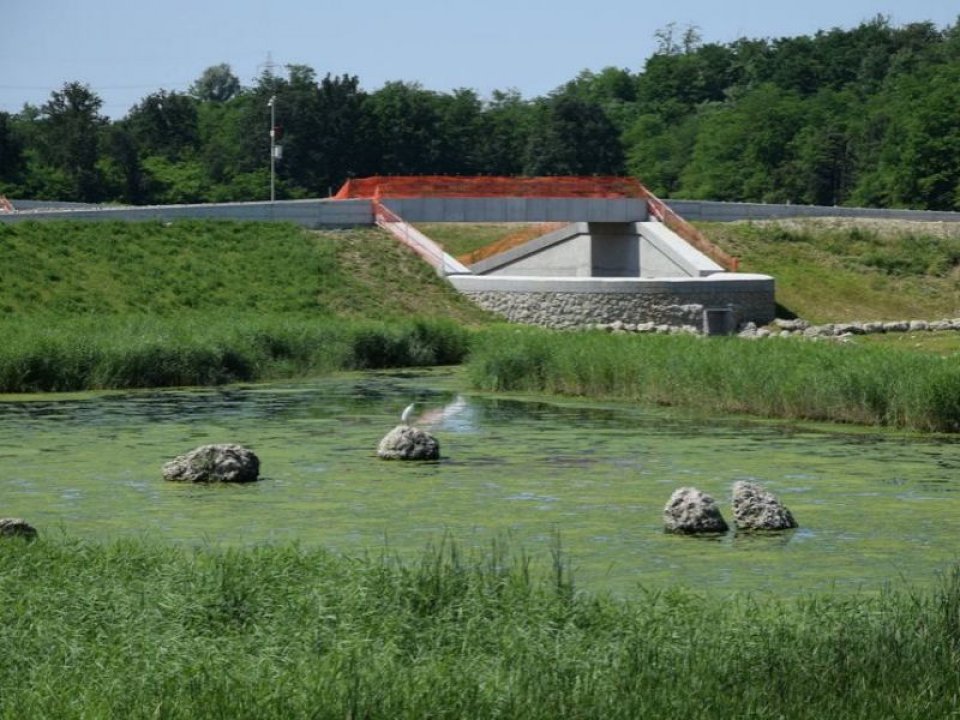 Objective:
River bank renaturation and stabilization through live staking and vegetated dikes

Riparian afforestation

Phytodepuration basins

​Zero-energy flood retention system (no pumping needed)
The project consists of the implementation of two rolling basins connected by an open air ditch and a pond filled with ground water. The basins will be temporarely flooded by Lura river during intense rainy periods through natural inlet from the river bed, whilst the pond will recharge constantly the ditch to maintain wetland vegetation all over the year to guarantee its phytodepuration functions. The balance of ground movements within the project is null as the volumes excavated are reused to create mounds and dikes. Wide areas of the river banks and plains have been upgraded through afforestation with native species.
Area characterisation:
City scale implementation
Regional / district / building / park (expected) Impact
Low urban density (suburb at the limit with rural areas)
Milan's metropolitan region is affected by severe flooding during heavy rain events because of the high sealing rate of urban areas and increasing effects of climate change.
Among several measures planned by the regional government there is a wide retention area that has been planned as flood control device, which also creates high quality natural areas and reconnects slow-mobility routes and recreational spaces inside the Lura Valley park. 
NBS benefits
Developing climate change adaptation; improving risk management and resilience
Flood peak reduction
Increase infiltration / Water storage
Reduce flood risk
Reduce run-off
Developing climate change mitigation
Restoring ecosystems and their functions
Increase Biodiversity
Increase quality and quantity of green and blue infrastructures
Improve water quality
Increase accessibility to green open spaces
Increase amount of green open spaces for residents
Increase well-being
Financing:
Global (estimated) cost of the project: more than 5M€
Financing mechanism: cluster1 public financing
NBS classification
Objects Shapes
Water
Constructed wetlands and built structures for water management
Constructed wetland for phytoremediation
Challenges:
Urban Challenges:
1. Climate issues: Climate mitigation
3. Air quality: Air quality locally
6. Resource efficiency: Food, energy and water
7. Public health and well-being: Quality of life
NBS:
Objects Shapes → Water → Constructed wetlands and built structures for water management → Constructed wetland for phytoremediation
Stakeholder Participation/Participatory Planning and Governance:
Consorzio Parco del Lura (Contracting authority)

Etatec - Studio Paoletti (Project Manager)
Main partner:
Other stakeholders:​
---
GOVERNANCE MODEL:
Governance cluster: cluster1 traditional public administration
Governance model: Participatory planning and budgeting
Success and Limiting Factors:
Process enablers:
Knowledge drivers → Awareness → NBS ambassadors
The process benefit from the existing knowledge (from all the stakeholders) regarding NbS in cities and it was possible to generate the missing knowledge.
Process inhibitors:
Knowledge barriers → Uncertainty → Performance unknow
The process suffer from the concerns of some of the stakeholders regarding the unknown consequences.
---
Expected life time of the intervention: more than 30 years.
Feedback: not concerned
Expected time for the NBS to become fully effective after its implementation: short (immediately to few months).
Dates (for project delivered): 2017
---
BUSINESS MODEL:
Business cluster: Technological
Business model: Substitute with renewables and natural processes
Further information
---
Nature4Cities (https://www.nature4cities.eu/) aims to develop a knowledge diffusion around Nature-Based Solution (NBS) and a decision support platform through new collaborative models.
This project is part of the Nature4Cities's pioneer case studies database, it will feed the observatory, NBS pre-selection and replication tools, gathered into the Geocluster4NBS.
This project was chosen as a pioneer case study for the following reasons: the project is a Pilot project of wetland (reduction of hydraulic risk integrated with biodiversity).
Nature4Cities project has received funding from the European Union's Horizon 2020 research and innovation program under grant agreement No 730468.
Key Performance Indicator: