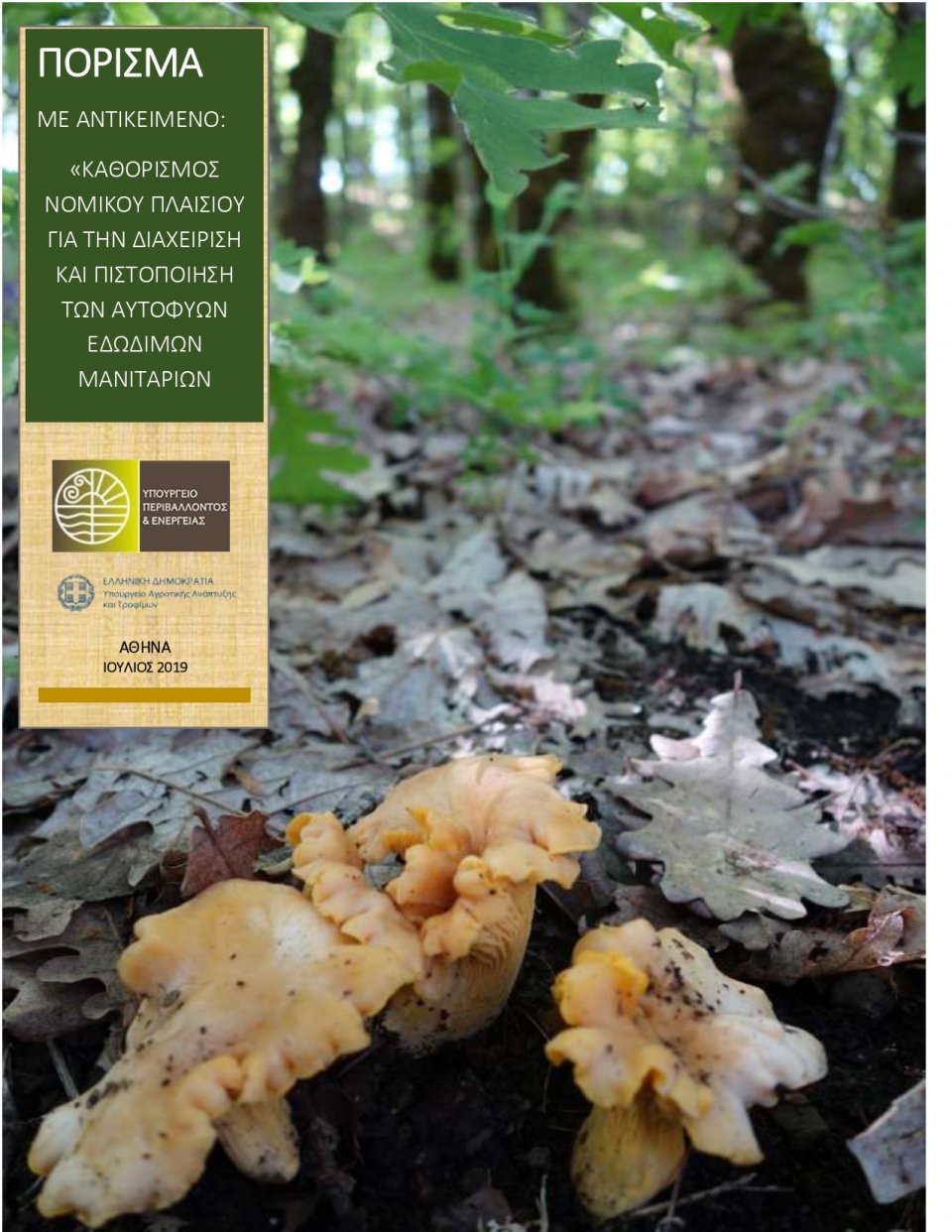 Source:
Personal communication in an INCREDIBLE event (interregional workshop)
Objective:
In order to formulate new regulations for updating relevant existing forest, rural and commercial legislation for the collection, certification and trade of Wild Edible Mushrooms (WEM) in Greece, an expert working group was set up in2015 by the Ministry of Environment and Energy and the Ministry of Rural Development and Food. The experts compiled a special report which reviews and evaluates European and national legislation, investigating possible similarities, differences or gaps proposing innovating ways to boost rural economies, while ensuring their sustainable harvesting</p>
Context:
Wild edible mushrooms have gained prominent economic, gastronomic and ecotouristic importance recently in Greece, while the existing legislation for their sustainable management, collection, certification and trade is still bureaucratic, has many gaps and therefore should be urgently updated.
Main results:
The experts propose a national list of edible mushrooms with 33 species of commercial use, 69 species of amateur interest and 8 species to be legally protected, while toxic/poisonous should also be listed. Reference is made to the necessity of inventorying, studying and cataloguing the diversity of Wild Edible Mushrooms and Truffles species in Greece in an integrated database, and research needs on their productivity in natural ecosystems for safeguarding sustainable management. Furthermore, the report proposes specific training procedures for collectors (amateurs and for commercial purpose) and investigators, inspection procedures, licensing issues and traceability procedures for their certification and labeling as "wild forest product".
Main practical recommendations:
The creation and implementation of a new legal framework for the sustainable management of Wild Edible Mushrooms and Truffles in Greece should be accepted after a wide discussion of the report proposals with various interest/stakeholder groups (traders and those involved in marketing of agricultural/forest products, mushroom associations and societies, forest cooperatives, municipalities and relevant ministries, Academia and government officials, especially the decentralized Forestry Services of the country).
Impacts and weaknesses:
Rapid implementation of the expert proposal recommendations will increase the income of local rural communities as also the state, while safeguarding the biodiversity of natural ecosystems and the product from overexploitation, and ensuring public health. Bureaucracy, tensions between stakeholders, weak political will and the pressure of the "shadow marked" for "no change" are some of the weaknesses that should be addressed in order to organize properly the sector, legalize the supply chain, while "sustainable forest" labeling can give new innovative enterprises safe business environment.
Future developments:
Pilot implementation of the actions proposed by the expert proposal in management, collection, transportation, identification, education, certification, and marking of Wild Edible Mushrooms and Truffles products in Greece urgently needs to test in practice the various arrangements proposed, identify potential problems or failures and reduce potential bureaucratic procedures that, without slowing down control procedures, exploit the product rapidly, reliably and sustainably.
Organisation:
Ministry of Environment and Energy
Further information
Tsiakiris, R., Gonou-Zagou, Z., Diamandis, S., Diamantopoulou, K., Zervakis, G., Kokka E., Kollias, E., Kyrazoglou, K., Konstantinidis, G., Pappas, Chr., Podimata, O., Polemis, E., Stara, K., Tsiomidou, E., Filippousis, A. † & Chrisafidis, D. (2019). Legal framework and proposal for management and certification of wild mushrooms in Greece. Ministry of Environment and Energy & Ministry of Rural Development and Food. Athens, pp. 168.
https://www.researchgate.net/publication/334318603_LEGAL_FRAMEWORK_AND_P...
Figure 2: