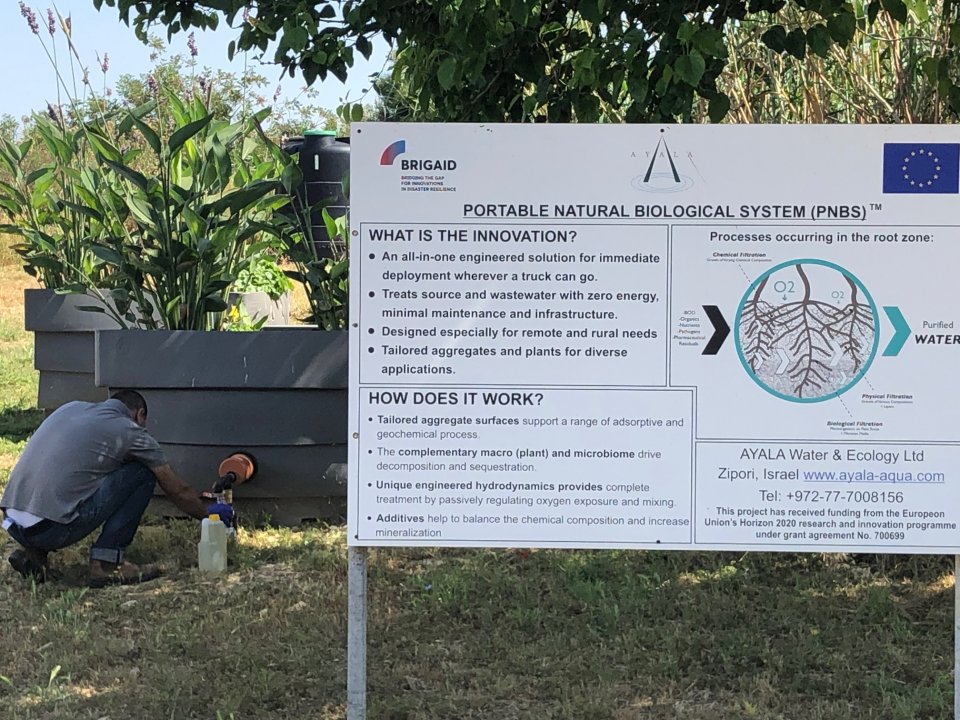 Area characterisation:
AYALA 's aquatic plant nursery experimental site is located in the rural agglomeration of Tsipori, north of Israel. As a licensed agricultural consumer of wastewater, AYALA operates NBSTM sewage treatment plants onsite. The source of the wastewater is the Nazareth municipality. This area has a Mediterranean climate characterized by hot and dry summers and cool rainy winters.
Objective:
To improve and validate a portable, modular, enery-free, decentralized water treatment system,  the PM-NBSTM, to remediate source water to high quality for resuse, filling a major gap in small agglomerations and remote areas where good quality waters are needed and no other solution is feasible
Actions:
Several trials were conducted for the onsite technical optimization, modularization and testing of the PM-NBS structure, biotic and abiotic elements and hydrological regimens in our experimental farm in Zipory, Israel in order to optimize our PM-NBSTM to a standard shipping container dimensions, integrate its different elements to make the system "plug and play", assess its performance in terms of water quality parameters to regulatory standards and define its operating parameters.    The system attains a complete function in a range of wastewater flow (4-40 m3/day), from sub-zero to above 40°C ambient temperature.
Results on selected water quality parameters indicate that the effectiveness of the PM-NBSTM provides good quality water (e.g. COD < 70 mg/L; BOD <10 mg/L and TSS <10 mg/L), attaining 99% removal of coliforms.
Potential impacts/benefits:
With the PM-NBS  we aim to fill a major technical gap, especially in small agglomerations and remote areas where good quality waters are scarce, running sewage is further polluting the existing fresh water reservoirs, conventional decentralized systems keep failing due to lack of reliable energy resources and skilled operation teams, and where high operating expenses (OPEX) can't be financed. The PM-NBS™ will disrupt the decentralized packaged wastewater treatment systems  market with a 65% lower CAPEX and 81% lower OPEX compared to conventional treatment technologies due to its lack of need for chemicals, electricity, or mechanical parts, and its 3 times longer lifespan bringing much needed clean water to remote and rural areas.
Due to demand for an immediate solution to poor water quality and sewage in rural areas, Our innovative technology, the Natural Biological System (NBSTM) has been engineered as modular, prefabricated units that can be set up in a matter of days and achieve regulation output immediately. Main advantages include:
• Single unit includes separation, treatment and irrigation overflow compartments- extremely fast setup and installation
• Sustainable engineered technology, gravity powered, resistant to human and environmental impacts
• Effluent parameters: BOD,TSS <10 mg/L. Natural treatment system able to meet strict regulatory targets for unrestricted irrigation (including complete elimination of pathogens).
• Minimal maintenance schedule - no technical staff is needed.
NBS benefits
Developing climate change adaptation; improving risk management and resilience
Better protection and restoration of coastal ecosystems
Flood peak reduction
Increase infiltration / Water storage
Reduce drought risk
Reduce flood risk
Reduce risk of damages from drought
Carbon sequestration and storage
Restoring ecosystems and their functions
Improve connectivity and functionality of green and blue infrastructures
Increase Biodiversity
Increase quality and quantity of green and blue infrastructures
Enhancing sustainable urbanisation
Changing image of the urban environment
Creation of green jobs relating to construction & maintenance of NBS
Improve air quality
Improve water quality
Increase awareness of NBS solution & their effectiveness and co benefits
Increase well-being
Increase willingness to invest in NBS
Reduce costs for water treatments
Social inclusion
Sustainable development of coastal regions
Transferability of the result:
The PM-NBS is intended for the global market but in particular to provide solutions for: Small, rural and remote agglomerations lacking access to sanitation services, where municipalities are looking for a cost-efficient long term sustainable solution; touristic locations around the sea basins with great seasonal variation on the load of wastewater; and water stressed areas with increasing needs to provide adequate reutilization of water for irrigation purposes.
Lessons learned:
There were several challenges to adapt our NBS technology into  'area restricted' containers. Some related to regulations and constrains but we found unique and creative solutions to 'by-pass' it with hardly any compromises.
Financing:
Ayala Water & Ecology
To validate the PM-NBS, Ayala received support in part from the European Union's Horizon 2020 research and innovation program under grant agreement No 700699 under BRIGAID
https://climateinnovationwindow.eu/innovations/portable-NBS
Ayala received funding from the European Union's Horizon 2020 research and innovation program, SME instrument phase I, under grant agreement No 854782 to further adapt the PM-NBSTM and take it to the European market. https://sme.easme-web.eu/?b=973648462                
NBS classification
Constructed wetland for phytoremediation
Constructed wetlands and built structures for water management
Contacts:
Eli Cohen (CEO)
Ayala Water & Ecology, Moshav Zippori, Israel 17910
Email: office@ayala-aqua.com      Phone: +972-77-7008156     Fax: 972-77-3008156
Sustainable Development Goals
3. Good Health and Well-being
5. Gender Equality
6. Clean Water and Sanitation
11. Sustainable Cities and Communities
13. Climate Action