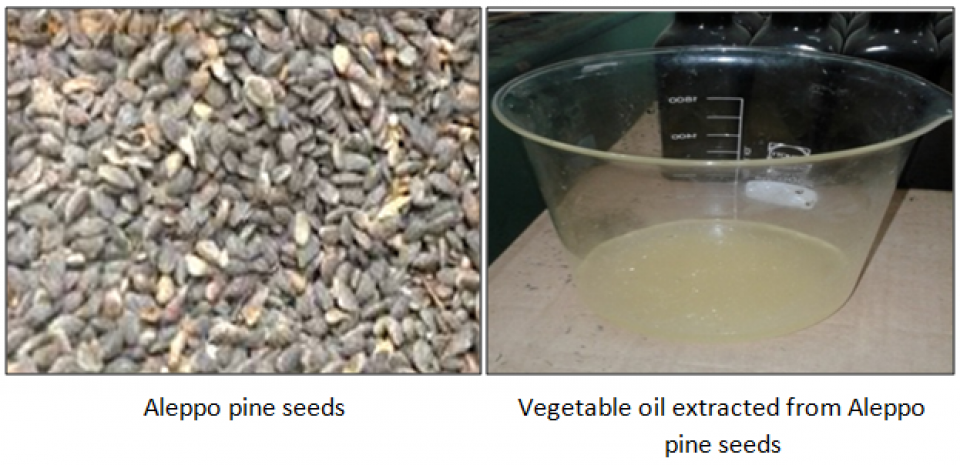 Source:
Personal communication in an INCREDIBLE event (science to practice)
Objective:
Aleppo pine seeds (commonly called Zgougou) derive all their originality and nobility from the fact that they are consumed by Tunisians as part of their cooking habits. Zgougou is considered one of the most interesting NWFP due to socio-economic role and commercial value.  Aleppo pine seed oil can be extracted as for nutrition, or for medicinal and cosmetic uses.
The present work studies the conditions of exploitation of seeds in the forest, the yield of vegetable oil extracted, its physicochemical qualities and the possibilities of valorizing the press cake obtained after the oil extraction.
Context:
Different research work has been carried out on:
Supply chain from the harvesting operation to the treatment of cones and seeds;
Evaluate the yield of vegetable oil obtained by pressing from several geographical origin of seeds;
Study the physico-chemical characteristics of the oil extracted;
Study the possibility of transformation of the residue obtained after the oil extraction and its food valorization.
Main results:
Aleppo pine seeds have a high content of vegetable oil. Extracted mechanically by the press, its yield is around 15 (varying by geographical origin (10% -17%)). The quality of vegetable oil is defined by its organoleptic, physical, chemical, and sensory characteristics. Zgougou oil has a delicate odor, pleasant and sweet aroma, light yellow color, light texture and penetrates easily into the skin. All the physical characteristics of zgougou oil (acid number, peroxide value, specific extinction coefficient K232) comply with national and international standards. It has a high content (90%) of unsaturated fatty acids: 63% linoleic, 15% linolenic, and 12% oleic acid.
Main practical recommendations:
The typical pleasent taste of zgougou is well preserved in the cake based on defatted paste, allowing hence valorization of the residue from oil extraction establishing a specific value chain of Aleppo pine seeds. It is highly recommended to extract first oil from seeds and then transform defatted paste in food industry, allowing for better profitability. Indeed, the added value of such transformations is much more advantageous compared to seeds selled raw.
Impacts and weaknesses:
The Zgougou value chain (VC) begins with the exploitation of forest resources. The extent of the Aleppo pine forests on the one hand and the massive and sustained seed production on the other hand offer definite advantages for the sustainability of the VC and further growth. The exploitation and marketing chain suffers from some weaknesses, such as:
Illegal harvesting of seeds in the forest
An unorganized market that is beyond the control of the state
The speculation
The presence of parallel circuit that disrupts the market
With often poor quality of seeds because of improper storage ...
Future developments:
Various methods such as roasting or irradiation can improve the shelf life and organoleptic quality of the seeds. The improvement of seed storage conditions is a great advantage as it ensures better supply during off-peak periods. New products, in the form of dough or powder, enter the market, which their consumption is increasing during the whole year. The extraction of the oil provides an added value compared to the raw seed. The preparation of a cake based on a defatted paste is a good example of valorization of this residue and the product obtained is highly appreciated and can be widely marketed.
Further information
Elj Farah et Chayma Amiri, 2016. Optimisation des procédés d'extraction de l'huile de Pinushalepensis Mill. et valorisation de sa pâte dégraissée. Mémoire de Licence appliquée en Industries et procédés alimentaires de l'ESIAT 2016.
Hamrouni L., Amri I., Khouja M., Hanana M., Gargouri S., Khouja M. L., et Jamoussi B., 2019. Les principaux extractibles du pin d'Alep Tunisien : leurs propriétés physico-chimiques, activités biologiques et applications. Chapitre 5: In « Le pin d'Alep en Tunisie : Ecologie, gestion et usages »''. Ouvrage collectif édité par Khouja M. L. Publication INRGREF.
Jemai Ghada, 2019. L'Etude quantitative et qualitative et valorisation des huiles de deux espèces de Pin: Pin d'Alep et Pin Martime-Projet de Fin d'études-Diplôme National d'Ingénieur en Génie Biologique de l'ULT.
Khouja M., 2016. Analyse quantitative et qualitative des extraits de certaines populations de pins Tunisiens : Comparaison inter et intra-spécifique. Mémoire pour l'obtention du diplôme de mastère de recherche en Gestion des écosystèmes naturels et valorisation de leurs ressources. Institut National Agronomique de Tunisie.
Khouja M., Massoud Ch., Ferchichi A., Boussaid M. et Khouja M. L., 2017. Variabilité de la composition chimique et des activités biologiques de l'extrait méthanoliquedu pin d'Alep et du pin maritime tunisiens. Poster présenté au Séminaire International de la Recherche Forestière (SIRF2017), Hammamet, 14 -16 Novembre 2017.
Mariem Khouja, Farah Eleuch, Chaima Amiri, Mouna Boulaares, Yasmine Gtari, Sami Fattouch, Faten Mezni, Abdelbasset Bouzaiène et Mohamed Larbi Khouja, 2019.Valorisation agro-alimetaire et qualités nutritionnelles des graines du pin d'Alep.Chapitre 16 : In « Le pin d'Alep en Tunisie : Ecologie, gestion et usages ». Ouvrage collectif édité par Khouja M. L. Publication INRGREF.
Mariem Khouja, IbtissemTaghouti, Abdelaziz Ayari, Mohamed TaherElaieb, Naouefel Souayehet Mohamed Larbi Khouja, 2019.Intérêt forestier et principales caractéristiques biologiques et écologiques du pin d'Alep en Tunisie. Chapitre 1 : In « Le pin d'Alep en Tunisie : Ecologie, gestion et usages ». Ouvrage collectif édité par Khouja M. L. Publication INRGREF.
Slimani Jacer, 2019.Etude du rendement, de la composition et des activités biologiques des huiles essentielles et des extraits des feuilles chez quatre espèces de Pin - Projet de Fin d'Etudes de Diplôme National en Licence Appliquée Filière : Agroalimentaire- Alimentation de l'INSAT.
Yasmine Gtari, 2016.Etude de l'effet de la torréfaction des graines de pin d'Alep sur les propriétés biochimiques et les qualités organoleptiques. PFE Diplôme National en Licence appliquée en Biologie industrielle de l'INSAT 2016.
Figure 2: