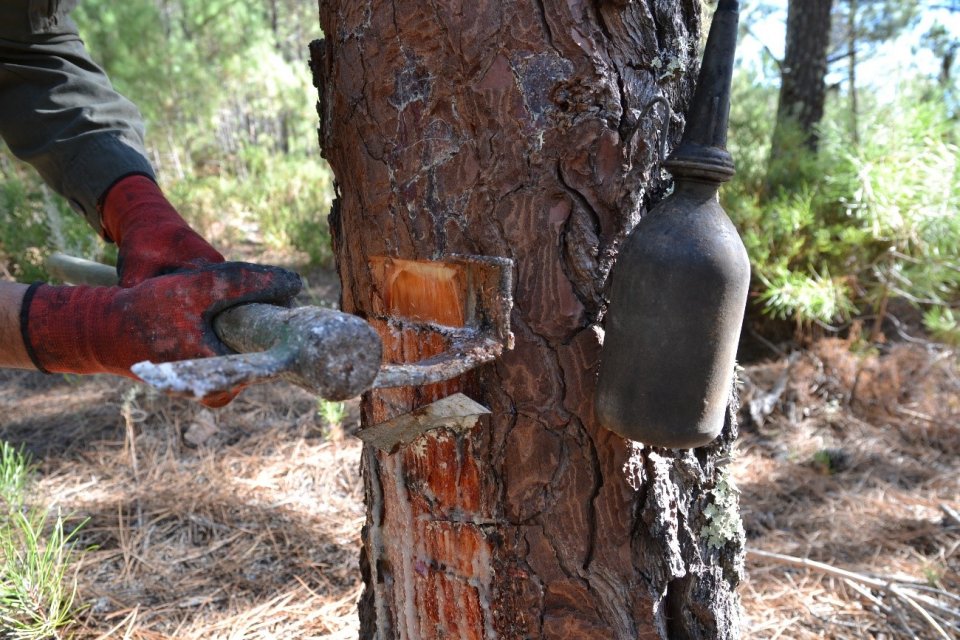 Source:
Personal communication outside INCREDIBLE events
Objective:
The PinusResina initiative aims to identify/establish new value chains for the competitive and safe transformation and recovery of pine resin in high value-added products, with the mission of increasing the competitiveness and sustainability of Pinus pinaster and Pinus pinea forest in Portugal, in particular by enhancing resin constituents for new fine chemistry markets - resin chemical industry as the main economic factor in pine ecosystems; toxicity assessment of derived products; analyze the variability of resin composition, biotransformation and the exploitable capacity of waste resulting from its exploitation; and evaluate the sustainability of new value chains.
Context:
Innovation and increasing knowledge about an important resource of the Portuguese forest supports its differentiated exploitation when compared to foreign producers, improving efficiency and competitiveness in forest management. Portuguese resin stands out from the rest due to its superior quality and potential application in the fine chemical industry. It is, however, an unexplored resource, the process involves the bio-transformation of its compounds (acids), mainly through isomerization, into abietic acid, and into dehydroabietic, through dehydrogenation.
Main results:
Six sampling areas were selected (Paredes de Coura, Vila Pouca de Aguiar, Tortosendo, Alcobaça, Leiria and Sines), with a total of 900 resin samples and some of resin waste, including chemical characterization in order to determine its commercial value in the bioproduct sector.
Inventory and life cycle assessment of the entire resin value chain is under development.
In addition, the technical-scientific responsiveness was achieved through the involvement of the whole consortium.
Main practical recommendations:
In terms of practical recommendations, changes will be proposed for forestry patterns associated with the exploration activities of Maritime Pine and Stone Pine ecosystems.
In addition, once the resin biotransformation process has been optimized, scale-up is essential for the industrialization process.
Impacts and weaknesses:
The main goal is to contribute to the enhancement of the valorization of the Maritime Pine and the Stone Pine forest ecosystems, through the valorization of the resin, by increasing the competitiveness of this sector. In addition, the objective is to promote the quality of the resin at the national level.
One of the biggest weaknesses associated with this initiative is the divestment in the forest sector caused by forest fires and the demographic evolution of rural interior regions.
Future developments:
identify new environmentally responsible value chains for resin valuation and knowledge development that will allow its industrialization in the context of bioindustries and transfer to the market;
enhance the quality of Portuguese resin against competitors from China and India;
increase the economic efficiency of resin exploitation based on its transformation into higher value-added products; and
increase the competitiveness and scale of resin exploitation and processing activity in Portugal.
Organisation:
Associação BLC3 - Campus de Tecnologia e Inovação
ITQB
Faculdade de Farmácia
Figure 2: