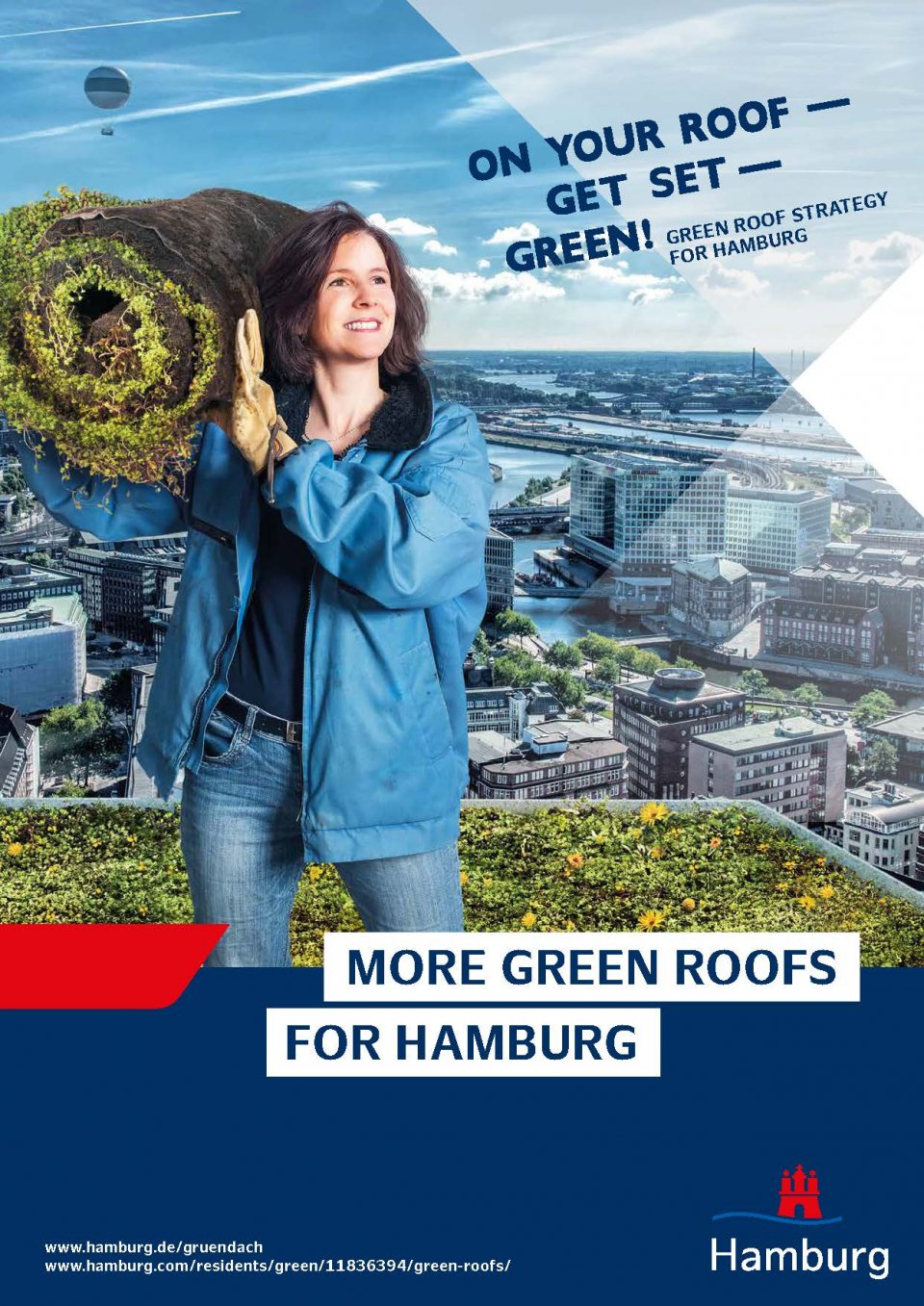 Objective:
Hamburg was the first major German city to launch a comprehensive Green Roof Strategy. Its goal is to green at least 70 per cent of both new buildings and suitable flat or gently pitched roofs that are being renovated. The Ministry for Environment, Climate, Energy, and Agriculture supports the project with three million euros until the end of 2024.
In 2014 the goal was set to create 100 hectare (ha) green roofs in Hamburg within one decade. Starting from 80 ha we are on track having in 2020 about 168 ha green roofs in Hamburg.* Nevertheless, there are still many roofs in Hamburg that can offer microhabitat for insects (increase biodiversity), reduce the stormwater runoff (flood management), improve the microclimate (urban heat island) and provide many other services for the growing population of Hamburg.
*The numbers dont represent entire Hamburg but include about 70 % of Hamburgs population.
Actions:
The green roof strategy has four main action points:
promotion, dialogue, stipulation and scientific support.
Promotion of green roofs is done via multiple media by developing visualisations that show a potential green roof top of Hamburg. But also in practice the city itself works as leading example by realising green roofs on novel city own buildings whenever possible. The promotion also includes the funding program for green roofs and facades. The program started in 2014 running for 10 years and provides about 5 million euro. Detailed information how the funding works and can be derived is provided on the website www.hamburg.de/gruendach and will be explained in more detail in the financing section.
Dialog is the second action point to motivate private house owners to invest into a green roof too. Therefore all the advantages of the green roof or facade are described in print and digital publications that are frequently used to explain the structure and functions of a green roof.
The third action point is stipulation via the landuse plan, landscape plan or the climate plan of Hamburg. All this tools are used to define green roofs as obligatory for further urban development.
Scientific support is the fourth action point that generates knowledge for the before mentioned points. In practice, several universities are conducting research on green roofs of Hamburg regarding different services (currently micro climate, water retention, biodiverstiy are monitored).
Lessons learned:
Integration of the green roof strategy into overarching stategies (e.g. Hamburgs climate plan) gave the strategy a wide and stable fundament by including strategic goals from other strategies into the green roof strategy.
Communication and dialogue/involvement is key to changing practices and creating a demand for green roofs among residents and companies. This requires a dedicated full-time communication officer and structured co-creation processes. Co-creation was formalised in a stakeholder group consisting of housing estate companies, constructors, landscape architects and urban planners. The group took part in dialogues with other cities, co-designed the incentive programme and continue to meet for evaluation of the Green Roof Strategy bi-annually.
The combination of regulation, dialogue, financial incentives and science advice and evaluation is key to successful urban NBS implementation.
The green roof financial support programme is in combination with public relations and dialogue the most important in creating awareness. The main driving force for expanding green roofs in Hamburg is the demand for greening buildings with vegetation.
There is still a strong need to gather evidence of effectiveness, e.g. for water retention and temperature reduction. The lack of evidence means that the impact of green roofs is currently not recognised in the DIN norms for retaining and slow down run-off on buildings.
Objectives to create affordable housing is perceived by the housing sector to be at odds with green roofs, despite science showing no life cycle increases in costs.
Disservices of green roofs – e.g. case of 2,500 seagull pairs breeding on 7 ha green roof during spring, or the emergence of more insects – necessitate a lot of dialogue and awareness raising.
Financing:
The financing of the strategy and the subsides are provided by the city. The funding can cover up to 40 % of the installation costs for a green roof and maximum 100 000 €. To derive the support, the roof must be larger than 20 squaremeters, the soil layer must be thicker than 12 cm and the green roof must  be a voluntary descistion of the house owner.
Beside the general funding, a premium funding is profided for the following reasons:
location in the city center,
usage of roof top for e.g. recreational purposes,
improvement of statik of exisiting buildings,
combination with energy production,
runoff reduction.
More detailed information about the conditions for public funding can be derived on our website and on the website of the investment and development bank.
Impacts:
With different partner we conduct different research projects to confirm the provision of the before mentioned ecosystem services. Two examples are highlighted:
Rain Water Runoff Measurements on Green Roofs (HafenCity University)
The results of the measurement indicate, that more than 50 % of the annual rain fall could be retained by the extensive green roof.
Biodiversity on Hamburg green roofs (University Hamburg and Zurich University of Applied Sciences Wädenswil): On selected green roofs arthropods and other insects are currently collected. Large numbers of different bettle species have been found and also rare species.
Sustainable Development Goals
3. Good Health and Well-being
11. Sustainable Cities and Communities
13. Climate Action
Key Performance Indicator: