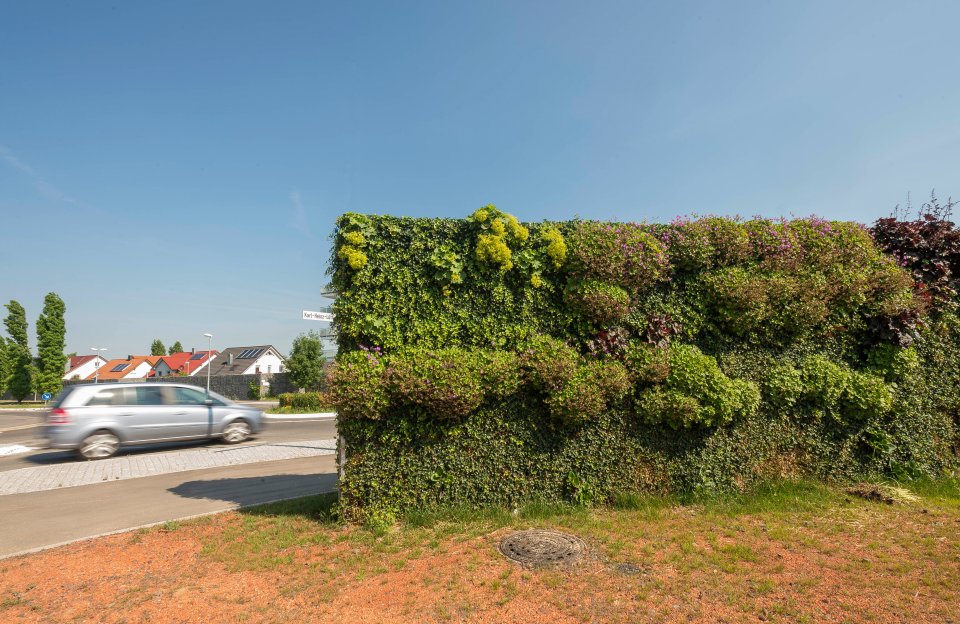 Area characterisation:
Building process of a vertical noise barrier (length 100 m, height 2.60 m )  alongside a road to block noise off a building site. Covered space 50 m².  Rain water usage from nearby buildings.
Objective:
The noise barrier wall-system being used in Sachsenheim guarantees an instant green noise barrier wall, from the very first day on: The green noise barrier consists of a scaffold with galvanised steel lattice mats on both sides, filled with a core of plant substrates and then planted with pre-cultivated plant mats. Already at the time of assembly, the walls are at least fifty percent covered and they are completely green after six months.
Potential impacts/benefits:
Usually, conventional noise barrier walls take years to be covered,
with Ivy or Virginia creeper being planted alongside the base of the
wall, encouraging natural growth of these plants. The green noise
barrier by Helix Pflanzen however ensures a fast, instant green solution. The leaf area index of the used system is 3 - 5 in the first year
and more than 7 starting in year two.
NBS benefits
Developing climate change adaptation; improving risk management and resilience
Flood peak reduction
Reduce flood risk
Reduce load to sewer system
Reducing temperature at meso or micro scale
Developing climate change mitigation
Carbon sequestration and storage
Restoring ecosystems and their functions
Greater ecological connectivity across urban regenerated sites
Improve connectivity and functionality of green and blue infrastructures
Increase achievements of biodiversity targets
Increase Biodiversity
Increase quality and quantity of green and blue infrastructures
Enhancing sustainable urbanisation
Changing image of the urban environment
Improve air quality
Increase accessibility to green open spaces
Increase amount of green open spaces for residents
Increase population & infrastructures protected by NBS
Increase well-being
Provision of health benefits
Reduce costs for water treatments
Reducing wind speed
Lessons learned:
In Germany noise mitigation has to be done by law. But using the structure and totally green it, is and add on that need a wide commitment in the city council - top down. Silo structures can be a problem.
Financing:
Infrastructure activity – financed by selling the building ground
Sustainable Development Goals
3. Good Health and Well-being
9. Industry, Innovation, and Infrastructure
11. Sustainable Cities and Communities
13. Climate Action
Key Performance Indicator: