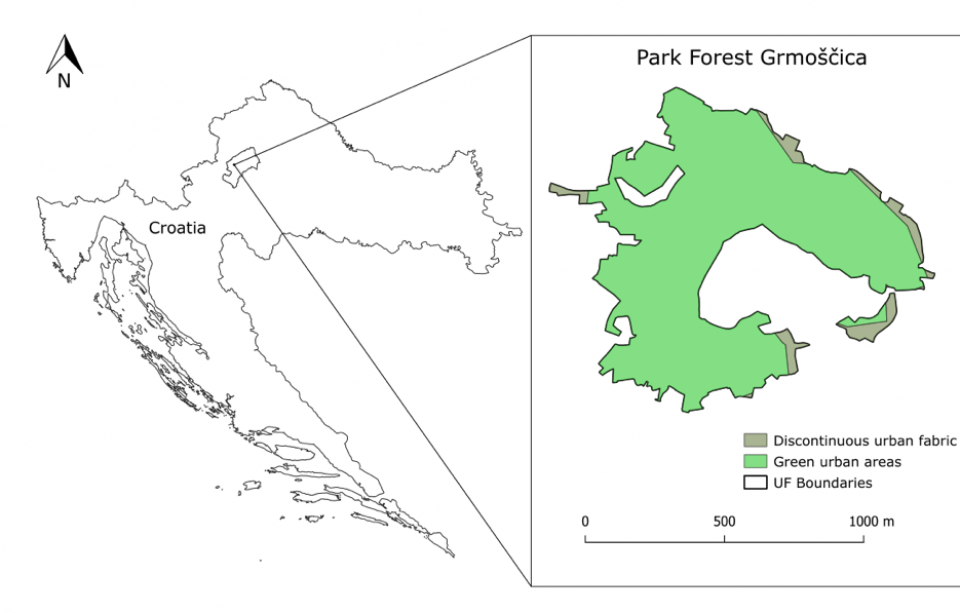 Area characterisation:
Biogeographic region: Continental
Surface area: 53.3 ha
Country: Croatia
Region/Province: City of Zagreb (NUTS-3 level), Continental Croatia (NUTS-2 level)
The Park forest Grmoščica is a 53.3 ha park-forest area (of which 10.79 ha are privately owned). The highest point is at 240 m above sea level. Locals use it for recreational purposes as well as for practising extreme sports such as downhill mountain biking.
Grmoščica is also a project area of Interreg Danube's project URBforDAN (Management and Utilization of Urban Forests as Natural Heritage in Danube Cities) (6/2018-4/2021). The area has been somewhat neglected in terms of not responding to the needs of the local community for recreation (lack of infrastructure, facilities, park equipment, potential conflicts among visitors).
An additional problem is the existence of landslides due to clay excavations in the past. Within the URBforDAN project, several workshops with stakeholders and onsite surveys with visitors were conducted to support participatory planning and management, a practice that can be considered innovative in the local and Croatian context. The project also built recreational infrastructure to increase the recreational and educational value (service) of the park forest.
Objective:
With the aim to enhance the management and utilisation of Urban Forests as Natural Heritage in Danube Cities, the URBforDAN Interreg Danube project fosters innovative and participatory approaches to build recreational infrastructure that also serves an educational value.
The management of the Urban Forest area also aims at providing regulating ecosystem services.
Actions:
PRINCIPLE UF-NBS (Urban Forests for Nature-Based Solutions) ACTION(S)
Provision of new infrastructure/facilities:
New forest paths were constructed with all needed equipment for walkers/runners and bikers
New biking trail
New educational trail with info boards will be set to enhance its educational service
Mini football pitch constructed
Quiet area established
OTHER PRINCIPLE NBS ACTION(S) – non-UF
Implementation of participatory approach through engaging local key stakeholders in form of workshops, public discussion and visitors' survey
Educational activities (forest pedagogy) in "green classroom" (the existing green classroom facility will be extended)
Direction signs how to get there and information sharing with tourist board
New parking lots at the entrances
NBS benefits
Increase quality and quantity of green and blue infrastructures
Enhancing sustainable urbanisation
Increase awareness of NBS solution & their effectiveness and co benefits
Increase stakeholder awareness & knowledge about NBS
Increase well-being
Social learning about location & importance of NBS
Transferability of the result:
Grmoščica is a good and transferable example of how to use local and transnational knowledge to improve UF management and planning.
Lessons learned:
Including stakeholders into the development of Integral Park-forest Management Plans can yield better solutions and avoid possible conflicts afterwards. The URBforDAN project did exactly that with stakeholder workshops and public discussion for users of the Grmoščica Urban Forest. Planners gained better insights into visitors' needs and their support for implementation of agreed activities. Also, the URBforDAN project with its transnational nature can improve decision making on local level based on shared knowledge and know-how among project partner cities.
Financing:
Project delivered services and monies raised by project:
The assessment and mapping of forest ecosystem services were conducted based on the national and FAO's approach.
City, regional general funds:
European Union's Interreg Danube transnational programme secures 85% of project budget and 15% is co-funded by project partners. The City of Zagreb as one of the partners contributes with 15%.
International funds:
European Union - Interreg Danube Transnational Programme (85%)
Contacts:
Sergej Šimpraga
URBforDAN Project manager (City of Zagreb)
Zagreb, Croatia
City office for Agriculture and Forestry
E-mail: sergej.simpraga@zagreb.hr
Ninoslav Matošević
URBforDAN Project manager (Croatian Forests Ltd.)
Zagreb, Croatia
E-mail: ninoslav.matosevic@hrsume.hr
Further information
The compilation of this case study description has been funded by the Horizon 2020 CLEARING HOUSE project. This project has received funding from the European Union's Horizon 2020 research and innovation programme under grant agreement No 821242.
Sustainable Development Goals
3. Good Health and Well-being
11. Sustainable Cities and Communities
Key Performance Indicator: