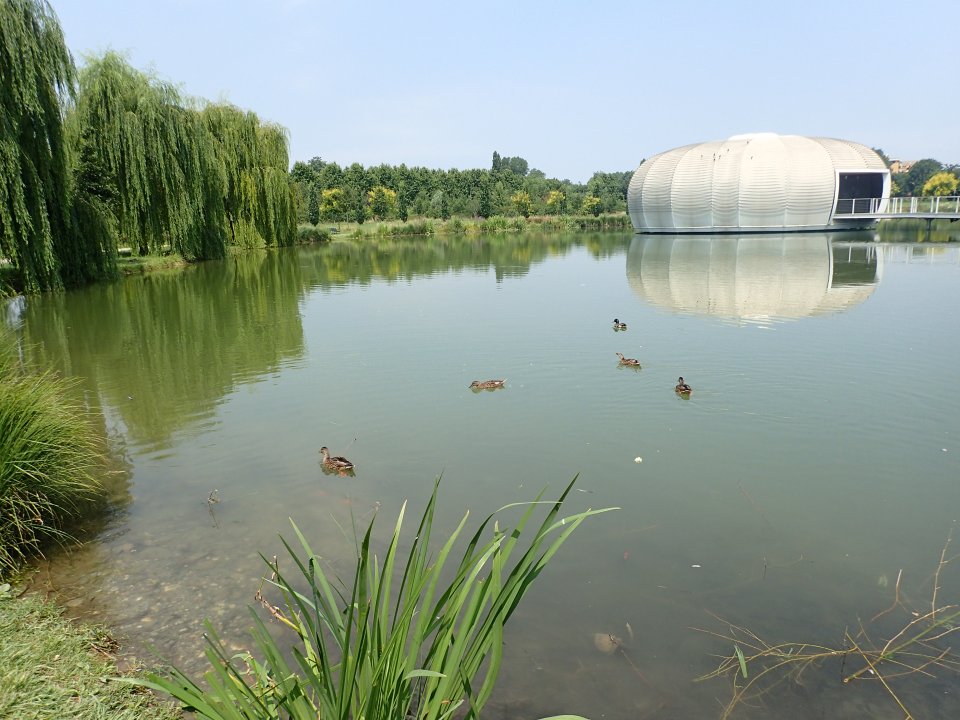 Area characterisation:
Biogeographic region: Continental/Mediterranean
Surface area: 790 ha
Country: Italy
Region/Province: Lombardy/Milan
Parco Nord Milano (PNM) is located on the eastern-northern outskirts of Milan in the Lombardy region of Italy, covering 790 ha in a highly urbanised context. In 1975, PNM was officially recognized as a regional park and incorporating seven municipalities. It consists of urban green infrastructure (UGI) and is significantly wooded (urban forest plantations [101 ha], species-rich grasslands [2.10 ha], wetlands [35 ha], river corridor [4 km], allotment gardens [n. 350], agricultural fields [120 ha] and other natural elements that were once industrial, agricultural or uncultivated lands.
Site management focuses on nature-based approaches to attract public benefits and deliver ecosystems services.  The consolidation of the Metropolitan City of Milan in 2015 led to the creation of a single metropolitan park uniting PNM and South Milan Agricultural Park.
Parco Nord Milano is a Regional Public Law Entity and is part of the Protected Areas System of Lombardy.
Objective:
Provision of recreation and educational facilities for local residents and visitors;
Health and wellbeing benefits gained through the use of the recreation facilities;
Landscape benefit of creating a functional green boundary between built-up areas which acts as a wooded regional park
Actions:
PRINCIPLE UF-NBS (Urban Forests as Nature-Based Solutions) ACTION(S)
Forest plantations
Water retention basins (under development) to counteract frequent flooding
Ecological corridors and a series of interventions, e.g., planting tree rows to overcome barriers that prevent ecological connectivity
Annual implementation of new plants/trees
Social allotments
OTHER PRINCIPLE NBS ACTION(S) – non-UF
A soft mobility plan that introduced a bicycle path network to encourage bike riding/sharing to impact climate change adaptation as well as connectivity
Recreational and environmental educational activities (e.g., bowls on park grounds; workshops and organised tours of the park)
Cultural events
NBS benefits
Reducing temperature at meso or micro scale
Greater ecological connectivity across urban regenerated sites
Increase accessibility to green open spaces
Increase well-being
Transferability of the result:
PNM is a good example of UF-NBS (Urban Forests as Nature-Based Solutions) planning that can be applied to other urban regions. Important factors are a bottom-up approach, synergy of multi-scale stakeholders, streamlined political, scientific and planning instruments for setting norms and guidelines in cooperation with stakeholders, a knowledge base of connectivity/climate change adaptation, and awareness. A network of institutions, NGOs and initiatives providing constant funding is warranted.
Lessons learned:
PNM demonstrates increased citizen participation in UF-NBS planning and that awareness of connectivity and climate change adaptation is needed. Citizens using PNM realize that connected UGI improves the quality of life and should be implemented to address issues of connectivity/climate change.
Financing:
Community fundraising:
Institutions, NGOs, initiatives provide constant funding.
City, regional general funds:
Regular funding from the Municipality, plus a consortium of local and regional bodies funded by the Lombardy Region through a regional law.
Private sector investment:
'Fondazione Cariplo' – a Foundation that helps social and civil organizations better serve their own community.
NBS classification
Parks and gardens
Large urban public parks
local areas for play (LUP)
Woodland play area
Tree and forest plantations
Structures characterized by food and resource production
Choice of plants
Constructed water bodies and built structures for water management
Contacts:
Riccardo Gini
Director, Consortium of Parco Nord Milano
Milan, Italy
Tel: + 39 (02) 241016203
Further information
The compilation of this case study description has been funded by the Horizon 2020 CLEARING HOUSE project. This project has received funding from the European Union's Horizon 2020 research and innovation programme under grant agreement No 821242.
Sustainable Development Goals
3. Good Health and Well-being
11. Sustainable Cities and Communities
Key Performance Indicator: