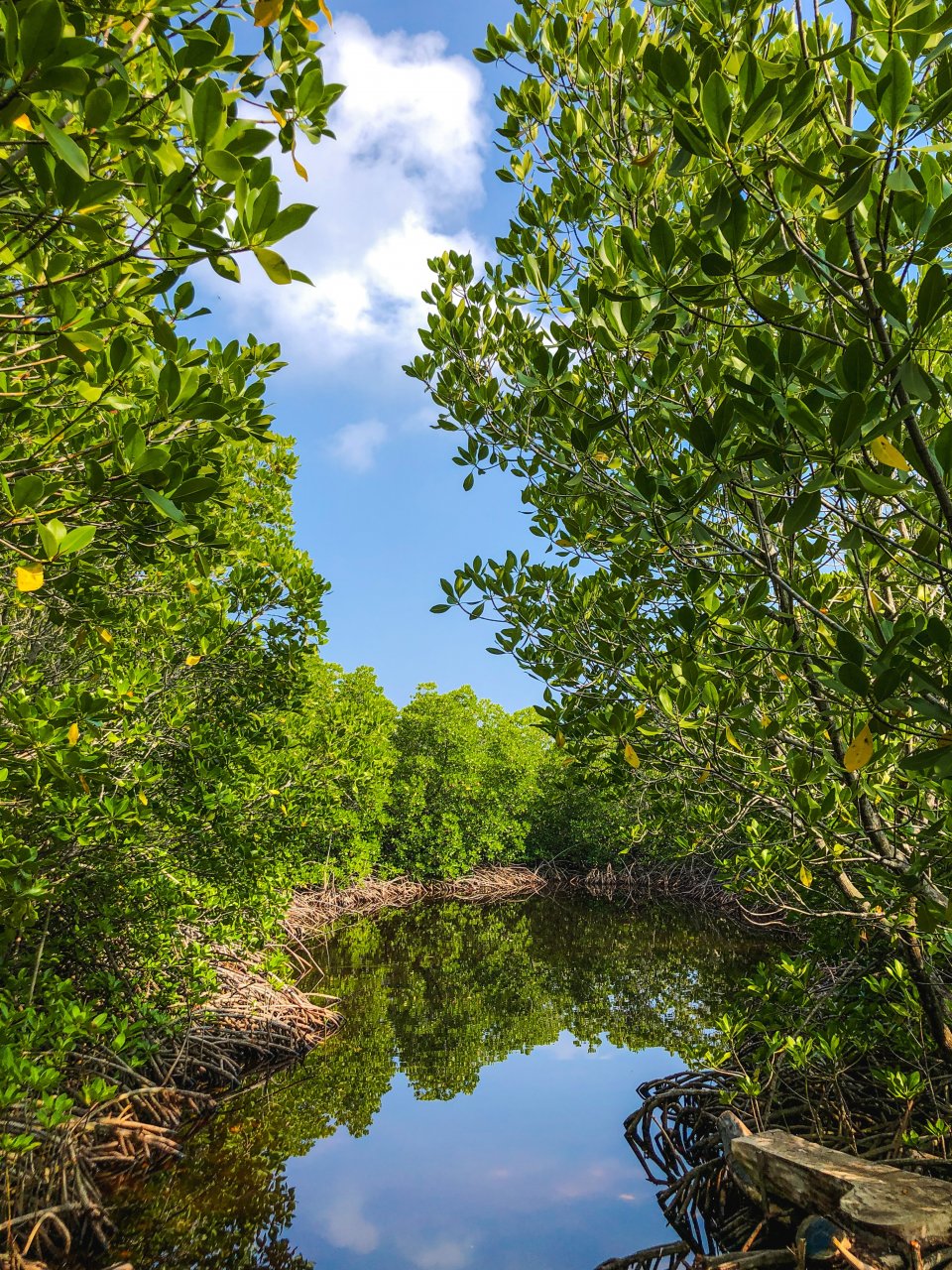 Area characterisation:
In the southern coastal region of Kwale County there have been climate changes in rainfall patterns, more frequent storm surges, longer lasting heat waves, and an increase in soil erosion inland. These changes have led to an increase in food and water insecurity.
Due to the demand for coal production and the use of timber, the mangrove forests in Kwale have been subject to alarming levels of destruction in recent decades. This loss reduces coastal protection from extreme weather conditions and reduces breeding habitats for a wide range of marine species. According to the National Mangrove Ecosystem Management Plan, 45% of Kwale County's mangroves (an area of ​​approximately 8,354 hectares) require rehabilitation. Overfishing, illegal fishing and the destruction of coral reefs also have a deleterious effect on the local coastal ecology. Since 2000, 20% of Kwale County's tree cover has disappeared. Local communities felled trees for many reasons, such as agricultural expansion or living space for rapidly growing populations. Deforestation contributes to soil erosion and degradation, loss of water resources and leaves vulnerable populations more exposed to climatic events.
Prior to the start of the project, Kwale County had an estimated population of 783,261, of which 74.9% lived in poverty. The coastal community is highly dependent on natural resources which are negatively affected by climate change and environmental degradation. This increases their vulnerability to climate-related events, family-specific shocks such as injury and illness, and economic stress.
Objective:
The project proposes an integrated people-centered approach, with a particular focus on women, to address the triple crisis – poverty, climate change, and nature – at the local level. 
Actions:
First action concerns the restoration of the mangrove forest: over the two-year period, 127 people in four groups planted 137,000 mangrove seedlings. Since the formal closure of the project, another 56,000 seedlings have been planted.
Second one relates to seaweed farming, providing alternative livelihoods to fishing, agriculture or coal production, activities that put pressure on natural resources already under stress. The cultivation of algae is non-invasive, non-polluting and, if done correctly, is an environmentally sustainable subsistence activity.
Third action concerns the replanting of trees: two community groups and two schools planted a total of 15,360 seedlings at various sites across the four communities. 
Potential impacts/benefits:
The restoration of mangrove forests and the breeding of algae have protected the coasts from coastal flooding, storm surges and coastal erosion. Inland, replanting trees helps reduce the risk of soil erosion. The project's planting activities have returned increasing yields in terms of the number of trees grown and their survival rate.
The project diversified and improved existing livelihood options for families in the community, with a particular focus on seaweed farming. By the end of the project, the number of functioning seaweed farms had reached 91, spread over three community groups and producing 10.73-20.3 tons per year. At the end of the project, interest in the commercial opportunity grew and 236 men and 243 women were registered working in seaweed production. At the end of the project, the women reported that they were able to invest their earnings in paying their children's school fees, health care costs and improving their quality of life. The end-of-project survey also revealed improvements in children's well-being.
NBS benefits
Developing climate change adaptation; improving risk management and resilience
Reduce flood risk
Reduce risk of damages from drought
Restoring ecosystems and their functions
Increase Biodiversity
Creation of green jobs relating to construction & maintenance of NBS
Increase communities' sense of ownership
Increase stakeholder awareness & knowledge about NBS
Increase well-being
Social inclusion
Sustainable development of coastal regions
Transferability of the result:
Strong community involvement was vital for the success of the project. The project aims to promote a sense of ownership of the local natural capital and transparency in its management, enhancing and strengthening the existing traditions, knowledge and capacity of the local population to identify solutions. Participatory approaches have strengthened the sense of ownership of the project activities and helped to create a solid foundation for sustainability. Gender inclusion contributed to resilience. Local government cooperation is particularly important to ensure that ongoing technical support and innovation are promoted to local groups and to ensure that approaches and evidence inform policy, regulatory and legal changes.
NBS classification
Mangrove reforestation
Planting trees
Sustainable Development Goals
1. No Poverty
3. Good Health and Well-being
5. Gender Equality
10. Reducing Inequality
13. Climate Action
15. Life On Land
Key Performance Indicator: