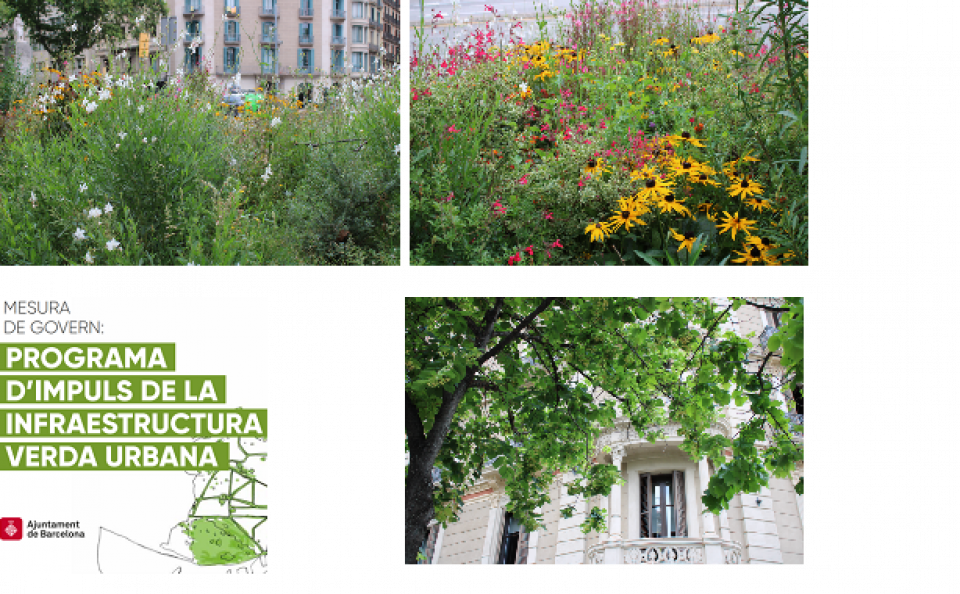 Area characterisation:
Barcelona is one of the biggest metropolitan cities in Europe and one of the densest and most compact urban areas, with a population density of around 16.000 inhabitants/km2. The municipality covers a total area of 102 km2, with a population of 1,66 million inhabitants.
Barcelona is one of the 36 municipalities of the Metropolitan Area. Barcelona and the peri-urban areas suffered dynamic landscape changes, especially at beginning of the 1960s. The socio-economical changes were particularly intense along the coast, with important pressures on biodiversity and green areas, when almost a half of the agricultural land was lost. Barcelona increased the green spaces with 44.41 ha (between 2017-2019) and aims to increase even further with 165 ha (between 2020-2030) new green areas.
The metropolitan food system is promoted by various mechanisms and policies to ensure citizens have better access to healthy and affordable food. The policies also seek to bring metropolitan area food producers and consumers closer together in order to promote social and environmental responsibility as well as local food production and consumption. The goals of the Food System Action Plans are to guarantee production and access to healthy and affordable food, based on the principles of equality, conservation and environmental sustainability.
Objective:
The Programme for Enhancing the Urban Green Infrastructure is an ambitious government measure approved in 2017. It establishes the main strategies for enhancing the quality and quantity of green infrastructure in Barcelona till 2030. Barcelona wants to renature the city and create, in this period, 165 ha of new green spaces, which increases the green spaces/inhabitant ratio by 1m2. As Barcelona is a compact city, there are various strategies to improve, transform or create new green spaces. The actions will take place at various urban scales (street, district or city scale) and they are organized in four main objectives (I. Increasing green infrastructure; II. Enhancing green infrastructure to obtain more ecosystem services; III. Co-responsibility in the maintenance of urban nature; IV. Monitoring and evaluating the green infrastructure), each with clearly related interventions in the public space. The city contributes to the concept of Nature-Based Thinking in particular through the 3rd objective.
Actions:
Among the main actions to accomplish the objectives of the Programme for Enhancing the Urban Green Infrastructure, is the drive of ecological agriculture in the city, the creation of new urban and school gardens and the importance of co-management and co-creation to enhance citizens' empowerment and engagement with urban nature. Another action is related to the enhancement of communication and educational strategies to promote the importance of biodiversity and urban nature. Finally, one of the actions is focused on developing an information system on biodiversity and green infrastructure in Barcelona. The case of the creation of new urban and school gardens has been one of the strategies with the greatest impact on the city.
Urban gardens are multifunctional green spaces and they are key spaces to enhance biodiversity, ecosystem functions and services. In Barcelona, active ageing and social inclusivity programs are encouraged in urban allotments and community gardens. Elderly low-middle income and migrant people are among the main beneficiaries of such initiatives. Barcelona also has a large network of school gardens. In total, Barcelona has a complex of 361 urban gardens (including the 267 school gardens). Many urban gardens in Barcelona have special educational programs and, during COVID measures, they acted as "satellite" schools to enable outdoor learning. The municipal urban gardens in Barcelona (15 urban gardens in various districts) are also of special interest for enhancing NBS in the city. They are designated for residents older than 65 years, who can cultivate and manage their local urban gardens, always using the ecological agriculture principles and following the city's Strategy for Urban Agriculture (Estratégia de Agricultura Urbana). These gardens, with lots varying from 25 to 40 m2, have sometimes complex green typologies and areas for rest (benches, shadow areas, biodiversity refugees, bee hotels, etc.).
Potential impacts/benefits:
Urban gardens usually favour resilient and biodiversity friendly cities and they are related to key concepts such as urban green infrastructure planning, urban regeneration or NBS. They enhance social cohesion and increase health and well-being. Moreover, urban gardens are important part of the city's sustainability and food production. An urban garden not only provides fresh and 0 km food, but it also enhances accessibility to nature for the most vulnerable (i.e. elderly, disabled or children).
Thus, some of the most evident benefits of urban gardens in Barcelona could relate to:
Maintaining Biodiversity.
Increasing quality and quantity of green and blue infrastructures.
Reducing run-off.
Increasing amount of green open spaces for residents.
Increasing communities' sense of ownership and social interaction
Increasing well-being.
Provisioingn of health benefits.
Increasing communities' sense of ownership.
Social inclusion
Increasing social interaction
NBS benefits
Restoring ecosystems and their functions
Enhancing sustainable urbanisation
Transferability of the result:
The Programme for Enhancing the Urban Green Infrastructure is a remarkable example of urban regeneration strategy and climate change adaptation in Europe and beyond. The pillars of this government measure are criteria that are key for the management and governance of the green infrastructure in cities (multifunctionality, population accessibility to green areas and designing a strategy in line with city´s infrastructure).
The development of a user-friendly Urban Gardens Observatory will incorporate data gaps (i.e. on less studied ecosystem services, e.g. air quality, or data on biodiversity, such as spontaneous flora or invertebrates) and it will boost data democratisation, green areas planning and management. This Observatory can be upscaled and replicated at various administrative scales, and adapted to various users. In this way, the Observatory will be an example of the actions undertaken within the Programme for Enhancing the Urban Green Infrastructure, establishing a knowledge data base and contributing to NBS monitoring, assessing and successful implementation.
Lessons learned:
The importance of urban gardens in Barcelona is widely recognised and they are considered excellent examples of NBS by various studies and assessments. Their incorporation, at various urban strategies, especially in the last 20 years, contributed to increasing urban biodiversity and improving the quality of urban green.
Urban gardens are key in recovering the cultural memory and fostering the people´s interaction with nature. Urban gardens help bridge rural-urban connections and show how history is present in the management of urban biodiversity, recovering cultural landscapes and knowledge on biodiversity and ecosystem services.
Having a huge potential for education, the urban gardens are NBS of special interest for children. Children who experience a sense of wonder through direct contact with nature are more likely to develop a life-long respect and value for the existence of natural areas, the habitats they contain and the species they support.
The recently developed Programme for Enhancing the Urban Green Infrastructure in Barcelona enforced city´s strategy on green infrastructure (including the urban gardens), through actions at various levels. A key to the successful implementation of this ambitious plan was the efficient communication strategy, to mainstream population acceptance of the new management criteria of the green spaces.
Next directions related to urban gardens in Barcelona are envisaged to include creating a knowledge information system, diversifying the cultivated species in the urban gardens, or the green typology and land-uses.
Contacts:
Corina Basnou
Centro de Investigación Ecológica y Aplicaciones Forestales (CREAF)
Spain, Catalonia, Barcelona
Sustainable Development Goals
3. Good Health and Well-being
11. Sustainable Cities and Communities
13. Climate Action
15. Life On Land
Key Performance Indicator: