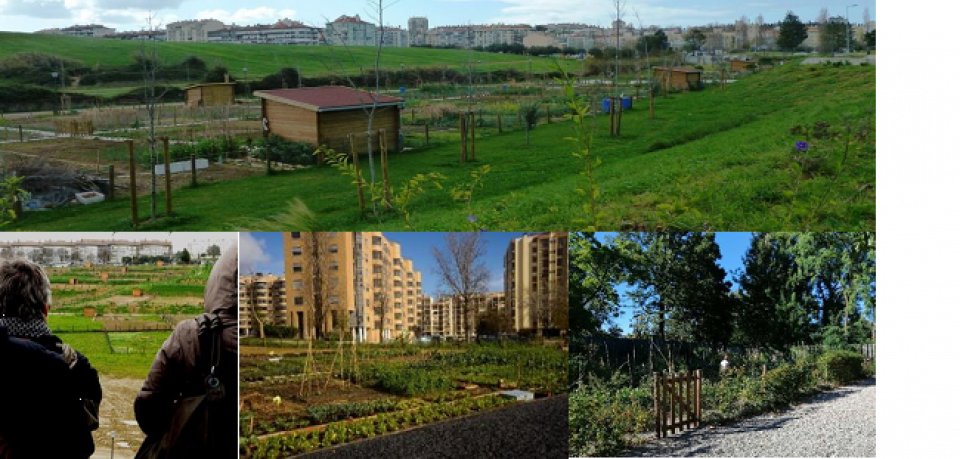 Area characterisation:
Lisbon is the capital of Portugal and the most populous city in this European country. Lisbon is located on the right bank of the River Tagus and has a Mediterranean climate (mild winters and hot and dry summers). The average temperature in Lisbon is 23 °C, total average precipitation is less than 7 mm in July and August, increasing to 28 mm in September. The Metropolitan Region of Lisbon includes another 18 municipalities. In common with many other regions, Lisbon and its metropolitan area is transforming rapidly, having suffered the consequences of a car-centric model of development and urban sprawl. This inevitably affected parts of the regional ecological continuity with these trends lasting more than 60 years; even today Lisbon City Region is still a cluster of 18 municipalities not acting under a coordinated planning vision. With the paradigm of a more concentrated urban pattern underway, Lisbon acts as the core of the metropolitan region.
Objective:
For several reasons, protecting important ecological areas in Lisbon from urbanisation has become difficult. Remnant areas of natural habitat have gained particular importance in consolidating the green corridors network, benefiting from the fact that much of this land is still within the municipality's property holdings. The "Lisbon Green Plan" published in 1996 set out the approach used in 2008 to implement safeguarding measures to protect the ecological structure under development threat at that point. It triggered an update to the Lisbon Master Plan at a time when climate issues were rising up the agenda alongside the development of a Biodiversity Strategy to 2020 for Lisbon, activating a relevant policy to adopt ecosystem services. This resulted in the approval of the Biodiversity Local Action Plan.
Actions:
The Lisbon Master Plan, which received the ISOCARP Award for Excellence in 2013, defined the most sensitive ecological areas for preservation. It also promoted ecological sustainability, biodiversity and quality of green public space, through a green corridors network to be built in the forthcoming decade (2012/2022). This plan predicted a >19% increase in greenspace (up to more 400ha defined), with the target to reach 25% green areas across the city. The scale of the green corridors was defined to connect to the Lisbon Metropolitan Area, where possible. Overlapping the most ecological sensitive areas of the land, this multi-beneficial Green Infrastructure (GI) network proposal responded to the recommendations of several studies considering climate change scenarios including increased frequency of flooding, heat waves and droughts, giving new inputs to fine tune the local design.
The creation of green corridors in Lisbon provided for larger and more connected areas of intervention, along with the opportunity to implement a comprehensive NBS approach, involving a wide range of typologies where biodiversity and natural capital play a key role in the resilience of ecosystems. This has also enabled the consolidation of diverse green infrastructure where woodlands, biodiversity meadows and urban allotment gardens work together, embedded into new and existing greenspaces wherever possible. Some examples are the development of urban allotment gardens, natural drainage systems, rain-fed biodiversity meadows and massive tree planting.
Potential impacts/benefits:
The evolving green corridors and ecosystem services policies therefore provided important, direct responses through which the city could act to tackle the effects of climate change. The targets for GI followed the principles of ecosystem services, responding to:
• Climate action: tackling heat wave effects using shade, responding to water scarcity scenarios.
• Resilient: contributing to balancing water cycles, namely through groundwater recharge and retention.
• Socially active: dynamic, participative and useful, promoting physical and mental wellbeing.
• Biodiversity active: native species & regeneration, blooming, flora and fauna habitats.
• Environmentally functional: Air pollution removal, sustainable mobility leverage (e.g. Bicycle Network), providing for improved quality of life.
• Maximize sustainability: reducing implementation and maintenance costs, thereby raising the range of implementation.
Thus, some of the most evident benefits of urban gardens in Barcelona could be relate to:
Reducing cost of water treatment
Increasing quality and quantity of green and blue infrastructures.
Reducing run-off.
Increasing the amount of green open spaces for residents.
Increasing well-being.
Improving connectivity and functionality of green and blue infrastructures.
Greater ecological connectivity across urban regenerated sites.
Reducing load to sewer system.
Increasing infiltration.
Reduced run-off.
Flood peak reduction.
Reducing drought risk.
Reducing flood risk.
Reducing temperature at meso or micro scale.
Increased infiltration / Water storage.
NBS benefits
Developing climate change adaptation; improving risk management and resilience
Restoring ecosystems and their functions
Enhancing sustainable urbanisation
Transferability of the result:
Currently, Lisbon is involved in the European Climate Initiative "The New Covenant of Mayors for Climate and Energy" which brought together the mitigation and adaptation for the first time within a single pact. A Climate Adaptation Strategy was also published with cross-cutting measures within which the green infrastructure plays a key role in the city. These documents drew on ecosystem services targets from the Biodiversity Action Plan (2015-2020), defining measurable indicators that are periodically submitted to the public. In this way, the most important achievements of the green infrastructure programme were openly reported, and the results could be checked as part of the successful technical application to become European Green Capital Award.
Lessons learned:
Lisbon's NBS programme has been successful in terms of the speed of implementation, starting from scratch with a Master Plan that required updating under ecological principles.
The planning of green corridors allowed considerable increases in the rates of green infrastructure implementation across a continuous ecological network, linking all the city and including the neighbourhood municipalities, providing new ecosystem services.
New green corridors generated an opportunity to consolidate a range of NBS solutions where climate adaptation, resilience, biodiversity and social inclusion were the main priorities.
Completion of the first phase of green corridors' consolidation was facilitated by the municipal ownership of most of the land previously zoned for urbanisation.
Many NBS schemes have been successfully implemented so far. However, implementing NBS into the neighbourhoods or creating new connections in the coming years is likely to be much slower, due to the complexity of de-paving and land ownership issues.
Some citizens do not yet understand the value of NBS being effective measures to respond to a range of urban issues. Some view green infrastructure only from a rather simplistic perspective, akin to installing recreational equipment (e.g. a swimming pool). The need for enhance understanding of the slower pace of natural processes, and an impatience for quick results, may prove challenging for the future implementation and protection of green infrastructure.
Financing:
As regards budgeted costs and savings, the total value of the project is today estimated to reach 65M€, considering different green parks, pedestrian and bicycle connections, including dedicated bridges on the green corridors (excluding riverside renovations). The investment is largely supported using municipal budgets (including an EIB loan), Casino Lisbon's obligations, agreements and partnerships with public and private companies, Cohesion Funds, and other EU Funds (e.g. LIFE CLIMA). Approximately 16% of the green corridors budget comes from EU funds. The rate of implementation of NBS increased by more than threefold during the 2008-2018 period, representing more than 250 ha of new green space in this period. The policies have led to a 55ha improvement in soil connectivity (2010-2018), with an expected increase of 70ha until 2022 and a total targeted increase of 350ha (2008-2022). A climate resilient GI has been crucial in allowing high rates of implementation with an average cost of implementation about 25€/sqm, a low value in comparison with conventional landscaping (ca. 45-55€/sqm).
Contacts:
Duarte, d´Araújo Mata
Municipality of Lisbon, Portugal
Sustainable Development Goals
3. Good Health and Well-being
11. Sustainable Cities and Communities
13. Climate Action
15. Life On Land
Key Performance Indicator: