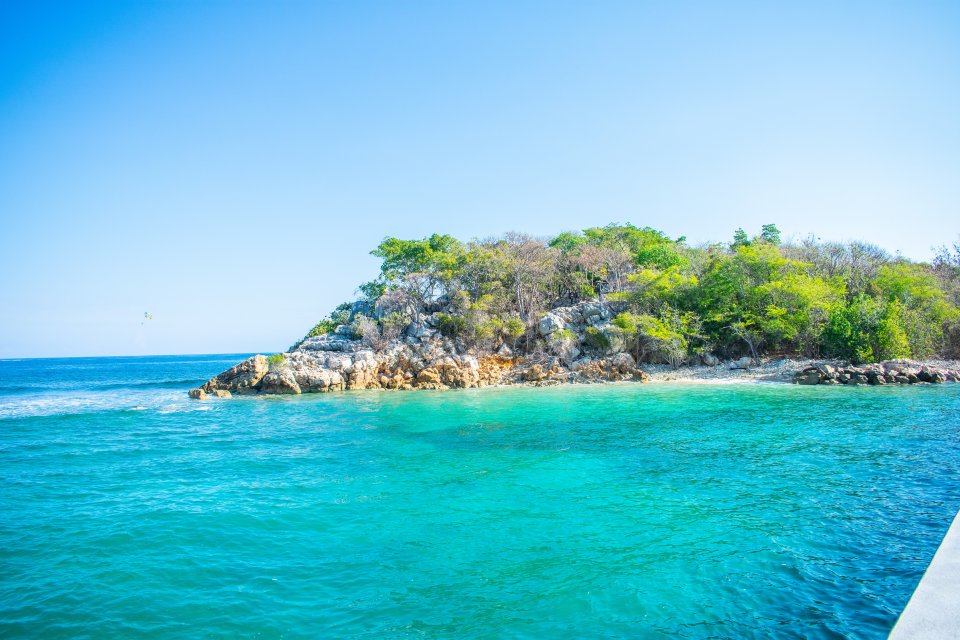 Area characterisation:
Port Salut is a small municipality in the South Department of Haiti with a population of 18,000 inhabitants, densely concentrated near the shore. The Municipality spans an area of approximately 45 km2.  The most common livelihoods are agriculture, fishing, and tourism related jobs. Tourism is a growing industry, and many beachfront hotels and restaurants have been built, catering to both local and international tourists. Many fishing households have mixed livelihoods and rely on both fishing and subsistence agriculture. 
Objective:
The Ecosystem-based Disaster Risk Reduction (Eco-DRR) project aims to reduce disaster risks in the Municipality of Port Salut through a landscape or ridge-to-reef approach.
Actions:
The project has three main components:
Field interventions to reduce the risk of catastrophes spanning from the crest to the coral reef, including coastal revegetation as a natural buffer against coastal risks (i.e. coastal storms and floods)
 Develop local and national coastal zone management capabilities
Support the national defense on the Eco-DRR through the management of the marine protected area.
Potential impacts/benefits:
Establishment of a nursery that produces 137,000 seedlings of coastal and riparian species and fruit trees, for the direct benefit of 200 families
150 people from the Ministry of the Environment and the local community trained on the management of coastal species nurseries
141 hectares of reforestation in areas exposed to coastal risks and floods, consisting of:
- 54,065 fruit and forest trees planted on and around river banks to reduce soil and river bank erosion
- 36,300 mangroves and sea grape trees planted on the coast and river mouths to mitigate the risk of storm surges and floods
Sustainable vetiver farms established on 6.5 hectares for the direct benefit of 25 families
129 people reached in awareness-raising activities and consultations on sustainable vetiver agriculture
Participatory action plan developed for the Port Salut fishing community which involved 51 women and men in consultations
Boat repairs and fleet improvement (7 engines, 10 sailboats, 15 sails)
Constitution of a disaster preparedness Plan and 30 fishermen trained on disaster preparedness and management
Door-to-door awareness raising on Eco-DRR reaching 200 families and eight posters developed and used for public awareness and communications on the role of coastal and marine ecosystems in disaster risk reduction
Municipal Labor-Exchange Program promoted through community-led solid waste collection along the coast to reduce marine litter and obstruction of waterways
Municipal coordination round table set up in Port Salut and greater participation of civil society in the decision-making process on coastal zone management
NBS benefits
Developing climate change adaptation; improving risk management and resilience
Better protection and restoration of coastal ecosystems
Flood peak reduction
Reduce flood risk
Reduce run-off
Restoring ecosystems and their functions
Increase quality and quantity of green and blue infrastructures
Creation of green jobs relating to construction & maintenance of NBS
Increase awareness of NBS solution & their effectiveness and co benefits
Increase communities' sense of ownership
Increase population & infrastructures protected by NBS
Increase stakeholder awareness & knowledge about NBS
Social inclusion
Social learning about location & importance of NBS
Sustainable development of coastal regions
Financing:
The budget is USD 300.000
Sustainable Development Goals
1. No Poverty
5. Gender Equality
8. Decent Work and Economic Growth
10. Reducing Inequality
11. Sustainable Cities and Communities
13. Climate Action
17. Partnerships for the Goals
Key Performance Indicator: