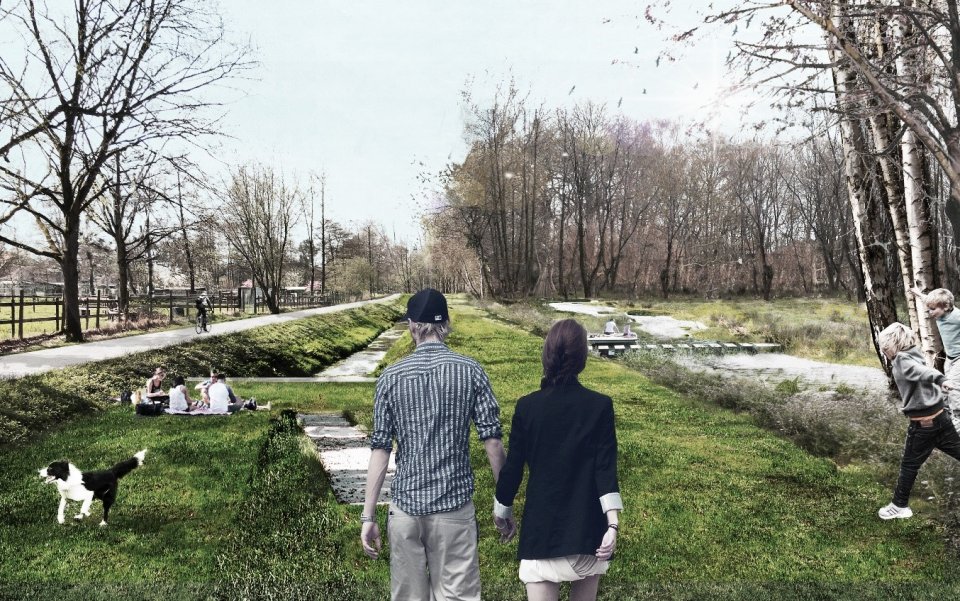 Objective:
The Stiemervallei provides great potential to re-imagine the natural quality of a stream valley in an urban context and to balance the ecological, environmental, social and economic benefits of such an approach. The City of Genk has been working to integrate the hidden, fragmented, and constricted water and greenery and transform it into a tangible and perceptible valley on the scale of the entire city. A blue-green lifeline that enhances the quality of life of Genk and the resilience of the city. The development of this valley adapts the city for climate change by utilising the natural stormwater management potential of the large catchment area, making the existing ecosystems more robust. At the same time, the valley forms a logical, spatial link between strategic city sites that can facilitate active travel. The programme is also providing added value in the socio-economic area in terms of promoting well-being, social cohesion, and economic opportunities.
The development of the Stiemervallei had been on the agenda of the city for more than 10 years and, prior to the initiation of the Connecting Nature exemplar, several steps had already been initiated. Under the Stiemervallei Flemish Plan Program (2010) of the Flemish Land Agency, the Schansbroek zones, source area of the Stiemer and Slagmolen, were completely or partially redesigned at the entrance to De Maten. In parallel, there was a growing awareness that there was a need for an integrated vision for the entire area, which was drawn up in the 2016-2019 period in collaboration with the 'Tractebel-Descombes-IMDC' consortium. This master plan represented a strategic toolbox for a step-by-step, spatial transformation of the area in which climate adaptation, biodiversity, recreation, social cohesion and sustainable mobility were important themes. Through the Connecting Nature exemplar, the city has been using the Connecting Nature Framework to develop and mainstream this vision through a nature-based solution lens, then to implement it in legislation and action. The Stiemer programme is being operationalised through a series of ambitious strategic sub-projects, both large and small. The co-creation engagement approach adopted by the City of Genk is enabling the Stiemer nature-based solution vision to be operationalised and scaled internally by the city authority, collaboratively in partnership with externally organisations, and by external organisations independently from the city Connecting Nature team.
Actions:
Technical Solutions:
Technical Solutions has focused on four transformation projects designed to incrementally deliver the Stiemervallei vision and to engage stakeholders in the broader NBS project ambitions:

Current status of spatial transformation projects:

SuDS & Soda – implementation of this innovative Sustainable Drainage Systems (SuDS) project is underway. New to the Flemish region, this project is delivering a new water cycle SuDS experimental approach that includes a focus on entrepreneurship. Implementation of a SuDS Living Lab is beginning Autumn 2021 and will be completed in early 2022. The Living Lab is the first phase of broader SuDS rollout on public and private land, managing stormwater, improving the water quality, and enhancing biodiversity throughout the Stiemer Valley. The Living Lab will be used to increase the visibility of SuDS approaches and will lay a foundation for broader rollout in 2023 by introducing the community to the water cycle and the value of SuDS. An external consortium is building this demonstration site which will act as a catalyst for the Water Strategy Masterplan, scaling SuDS approaches in all neighbourhoods around the Stiemervallei. Everything is in place for implementation: the public domain component design is almost ready; the private domain and Living Lab (with new external consortium playing a key role) is ready for delivery. All of these delivery tracks will be up and running in the coming month. The overall outcome being using SuDS to prevent stormwater overflow in the catchment of the Stiemervallei. The water company – Aquafin - are financing the installation of the SuDS. As this is a significant shift for them from funding grey to green infrastructure, it is also a key learning/pilot experiment for them at a Flemish regional level.
– this project comprises the redesign of green/blue infrastructure areas of the Slagmolen as part of a flood mitigation and renaturalisation programme. The project area forms the gateway from the City of Genk to the Natura2000 area 'De Maten' – a wetland system highly dependent on sufficient and high quality water to support its water-dependent ecosystems rich in biodiversity. Regular combined sewer overflows from the Stiemerbeek bring poor quality water to this pond system, threatening its ecological integrity. As part of the Stiemervallei exemplar, design plans have started for Phase 2 of this nature-based solution approach. Co-creation design and planning activities have been undertaken. A delay of 6 months has arisen due to complex hydrology in the project area, revealed by monitoring and recent flooding following implementation of the Phase 1 project. In 2022, preparation for implementation will be carried out with implementation of the nature-based solution approach due to start in Spring 2023.
Gardens of Waterschei – this Stiemervallei transformation project is focused on the use of biodiversity enhancement to create a green lung connecting the key city assets of Thor Park (renewable energy campus) Stalenstraat (key retail street), the ambition being to stimulate environmental, social and economic benefits for the entrepreneurs of Stalenstraat by restoring a more natural water system, increasing the connection with nature, and with other districts surrounding the Stiemerbeek. The first phase of this project has been constructed with a new blue/green terrace pilot intervention now opened. The second phase, the creation of a physical Stiemer Hub is also underway with a 6-month co-design and development programme managed by an external process/co-creation expert. On completion, the Stiemer Hub will provide an experimental environment to catalyse the Stiemervallei's Stiemer Deals programme, providing a physical space to enhance the quintuple helix stakeholder interaction. The deadline for the first phase of completion is the end April 2022 with launch of the building overlooking the Stiemer Valley, including surrounding green/blue infrastructure, scheduled for the Genk Innovation Summit.
Vallei Route – using nature-based solutions to deliver an active travel route through the Stiemervallei. This spatial transformation project has a similar timeline to the other projects. Contracted partner Tractebel will develop the technical design, following this, there will be a need to manage the planning and procurement processes, with implementation beginning in spring 2022.
Lessons learned:
Technical Solutions:
To build SuDS into the exemplar in Genk, it was necessary to take a step backwards and explore how to build engagement and capacity for SuDS more fundamentally in the region. This is being achieved through the nature-based solution SuDSengagement and demonstrator as part of the SuDS & Soda project.
Bringing a co-creative approach into tendering procedure enables the combining of different departmental goals into the Technical design.
Building relations to break through silo thinking and overcome system boundaries in external organisations can unlock more multifunctional NBS design and financing. Bringing cities authorities together to influence this can bring more pressure to this than individual administrations.
Failed funding proposals can represent a step forward in implementation if they act as a catalyst for multidisciplinary design collaboration.
Recognition for the value of an NBS team and an NBS project can equate to recognition for a nature-based solution approach more broadly, particularly in relation to how they engage with their colleagues.
Governance:
City-wide Thematic Working Group meetings are valuable for facilitating discussions with responsible actors in relation to 'safe-guarding' the vision of the masterplan during project development. They can also create new working dynamics, creating direct collaborations with external partners that would previously have been managed by another City Authority department.
Collaboration with existing partners on new NBS approaches can create new symbiotic relationships, and can simplify procurement processes if collaboration covers different phases of planning and delivery.
By changing the way of working into a co-productive way, a collaborative governance model is created that can bridge communication gaps. This can be particularly beneficial when seeking innovative solutions for tendering NBS.
Having a narrative that relates to wider city and Sustainable Development Goal strategies helps embed NBS approaches into policy plans by, for example, convincing decision-makers of the project's significance and herewith creating new relations. This increased support leads to a new discourse around the project's significance and the implementation and scaling of NBS.
Budgeting processes can have unwritten rules and important power relations that are challenging to navigate. It can be beneficial to form alliances with senior decision-makers to help navigate this.
Taking ownership for policy plan actions can be an effective mechanism for ensuring that NBS becomes embedded at a higher governance level.
The Stiemer Deals are an effective mechanism for unlocking 'dormant' capacity but require a novel way of governing by the city team (e.g. with regards to the contact point and facilitating the network) and collaboration with the purchasing department.
When trying to drive change in local entrepreneurship around NBS, actors to facilitate change embedded locally allows long-term relationships to develop.
Replication of the governance model to other sectors can provide insights into generic elements of a governance model.
Working with a tailored communication strategy enables connecting activities to communication in a very initiative way, improving project governance.
Financing and business models:
There is a need to embed NBS into the City's economics department. To do this, there is a need for capacity in terms of nature-based economy expertise and knowledge.
New policy plans bring new financing challenges, but it can help to open up new funding opportunities.
Collaborations developed, even during failed funding proposals, can create opportunities for new funding sources.
Building a strong narrative to embed an NBS programme into city policy plans can represent a pathway for securing financing.
Preparing a clear budget with detailed plans can make it easier for influential advocates to back a proposal for city funding.
Embedding NBS programmes in policy plans can secure city budget as match-funding for external funds.
When working on tenders/applications that ask for complex solutions, fitting proposals into the system of the tender/application can represent a barrier.
Citizen-orientated NBS public-private partnerships, can represent an effective financing approach.
Nature-based enterprises:
Stimulation of entrepreneurship opportunities is an effective driver for securing NBS financing as part of regeneration processes.
Nature-based enterprise creation, incubation, and acceleration is a unique challenge requiring sector specific understanding. This can be challenging for a city NBS team without such expertise.
Co-production:
Including co-production processes with other departments into the preparation of tendering processes can help overcome gaps between vision and implementation.
Co-production activities with external strategic actors can be an effective way of increasing delivery capacity by up-skilling partners to deliver their own projects independently.
Knowledge collected in co-production processes can increase knowledge and capacity of community groups.
'Clean-up' campaigns can represent a gateway for wider engagement.
Mapping and contacting local stakeholders based on spatial location, combined with mapping the social fabric of the area, can build a sense of belonging through the campaign.
External organisations can help to build bridges between communities and the city team.
Stiemer Deals proved to be a very effective co-production innovation for engaging actors and raising awareness.
Co-producing a purchasing strategy with volunteers from non-government organisations can represent a barrier if volunteers are reluctant to take responsibility, particularly if there is a lack of clarity in relation to the role.
Being locally embedded is important in relation to co-producing entrepreneurship due to the importance of the role of place.
Building relationships with partners and citizens via informal, 'fun' activities strengthens more instrumental co-production initiatives.
Including citizens (Friends of the Stiemer) in soundboard meetings with experts increases the awareness of experts for the impact on citizens and increases the commitment of the Friends of the Stiemer
Impact assessment:
Implementing a new policy plan also creates a need for new indicators to monitor its process.
Implementing indicators does not need to mean entirely new processes and resources. It can be possible to utilise and/or supplement existing data generation processes.
Reflexive monitoring:
The reflexive monitoring process has been one of the main success factors for the Genk Stiemer exemplar. A lot of effort was put into integrating the learning process into the overall governance and implementation strategy of the exemplar. A key insight has been the realisation that reflexive monitoring is a process that runs parallel to the regular project management, but at the same time is sufficiently interlinked.
Many of the learning outcomes of the learning process have a relevance that exceeds the Stiemer programme. Many barriers sit at organisational level of the municipality. The Stiemer programme offers great opportunities for organisational learning.
The learning process ensures that the right things are done while the project management ensures that the things are done right. With the Stiemer programme, it is one of the first times for our urban transformation processes that we have succeeded to bridge the essential but very often missing link between the strategic ambitions of the city of Genk and the plethora of actions that are undertaken.
Financing:
City financing innovation included a focus on pooling regular resources within the space sector (e.g. nature management, bicycle connections, roads and water-related investments). The different sources of funding secured range between 23.000 € and 2 mil €; in total, so far, there is 2.9 mil € funding secured by pooling regular sources, 3 mil € expected.
In addition to securing the financing for delivery of the four spatial transformation projects, the successful grant capture at a Flemish level for operationalisation of the SuDS & Soda sub-project helped raise awareness of the effectiveness of adopting a nature-based solution approach in funding proposals. Accessing funding at a regional level has, historically, been viewed as challenging for the City of Genk. Thus, this latest success has led to broad acknowledgement of the value of the nature-based solution approach in funding proposals and is now being mainstreamed across other design/development approaches. The grant received for SUDs & SODA can indeed be considered as an innovation and breakthrough, because a traditional funding mechanism for sewage infrastructure has been opened up; a new category for experimenting with NBS was added under pressure of 2 Flemish cities (one of them being Genk).
Through Stiemerdeals – public-private cooperations on human scale, Genk managed to increase the resources (personnel, financial) being invested in the programme.

Strategic project financing:

80% funding secured:

SuDS & Soda

Public domain delivery funded through the transition of traditional Flanders Environment Agency funding mechanisms for grey infrastructure to also fund nature-based solutions experiments.
Private domain and Living Lab co-financed by the regional Department of Environment and City of Genk.

Gardens of Waterschei

2.01 m€ investment funding from Regional Urban Policy Department, which is not only funding but mainly (and finally) recognition for the Stiemer Programme and the potential of nature-based solutions in city development.

Slagmolen

Financing secured – city budgets itself + partly regional funds - Flemish Land Agency and Flanders Environment Agency.

Vallei Route

Budget for first implementation of major missing link secured: city budget (+800.000 € extra in 2021) + regional cycling fund.

Legacy financing:

Increased internal financing of the roles related to nature-based solution approaches to climate adaptation in the city authority. The responsible department will be extended with both strategic and operational profiles.
A new proposal for Blue/Green Infrastructure for Regional Authorities is being written by the Connecting Nature team, using the Framework Elements and knowledge generated in Connecting Nature.
Private sector finance is still a barrier.
Innofins– research project on innovative financing of nature-based solutions at a Flemish level in partnership with the University of Antwerp.
Exploring possibilities for further financing spatial transformation/Stiemerdeals through EU Life programme, supported by a Funding Officer contracted by the city for assistance in attracting EU funding.
Impacts:
A suite of environmental, social, and economic indicators have been implemented to establish a baseline for monitoring impact from the Stiemervallei programme as it rolls out. This has included engaging with a citizen-science-based Stiemerlab project that is monitoring the water quality of the Stiemer waterway. This will be used as a baseline for assessing change and there are discussions about broadening this approach to include monitoring SuDS & Soda. In addition, a Social/Health and Wellbeing survey has been carried out in the Stiemervallei catchment which will be repeated regularly to capture a measure of social change.
Multiple Benefits:
Real changes to the Stiemervallei surroundings through regeneration of an underused and neglected natural capital asset.
Stormwater management (adopting a Sustainable Drainage Systems approach) and green space management (including enhancing/ conserving urban biodiversity) that create an attractive and functional blue-green zone turning a neglected area into the jewel in the crown of Genk.
Urban regeneration (focusing on an active travel route with links to enterprise zones) as a mechanism to drive Genk to become a great place to live and work that is connected to its local nature and landscape.
Collaboration between the authorities responsible for water management towards truly integrated management of the water in the Stiemervallei.
Experiments with SuDS as a catalyst for mainstreaming the approach in Genk and regionally.
Participatory planning and governance through active participation from the local population feeding into the new landscape plan for the Stiemerbeek.
Social justice and social cohesion through locals and tourists alike (re)discovering a previous neglected area and using the Stiemervallei as an active travel route to move around Genk, to enjoy nature, and socialise.
Stakeholder Participation/Participatory Planning and Governance:
The Stiemervallei project organic top-down opportunity-driven approach and bottom-up convergence of small and large projects and visions represented an organizational challenge for the small Environment & Sustainable Development Department within the City of Genk. Initiated as horizontal working process bridging multidisciplinary consultative bodies in sub-projects, it was necessary to shift to program-based governance approach, with a clear implementation strategy for integrating the various sub-projects. Instead of the sum of project structures, this required a clear and integrated governance model characterized by a horizontal, co-creative approach in which involvement of stakeholders, both internal (other departments) and external (other agencies, NGOs, businesses and citizens), and ownership are central principles.
The innovative collaborative governance model developed for the Stiemervallei NBS programme, is now being mainstreamed across other major city programmes (e.g. Energy Sector).
Scaled-up greening across the city is now being mainstreamed in the next policy round. Social and ecological benefits of nature-based solutions are being increasingly recognised and adopted across the city departments. The exception, perhaps, being economic mainstreaming of nature-based solutions as drivers for a nature-based economy across the city, which is still less well embedded in city policy and strategy.
The grant received for SUDs & SODA can indeed be considered as an innovation and breakthrough, because a traditional funding mechanism for sewage infrastructure has been opened up; a new category for experimenting with NBS was added under pressure of 2 Flemish cities (one of them being Genk).
Through Stiemerdeals – public-private cooperations on human scale, Genk managed to increase the resources (personnel, financial) being invested in the programme.
A shift in the structure of Working Groups within the City from project-based to thematic-based (e.g. Water Management) has enabled a more strategic and integrated approach to project delivery, that also has more influence due to Working Group members typically being more senior within organisation and strategic levels.
In addition, through the 2020 Policy Cycle, sustainability is now embedded as one of three horizontal topics with Climate Action Planning and Nature-based Solutions now mainstreamed on delivery agendas of colleagues across the city authority. This includes transfer of the nature-based solution concept to a new flagship project climate-proofing the city centre through greening of open spaces and grey infrastructure.
Another example of changing governance within the City of Genk comprised a recognition of the need to increase the capacity of the Stiemervallei delivery team within the City Authority. This recognition has been reflected in expanded recruitment in the nature-based solution delivery team to work both within and beyond the Stiemervallei programme.

Co-production:

A professional communication strategy and recognisable visual language were established to reach and involve stakeholders. This was based on a process of creating visibility and pride, promoting engagement through education and co-creation, and then driving active participation.
The community engagement and communication strategy for the Stiemervallei programme are underpinned by the Friends of the Stiemer programme and Stiemer Deals. The Stiemer Deals programme adopted an entirely novel social innovation approach for the city: a voluntary agreement between the City of Genk and other partners from across the city (other city services, citizens, organizations, companies) in relation to delivering mutually aligned ambitions associated with the Stiemervallei. This goes beyond co-production to innovative co-governance and co-financing for the stewardship phase. Officially launched in 2020, this innovative policy instrument is now integral to creating ecological, economic and social value from the Stiemervallei programme, delivering such innovations as Stiemer ice cream and Stiemer beer.
Co-production activities ranged from the traditional to the more creative, including bicycle tours, neighbourhood dialogues, Stiemer quizzes, and the engagement of a Junior Team of local school children as child ambassadors.
Social Innovation approaches developed through the Stiemervallei programme have also been expanded to include the City's New Energy Project.
Potential for new economic opportunities and green jobs in the EU and in global markets:
Nature-based Enterprises:
Connecting Stiemer nature with entrepreneurship was a goal of the project team. In part, this was achieved by using the Stiemer Deals as a catalyst for economic development and entrepreneurship. However, a key aspect to delivery on this ambition will not be realised until the Stiemer sub-projects are more fully realised, and the attractiveness of the valley can be used as both a stimulus and a foundation for business, including nature-based enterprises.
Monitoring and evaluation:
A Stiemer diary process was implemented for all members of the Stiemer team to journal day-to-day activities. Explored as a team in monthly reflection sessions, the journals formed the basis for understanding the barriers and charting the successes of the Stiemer programme delivery.
Following the successful implementation of the reflexive monitoring process on the Stiemer governance process, reflexive monitoring has now been transferred to the development of other major programmes within the City Authority.
Impacts of EU research and innovation projects:
Innovations developed as part of the Genk nature-based solution mainstreaming process have relevance to cities globally. In particular, they have direct relevance to the plethora of small/medium sized cities across the EU. Recognising some of the advantages and challenges of public administration on this scale, the Stiemervallei exemplar, and its spin-off innovations, represent excellent templates for maximising the value of limited public authority resources through a community-focused, and engaged, co-creation approach to regenerating a neglected community and city asset.
Further information
Genk is situated 80 km from the city of Brussels on the border with the Netherlands. Through the Albert Canal, the city is connected to Antwerp and Liège, which was pivotal in the development of local industries. Until 1988, the coal industry was a very important driver for the city's economy. Of the city's 66,000 population, 54% are of foreign origin from about 107 different nationalities, mostly Italians, Turkish, and Dutch, much of this diversity derives from the legacy of this industry.
Like many cities, Genk faces multifaceted challenges, ranging from securing a sustainable economic future, to building resilience in the face of climate change. This includes needs to:
Find solutions to increasingly frequent episodes of flooding and stormwater overflow.
Create new business models that create local jobs.
Increase the attractiveness and quality of the landscape and local ecosystems to create a desirable location to live and visit.
The Stiemervallei represents an opportunity to deliver a nature-based solution for Genk to support its ambition to increase its attractiveness as a place to live and work, that is connected with nature and the local environment: The Stiemer is a forgotten stream that flows through Genk for about 8 km and is under severe pressure. It originates in Waterschei, from there runs diagonally through the city, connects to the ponds of De Maten and flows into Diepenbeek into the Demer. On a regional scale, the Stiemervallei is part of De Wijers, a unique wetland area of around 700 ha around the cities of Hasselt and Genk. Parts of the valley have been completely enclosed by buildings over the last sixty years, with other parts of the area hidden and forgotten. The stream itself was straightened and thus largely lost contact with its valley area. Nevertheless, in some places the valley still contains valuable natural elements and large parts are protected as a recognized nature reserve.
Tackling water issues in the valley is crucial. The sewage system of all surrounding neighbourhoods feeds into collectors on both sides of the Stiemer. Even with moderate rainfall, wastewater mixed with rainwater spills into the Stiemer, with a negative impact on people and the environment. The accelerated and massive discharge of uncontaminated rainwater from the valley area also causes flooding and drying out of the valley system.