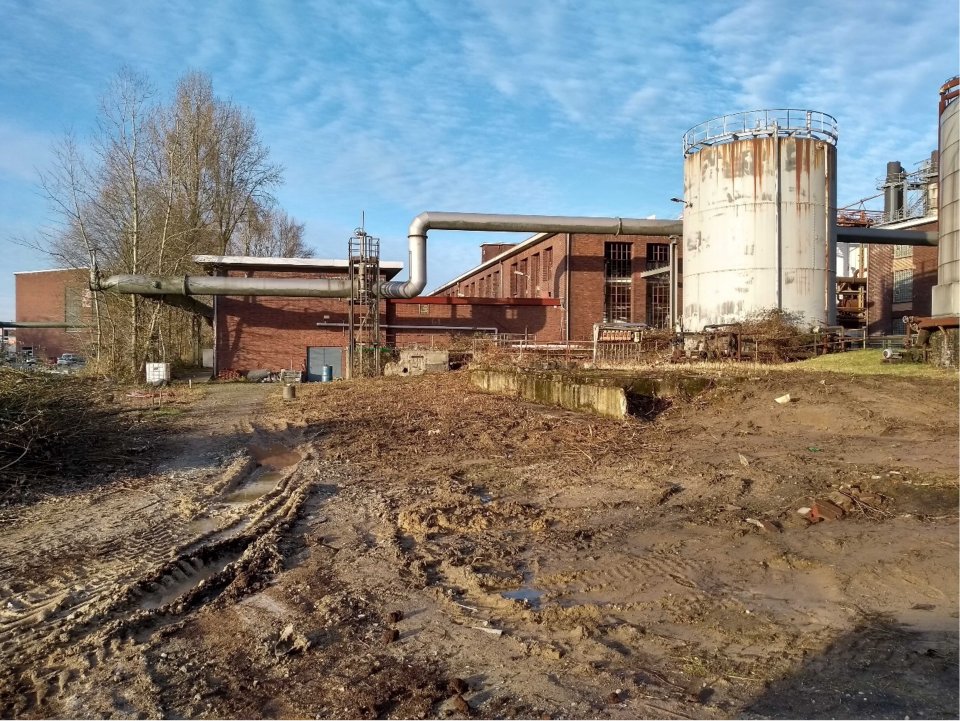 Area characterisation:
Huckarde is an old working-class district with large post-industrial areas. The NBS is going to be implemented on the site of the Kokerei Hansa (former coking plant) which is an industrial museum of regional interest.
Objective:
Aquaponics is the combination of raising fish (aquaculture) in tanks together with soilless cultivation of plants (hydroponics) in a symbiotic environment, whereby the fish waste water provides the nutrients needed to feed the plants. 
Two aquaponics greenhouses will be built on part of the site of the old coking plant Kokerei Hansa in Dortmund Huckarde as a scientific experiment. Energetic optimization and potential transfer paths of contaminants will be examined. 
Actions:
After a long search for a suitable site with the needed infrastructure the planning process for the construction in cooperation with the local project partners was intensified. 
To build a greenhouse in an urban area, a building permit is required. The contamination of the site and the conceptual adaption regarding legal aspects have led to an increased complexity of the approval procedure. Thus, the original task was widened to additionally develop measures to avoid, overcome or mitigate the risks and barriers due to soil contamination. The former concept of a citizen-managed facility had to be modified to a scientific experiment. Fish are not added until it is confirmed that the soil contamination does not pose a threat to the animals. 
Though a direct involvement of citizens in the operation of the plant will not be possible citizens and visitor groups will be able to participate in aquaponics workshops outside the greenhouse. 
Potential impacts/benefits:
The scientific experiments serve as fundamental research. Results will ease to design future aquaponics systems.  This project intends to implement low-cost aquaponics systems, which are relatively easy to operate.
Transferability of the result:
Aquaponics is a soil-less system and therefore ideal for promoting local food production in areas with contaminated or poor-quality soil. However, the concept must be adapted to the respective legal framework regarding the building permit and local conditions depending on the substances with which the soil is contaminated. 
Lessons learned:
Long duration for the search for an area and especially for corresponding contract negotiations.
The required building permission was complex especially due to aspects like designing the system as a licensable scientific experiment or soil contaminations which required an extra amount of time and money.
Financing:
EU – Horizon 2020 – Project: Productive Green Infrastructure for post-industrial urban regeneration, City of Dortmund