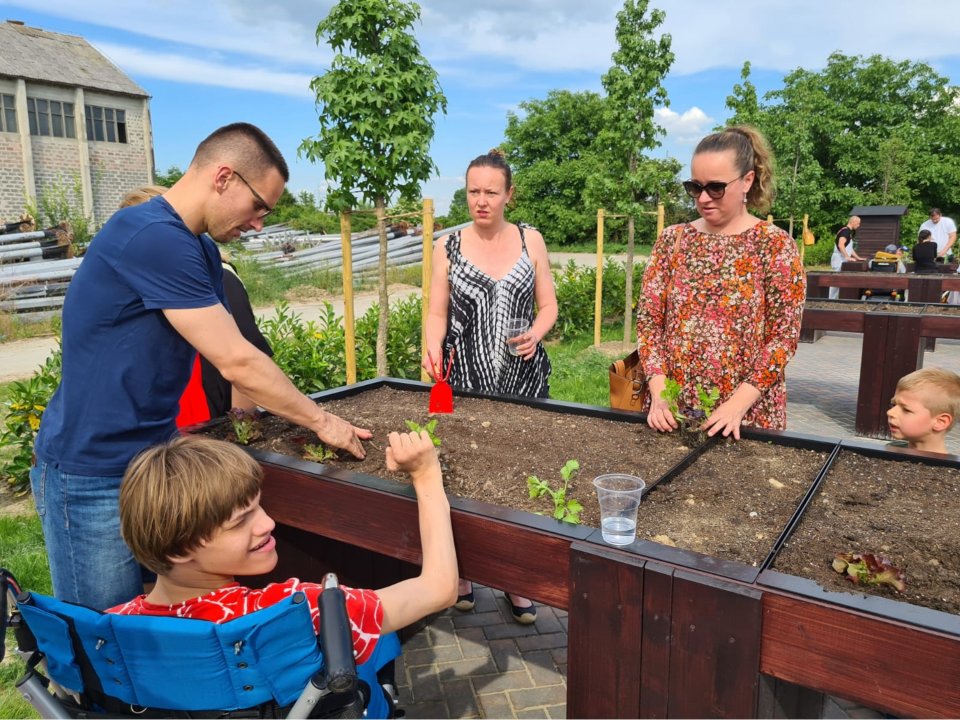 Area characterisation:
Sesvete is the easternmost city district of Zagreb, with a total population of 70,009) it is the most populated district as well as the second largest by area 165.255 km2.
The garden is implemented in the area of old factory Sljeme in Sesvete. Sljeme factory was founded in 1946 and it was one of the largest meat producers in ex Yugoslavia. In the process of transition factory went bankrupt and was bought by the City of Zagreb. The therapeutic garden is built on the south part of the complex.
Objective:
Encouraging the participation of people with disabilities in activities and programs of the City Garden for therapeutic gardening and education with a positive effect on motor, sensory and cognitive abilities and encouraging their spiritual and social potential for harmonious life and health. 
Raising awareness and inclusion of people with disabilities of all ages in the community through therapeutic gardening and education.
Actions:
The city garden project in Zagreb has been implemented since 2013, and the allready existing scheme has been expanded through proGIreg project, funded within Horizon 2020 programme. The new therapeutic garden is implemented next to the former factory. 
Therapeutic garden is a space that improves well-being by providing accessible and serene spaces for socialisation and contemplation. The garden in Sesvete is built for people with disabilities that live nearby. The idea is to help visitors to the garden to observe nature with all senses, by various activities such as games and art classes. The Sesvete garden is open to families that have members with disabilities so they can spend time there and tend to the gardens or just relax, at the same time integrating marginalized people into the local community.
Potential impacts/benefits:
Given that the target groups of this project are disadvantaged and are socially excluded due to their physical and mental problems, the implementation of the project promotes social integration with the community and reduces discrimination based on social status, ethnicity and other characteristics of the target group.
Green areas in cities contribute to lowering the air temperature (mitigating the effect of heat islands). There is less need for use of air conditioners that consume electricity. More time is spent in the natural environment, which contributes to decreased use of electronic devices and a less sedentary lifestyle. With moderate physical activity outdoors, a positive effect on health is achieved. An increase in self-confidence and a sense of usefulness are developed in users based on the quickly visible results of their own work. Users learn about growing vegetables, fruits, spices and flowers. Users are introduced to plants and learn about their growth and development; they also learn about responsibility, healthy diet and biodiversity.
The project can be an example of good practice for all other cities in Croatia. It will reduce the social exclusion of the target group, and their active participation in the local community will help strengthen their self-confidence and socializing.
Transferability of the result:
Therapeutic garden Sesvete presents an example of good practice that can be replicated in other cities and municipalities in Croatia and beyond.
Also, the practice of therapeutic gardening can be applied by various institutions and associations of civil society that care for children and grown-ups with disabilities.
Through cooperation with schools and kindergartens in the therapeutic garden of Sesvete, outdoor classes and various cultural programs will be organized, as well as educational workshops for all children of preschool and school age.
Finally, it should be noted that the implementation of the project is primarily expected to make a significant positive contribution to the quality of life of vulnerable groups of citizens and people with disabilities. The possibility of being in the natural environment and participating in workshops and trainings is intended for all interested citizens, and a positive impact is expected on the wider community. Also, one of the ideas is to upgrade the project by training garden therapists, specially trained experts for medical and psychosocial effects of gardening, who are part of the therapeutic-rehabilitation team.
In this way, a high quality of service would be ensured for people and children with disabilities, and the costs related to rehabilitation would be reduced in the long run due to the stated positive effects of the same on the users of this type of service.
Financing:
Design, preliminary groundwork and maintenance: City of Zagreb
Construction: EC through proGIreg project
Contacts:
Matija Vuger, M.Sc., univ.spec.traff.
Head of Department for preparation and implementation of regional and international projects
CITY OF ZAGREB, City Office of Strategic Planning and Development of the City
Branka Mrakužić, M.Sc., Univ.spec.stud.eur.
Head of the Department of Agricultural Land
CITY OF ZAGREB, City Office of Agriculture and Forestry
Iva Bedenko, M.Sc., architect
Senior advisor for preparation and implementation of regional and international projects
CITY OF ZAGREB, City Office of Strategic Planning and Development of the City
Tatjana Petrović Sladović
Director of Mali dom day rehabilitation center for children and youth