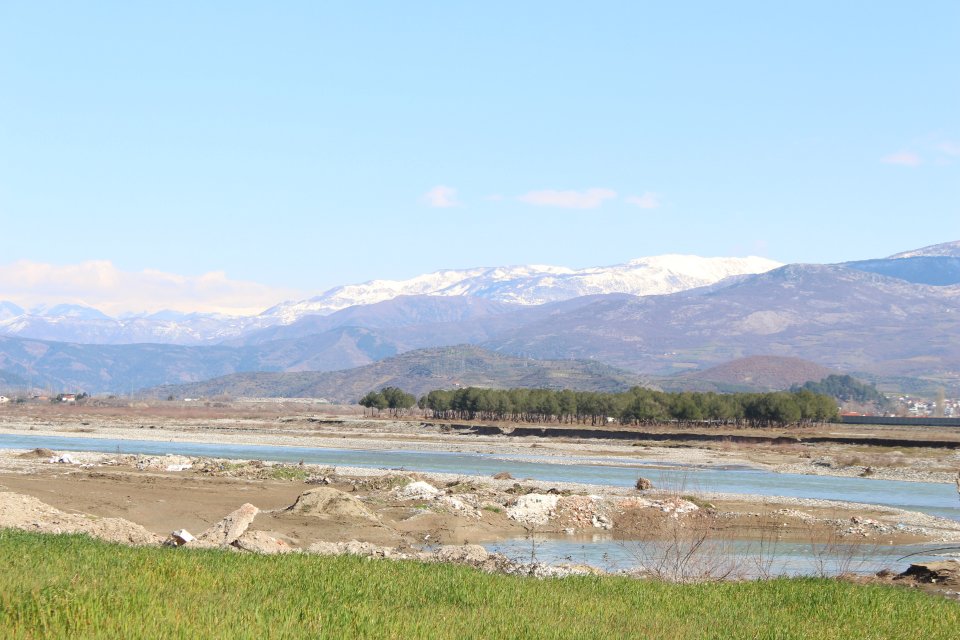 Area characterisation:
The Elbasan Municipality is located in the Shkumbini River basin, with an abundance of diverse natural habitats, from mountain lakes and torrents, to large floodplains and coastal wetlands.
About 35% of the population of the Elbasan Municipality resides in Shushica village, located 7 km from Elbasan. Annual incomes in the village are provided mainly by agricultural activities given the favourable climate for growing vegetables and fruits, and thus the high crop productivity. The village features the potential for agro-tourism, since it was included in the national list of 100 potential tourism villages in Albania.
Socio-economic and environmental challenges, identified through the Baseline Assessment, are related to a high risk of soil erosion, flooding and landslides combined with low ecosystem resilience. All these factors endanger agricultural production, limit tourism potential and negatively influence community livelihood, especially for women and vulnerable groups.
Objective:
The Project provided recommendations for an NbS pilot intervention in Elbasan Municipality through the NbS Baseline Assignment - the process that included consultation, identification of potential sites for implementing pilot NbS measures and a multidisciplinary assessment. 
Actions:
The Baseline Assessment covers the topics of water management, biodiversity, socio-economy and gender inclusiveness and identified the Gurra catchment, a part of the Shkumbini river basin for NbS pilot measures.
The two types of NbS interventions for the Gurra catchment have been proposed within the Baseline Assessment:
restoration of forest landscape and;
regulation of flow and excessive transport of sediment with check-dams.
Potential impacts/benefits:
The NbS Baseline Assessment in Elbasan Municipality enabled data collection and analysis on the state of biodiversity and ecosystems, socio-economic context, gender inclusiveness and current environmental policy. Different local and national stakeholders were consulted at each stage of the process to ensure that their needs and expectations are considered and reflected in the analysis. They identified the environmental targets to be addressed: mitigation of floods and soil erosion, reduction of water pollution, and enrichment of ecosystems and biodiversity.
The information gathered during these consultations, combined with a multi-disciplinary expert analysis, enabled identification of the priority zone for implementation of NbS measures: the Gurra catchment in the area of the village of Shushica. The proposed NbS measures will contribute to protection and safeguarding of some 150 hectares of productive agricultural land adjacent to the Shkumbini River that floods regularly. The intervention will decrease the torrential flow intensity, thus eliminating intensive erosion and preventing sediment transport and its accumulation along the Shkumbini River.
Strong stakeholder engagement ensured a broader understanding of the NbS concept amongst the local community and stakeholders, thus improving acceptance and local ownership over the proposed NbS intervention.
NBS benefits
Developing climate change adaptation; improving risk management and resilience
Increasing infiltration
Reduce flood risk
Reduce run-off
Enhancing sustainable urbanisation
Increase awareness of NBS solution & their effectiveness and co benefits
Increase communities' sense of ownership
Increase population & infrastructures protected by NBS
Increase stakeholder awareness & knowledge about NBS
NBS classification
Forest Landscape Restoration
Sustainable Development Goals
11. Sustainable Cities and Communities
13. Climate Action