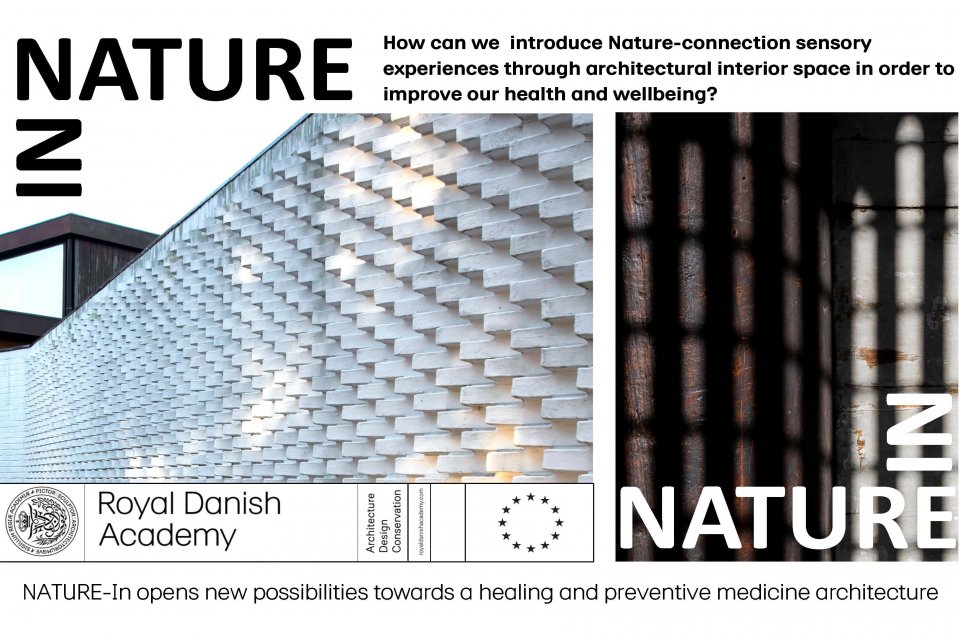 Objective:
Nature-In is an artistic, technical and historical research, that will gain knowledge from our architectural heritage to inform us of a Contemporary Design, through Landscape, Architectural Interior and Biophilic Design approaches, as a resource to mitigate an urgent problem. The overall aim is to improve Nature's connection with the interior spaces of buildings, to enhance the health and wellbeing in dwellings and urban areas in the EU and beyond. Thus, Nature-In may transform the reality towards a better life.
Potential impacts/benefits:
It opens a new research branch of Architectural Design that links Architectural Interior and Biophilic Design. Additionally, it facilitates biophilic design patterns implementation. 

Nature-In, focused on interior space, activates a new phase in the study of novel useful/creative small-scale design strategies to increase the contact with the nature environment of population in communities.
It offers important insights into architectural design practice: It contributes to improvement of the education/research/praxis of the architectural design. It informs new practical design devices for improving the sensory experience of Nature in the interior space for the dwellings of the future. Thus, it contributes to the ensuring of "healthy lives and wellbeing for all" and "cities and human settlements more inclusive, safe, resilient and sustainable" (the UN's SDG nº3, 11), an urgent challenge at EU and Global level that affects all of us.

It will influence policy makers/regional authorities´ developing guidelines to advance urban policy for improving health/wellbeing in urban areas.
Nature-In helps the understanding of the healing power of human daily interaction with Nature. It  has a momentous/transformational role, producing also life scenarios and ideas for wellbeing/health; influencing architects/communities/policymakers and changing their behaviour.
It  enriches our comprehension of Danish/European/Japanese architecture: deciphering a hidden part of its complexity.
NBS benefits
Enhancing sustainable urbanisation
Increase awareness of NBS solution & their effectiveness and co benefits
Increase communities' sense of ownership
Increase social interaction
Increase stakeholder awareness & knowledge about NBS
Increase well-being
Increase willingness to invest in NBS
Provision of health benefits
Social learning about location & importance of NBS
Financing:
This project has received funding from the European Union's Horizon 2020 research and innovation programme under the Marie Sklodowska-Curie grant agreement number 896651.
Contacts:
Carmen García Sánchez
Post Doctoral Researcher MSCA fellow, PhD in Architectural Design, Architect MAA
Institute of Architecture and Design
M:  +45 4170 1518
Sustainable Development Goals
3. Good Health and Well-being
11. Sustainable Cities and Communities