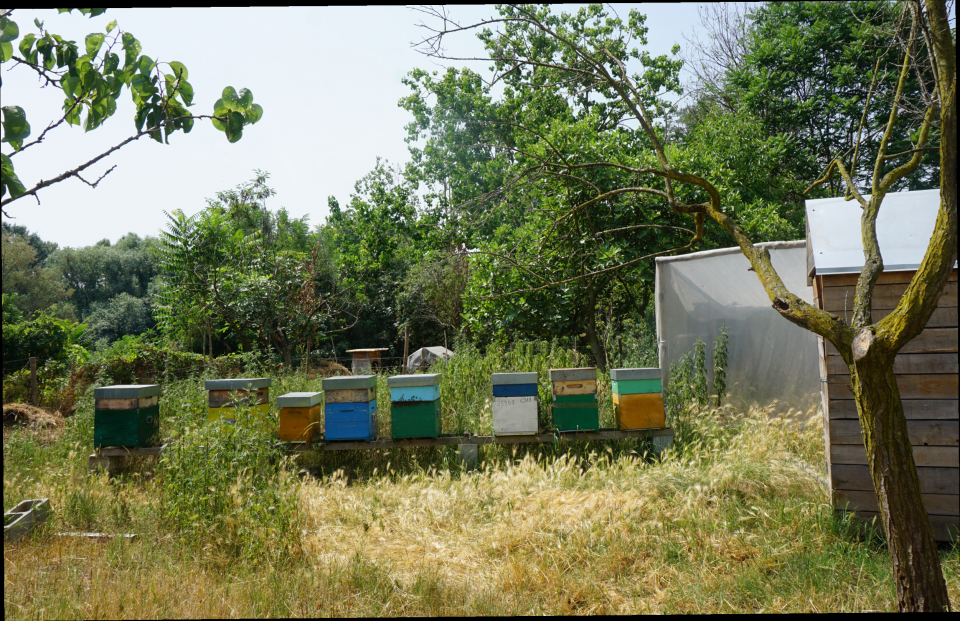 Area characterisation:
Mirafiori Sud district is famous because here FIAT was born and all the area was design and developed to host its workers. Today the area suffer from post-industrial heritage such as high seniority of population, great unemployment, loss of relational fabric.
Green urban pollinator habitats are located throughout the Living Lab Mirafiori Sud forming green urban connections for different insects.
Nine butterfly gardens:
1. Centro Aquilone (Housing community for disabled people with intellectual disabilities):
2. Scuola Torrazza
3. Casa Farinelli 
4. Casa del Mondo Unito
5. Presidio Valletta
6. Via Nomis di Cossilla
7. Spazio WoW
8. Association "Bunker"
Two transects were built in Orti Generali and one along the Green Corridor.
Objective:
The objective is to foster butterfly populations and diversity in Turin by creating a network of green areas. Proper management and the presence of suitable plants (food plants and nectar sources for the life cycle) allows butterflies to cross the urban area while involving people with mental or physical disabilities to fight social stigma and foster social inclusion.
The NBS combines scientific and social goals:
scientific monitoring of butterflies
involvement of fragile people with mental or physical disabilities against isolation and social stigma.
providing training courses for disabled people supported by university researchers to become scientific disseminators
carrying out all project activities: creating and taking care of pollinator gardens, observe and record butterfly species, manage a website, breed caterpillars, taking part in public events and educational activities in schools, refugee centres, social housing, care homes for elderly.
Actions:
Planning and preparatory activities (administrative and technical procedures)
"Farfalle in TOur" was launched in the city of Turin in 2014 through the collaboration of DBIOS (UNITO) and the Mental Health center upon the request of doctors, professional educators and users of Mental Health Centers (MHC). The first Italian Citizen Science project in which users of Mental Health Day Centres became citizen scientists.
Supported by zoology laboratory staff of DBIOS, users have the following responsibilities:
setting up a green area with foodplants and nectar plants for butterflies
surveying butterflies regularly visiting the green area
Involving citizens of District 3 in Mirafiori Sud by distributing seeds, foodplants and nectar plants
to be placed in private gardens or balconies
Activating a project ("Butterflies go to school") for knowledge transfer and awareness raising with a Primary School of the same district. Carrying out workshops and caterpillar breeding (Vanessa Cardui) with children for two years.
Potential impacts/benefits:
ProGIreg project created synergies between the different departments of the City of Turin, local associations and citizens:
Training 12 disabled people to become "butterfly scientists"
Creating and maintaining a butterfly garden by "Il Margine" users in the community center "l'Aquilone" and the cultural centre "Bunker".
Participating at the "InGenio" exhibition (Turin, 13 - 25 September 2019), with urban butterfly photos and laboratories
Participating in educational activities within the PON (National Operational Programme on Education) project won by the I.C. Racconigi Primary School
Planning educational activities in schools and in other cooperatives/communities hosting fragile people (2021)
Editing an online kit that collects all materials produced during lockdown
Creating and maintaining a butterfly oasis in the community centre at Via Nomis di Cossilla and a butterfly box in Spazio Wow (NBS Pollinator friendly garden) by "La Rondine" users
Securing irrigation of Orto Wow by social cooperatives Il Margine and La Rondine, from June to September by mentally disabled users in collaboration with Fondazione Mirafiori and Parco del Nobile
In 2022, creating three new butterfly oases and organising two activities with school children
Monitoring activities of butterfly populations along the two transects of Orti Generali and along the NBS 6 Green Corridor by users of Mental Health Centres, researchers and educators at Scuola Cairoli in 2019 and 2021.
Children and vulnerable people built a new Butterflies Oasis in a school garden and established a small breeding of Papilio machaon in order to understand the butterfly life cycle.
Farfalle in ToUr plan three laboratories focused on urban butterfly conservation in Orto WOW.
The nature-based project Farfalle in ToUr has benefitted the Living Lab in multiple ways:
Educational offering about butterflies (information events, lessons) for disadvantaged people
Increasing social inclusion, reducing social stigma
Improving urban ecosystems through butterfly boxes containing suitable pollinator plants
Promoting socical cohesion through fruitful collaborations between civil society, public authorities and academica
Demonstrates the potential of nature for improving health and well-being.
NBS benefits
Increase Biodiversity
Increase amount of green open spaces for residents
Increase social interaction
Provision of health benefits
Social inclusion
Financing:
EU Horizon 2020 project:
Total implementation budget: 59.000 €
ProGIreg funds from City of Turin to Cooperativa Rondine for activities from 2020 to 2021 (total 22.000 €):
540 € for the supply of plants from Orto che Cura (Il Margine)
18.000 € from self-financing activity made by Cooperative Rondine-Il Margine
3.360 € for University researcher teaching
University of Turin (DBios) funds: 37.000 €