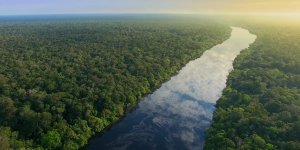 The flagship project of the European Union, MERLIN, introduced the MERLIN Innovation Awards (MIA) in October 2022. The MIA "Product of the Year" and "Service of the Year" categories featured a variety of new and widely applicable solutions for restoring the functions of freshwater ecosystems or enabling their financial benefit. Ten finalists (Ecocean, Mold S.r.l. (River Cleaning), Natel Energy Inc., RanMarine Technology, SolarisFloat, Nature DAO, Plastic Fischer, CarbonSpaceTech, Soonapse, and Viridian Logic LTD presented their top innovative solutions at the online MIA Ceremony on February 15th.
With their FLOLIZ, which consists of floating rafts that can be installed in water bodies to increase terrestrial and aquatic biodiversity, Ecocean earned the MIA "Product of the Year 2023 Award". Etienne Abadie, Project manager and Northern Europe representative of the company, stated, "Ecocean is very honored to receive the Product of the Year 2023 award from the MIA awards, for the solutions that we developed with Biomatrix Water to enhance the ecological functions of littoral zones in freshwater. It acknowledges all our efforts to provide functioning habitats to urban and artificialized waterbodies, and to bring back eco-logical functions, complex ecosystems, and biodiversity in habitat-depleted areas."
Plastic Fischer won the MIA "Service of the Year 2023 Award" for their Plastic (Fischer) Credits. Credits are calculated per ton of river plastic collected, managed, and verified, which allows the company to finance its work and tackle ocean plastic in rivers. Karsten Hirsch, CEO and Co-Founder of the company, stated, "I am very proud that we have been awarded the Merlin Innovations Award for "Service of the Year"! Thank you so much for recognizing the hard work of our entire team and the created impact."
The MIA Ceremony showcased impactful solutions and forward-thinking approaches to freshwater ecosystem restoration. "The MERLIN Innovation Awards event was a successful test balloon for connecting the restoration projects with the various companies and service providers. All nominees had exciting pitches in store, and we can well imagine that the new contacts will be put to good use in the coming weeks. We are already looking forward to the MERLIN Innovation Awards 2024!", concluded Dr. Sebastian Birk, co-coordinator of the MERLIN project at the University of Duisburg-Essen.
Apart from the winners, Merlin Innovation Awards granted a Seal of Excellence to the following companies:
| | | |
| --- | --- | --- |
| CarbonSpace Tech | Ireland | |
| CETAQUA Water Technology Centre | Spain | |
| CubeX | Lebanon | |
| ekolive Germany GmbH | Germany | |
| FieldFactors | The Netherlands | |
| Floating Island Int. | USA | |
| Fluidion | France | |
| FUELICS | Greece | |
| Gdanskie Wody sp. z o.o. | Poland | |
| GYBE | USA | |
| Hogen Systems Ltd | England | |
| iNode | India | |
| IOT AONCHIP | Spain | |
| Libelium | Spain | |
| MobyGIS-WATERJADE | Italy | |
| Mold S.r.l. | Italy | |
| Natel Energy | USA | |
| Nature DAO | UK | |
| RanMarine | Netherlands | |
| Royal Haskoning DHV | Denmark | |
| SolarisFloat | Portugal | |
| Soonapse | Italy | https://www.ploovium.com/en/home/, https://www.soonapse.com/en/ |
| TicketO Mobility | Estonia | |
| Trinity International | India | https://www.linkedin.com/company/trinity-international-india/about/ |
| Viridian Logic LTD | UK | |
| WAKARU | Portugal | |