Event posted by

Blanche Cameron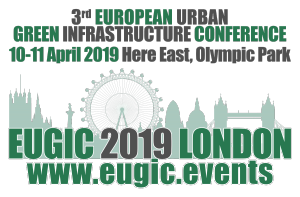 Wednesday, 10 April 2019

to

Thursday, 11 April 2019
Here East, Queen Elizabeth Olympic Park, London
On 10-11 April 2019 at Here East in the Queen Elizabeth Olympic Park, EUGIC 2019 London will bring world-class urban green infrastructure experts, practitioners, policy makers, designers and implementers to London to share and celebrate nature-based solutions for climate-adapted, resilient, healthy cities. 300-400 participants are expected.
This high-level European event will be opened by London Deputy Mayor for the Environment & Energy, and is co-hosted by The Bartlett, UCL and Loughborough University London.
This is the third in the series, following EUGIC 2015 Vienna and EUGIC 2017 Budapest.
The EUGIC process is closely aligned with the European Union's Green Infrastructure Strategy and highlights some of the EU-funded Horizon 2020 urban greening projects happening across Europe.
EUGIC 2019 London will also see the launch of the London Green Roofs & Walls Technical Report 10 year update, Greener Cities: London, Europe and beyond. 
Expert speakers, industry leaders, active participation - EUGIC is interactive, inspiring and fun!
As with previous conferences, participants are expected from a wide range of sectors:
Ecologists, biodiversity and green infrastructure experts
Cities, municipalities and local authority officers, planners, policy makers and strategists
Designers, architects, landscape architects and engineers
Investors, insurers, developers, builders and facilities managers
Transport, health and wellbeing
Community groups, NGOs, third sector organisations
Environmental media and communications
Academics, researchers and students
There are many opportunities to partner with EUGIC 2019 London, as Sponsor, Exhibitor, Endorser, Supporter, EUGIC 2019 London Awards entrant or workshop leader.
Become an Endorsers or Supporting Organisation - it's free and your members receive 33% discount tickets of £200 (from £300).
Contact the EUGIC 2019 London Team for all info: info@eugic.events