Event posted by

Vera Knill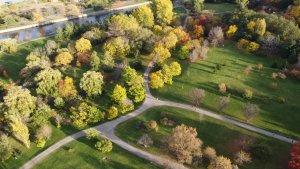 Tuesday, 18 May 2021 - 0:00

to

Friday, 21 May 2021 - 0:00 (Europe/Brussels)
Surviving the City - Urban Forests for nature-based health and happiness
To round off the Urban Forestry Semester 2021, a series of exciting events have been planned in Switzerland by ArboCityNet and the Swiss Federal Office for the Environment. Browse through the events of 'The Swiss Week' directly on the myEFUF app. Depending on the restrictions, there will be hybrid or virtual-only events.
Monitoring Ecosystem Services in Swiss Cities (May 18, 9:00 – 12:00 CEST)
Be ready to start the Swiss Week with an outdoor practical experience. You will get to know three methods currently being used to monitor the ecosystem services that urban forests offer to Swiss cities. The main goal is that participants learn through practical exercises how the ecosystem services are being monitored. Join in via the myEFUF app or see our program.
Philosophical thoughts on social isolation: in consideration of the tree (May 19, 11:00 – 12:00 CEST)
Join Naomi Zürcher (Arbor Aegis) for a philosophical discussion, reflecting on the impact of COVID-19 isolation "imposed" and relating that experience to what we impose on our urban trees. In consideration of the tree – a critical sharing of tree reality and what the practice of URBAN Forestry should encompass – the enabling of trees' communal connections rather than isolating them – an essential element in their well-being and thus ours. Join in via the myEFUF app or see our program.
Green Spaces and Urban Densification (May 20, 15:00 – 17:00 CEST)
Planning strategies for the sustainability of built habitats: How do we realise the change towards the paradigm of nature-based cities? What are the barriers to implementation? How can we better involve stakeholders, and which integrative methods can enable active and balanced participation of the different actors? You are invited to join in an interactive discussion with a focus on new stakeholder approaches. 
Further local events during the Swiss Week will take you on a guided tour through the exhibition "Trees in the City", and from Basel to Zürich to discover urban trees and forests to find out more about the future of urban trees and thus of our quality of life. See the myEFUF app and our online program for details.
EFUF2021 weeks – call for local contributions
In these uncertain times, we invite all EFUF sympathisers to organise local events to bring EFUF and urban forestry to your doorstep. Potential contributions include walks, webinars, talks, quizzes, workshops, art exhibitions, games, etc. The EFUF team will help you to bring your event live through the brand new myEFUF app. The local events are ideally organised between 26 March and 18 May (the "EFUF2021 weeks"), but the myEFUF app stays live and running afterwards. Get in touch with Bianca Baerlorcher (info@arbocitynet.ch) to discuss possibilities.