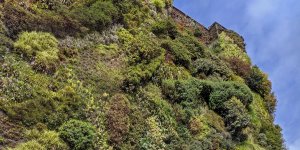 Monday, 14 December 2020 -

13:00

to

17:00 (Europe/Brussels)
Join the EU German Presidency Event on the European Green Deal and nature-based solutions (NbS) from 14.00 to 17.00 CET on 14 December, hosted together with the United Nations Environment Programme (UNEP) and the International Union for Conservation of Nature (IUCN).
The event's objectives are to create continued momentum towards NbS for people, biodiversity and climate and to demonstrate the potential of NbS to address our global challenges. The event will tackle both the internal and external dimensions of the Green Deal, focusing on action by the EU and its Member States, but also looking beyond, into the global agenda.
The virtual dialogue will feature high-level representatives from governments, international organizations, civil society and the finance sector and will be organized into two sessions.
The first will be a high-level panel (14:00 - 15:00 CET) for discussing developments in NbS and their potential in relation to the EU Green Deal and the global context.
The second session (15:00 - 17:00 CET) will feature two technical panels with a focus on implementation challenges and opportunities that arise in these domestic and external dimensions.
Event Outline
In response to the Covid-19 crisis, the EU and its Member States have committed to build back better. Covid-19 has exposed the fragilities and vulnerabilities in many existing systems and has highlighted the symbiotic relationship between humanity and nature. There is now increasing attention and momentum for NbS as exemplified by the 2019 Climate Action Summit NbS Manifesto, the 2020 UN Biodiversity Summit (including the Leaders Pledge for Nature), the UN Decade for Ecosystem Restoration (2021-2030) and the recently launched IUCN NbS standard. The building blocks are there, but NbS needs to move into mainstream discussions and actions affecting the realities of the post-Covid world and sustainable future. NbS should be fully integrated into the European Green Deal´s implementation and get incorporated in its nine policy areas, which range from sustainable agriculture to the circular economy and the biodiversity strategy.
In the months ahead, NbS will have to be further integrated into European policies and operationalized to deliver the EU Green Deal goals. To help unlock the investment needed, the EU must provide an enabling environment for NbS. The European Commission and EU Member States can lead by example when strongly integrating NbS into all relevant policy areas and linking climate and biodiversity action.