Event posted by

Valentina Nabjinsky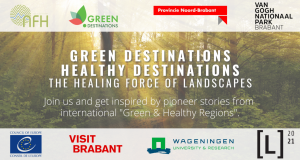 Thursday, 29 April 2021 - 14:00
The Healing Force of Landscape
Online Seminar on Green & Healthy Destinations in Europe 
On the occasion of Healing Landscape Day of the Dutch Landscape Triennale 2021 on 29th April 2021, the international seminar "Green Destinations - Healthy Destinations – the healing force of landscapes" will be organized, highlighting examples of 'healing landscapes' in Europe. The goal is to define and connect the "green & healthy landscapes" in Europe, to get a better picture and learn from each other. The three pillars of this online seminar are healthcare, natural landscapes and tourism recovery.
The corona crisis presents profound consequences to healthcare as well as to leisure & tourism, both in the short and long term. Health and green quality increasingly influence the choices we make. Since more and more regions wish to distinguish themselves as "healthy" and as "healing landscapes, speakers from across Europe will share their insights on the value of healing landscapes, as well as their successful experiences portraying a region in a green and healthy image where nature, well-being and recreation can intertwine.
Van Gogh Nationaal Park in Brabant is currently developing ideas to position itself as a healing landscape of international allure and would be glad to share thoughts and views with you. Several regions in Europe profile or distinguish themselves with a mix of attractive and impressive landscapes, spas and other places of relaxation. 'GesundLand Vulkaneifel' in Germany and the London National Park City will present their good practice in promoting a destination as a so-called 'therapeutic landscape'.
The event will be held online on April 29th 2021 at 2PM CEST (UTC +2) is organised by Nature For Health, Green Destinations, Provincie Noord-Brabant, Van Gogh Nationaal Park, under the auspices of The Council of Europe, VisitBrabant, Wageningen University & Research and Landschapstriënnale.  We are looking forward to welcoming you.