Event posted by

Rik De Vreese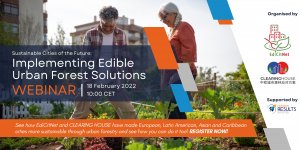 Friday, 18 February 2022 -

10:00

to

11:00 (Europe/Brussels)
Description and Scope
This webinar, organised by EU-funded projects EdiCitNet and CLEARING HOUSE, aims to share how they methodically used trees and plants across European, Latin American, Asian and Caribbean cities to show how cities of the future can be more sustainable. 
Across the world, societies are becoming increasingly urbanised with populations moving into larger cities. This presents a number of challenges. As cities become larger, living standards can suffer due to increasing demands. There are also logistical issues for the supply of fresh food as cities are generally far from the agricultural food sources.
Urban forest and farming solutions and the incorporation of "green infrastructure" are solutions that can make cities of the future more sustainable. These solutions should be explored not only within the halls of city government, but also by local neighborhoods organised by their local community leaders and grassroots organisations. 
Who should attend and why
The webinar is open to all, but the following are highly encouraged to attend, particularly those interested in green infrastructure, urban forestry, and urban farming such as:
Citizens, local community leaders, civil society organisations active in urban farming
Local government officials that want to utilise urban forest solutions for urban renewal