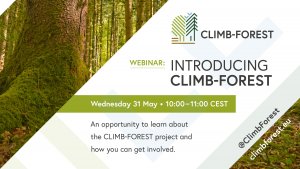 Wednesday, 31 May 2023 -

10:00

to

11:00 (Europe/Brussels)
Join the CLIMB-FOREST team on Wednesday 31 May – 10:00 – 11:00 CEST for an exciting webinar introducing CLIMB-FOREST, a new project aimed at ensuring Europe's forests maintain their climate mitigation capacities, are resilient to climate change, and support people and nature.
During this hour-long webinar, we'll provide an overview of the project and discuss how you can get involved. You'll learn about our collaborative approach, working closely with the forestry sector, policy makers, and a wide range of organizations to create practical outputs that will inform EU forestry policy.
We'll also discuss the challenges facing Europe's forests, from droughts and heatwaves to tree mortality, and explain how CLIMB-FOREST is using the latest research and forestry data to create new tools, interactive maps, and best practice guidance.
Whether you're an expert in forestry, a policy maker, or simply interested in the future of Europe's forests, this webinar is for you.