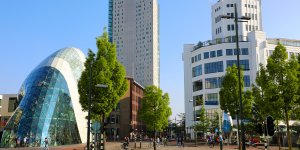 Thursday, 23 April 2020 -

11:00

to

12:00 (Europe/Brussels)
As part of a  iSCAPE and UNaLab webinar series showcasing projects across the globe, UNaLab project front runner city Eindhoven will be presented.
Several locations within the Eindhoven city centre with different characteristics demonstrate nature-based solutions in Eindhoven .
Eindhoven has implemented green spaces in several streets within the city, which previously were completely paved. By using less pavement, less water is channeled into the sewerage system, which reduces the risk for flooding. The city is currently greening the Vestdijk area and reducing traffic to improve air quality, while also improving the quality of the existing green areas to enhance the liveability of the street.
The city will also implement several nature-based solutions in the Victoria Park, which used to be a parking place for the cars belonging to the employees of the Philips company. Many of the parking places have now been removed and a lawn has been planted. The next step for the city will be to daylight the Gender river and to construct a park around it. The aim is to have greenery that can be mowed and which has a positive effect on biodiversity.