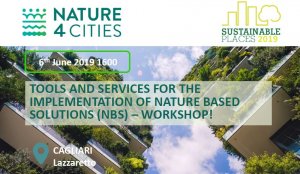 Dear NBS stakeholders,  
SUSTAINABLE PLACES 2019 in collaboration with Nature4Cities project will propose this workshop where methologies, market tools and services related to the NBS implementation will be presented and discussed. Such tools and services aim to assess your NBS projects before and after their implementation and to ensure you success stories!
The main objectives of the workshop are both to give a detailed overview of what is now available in the NBS field and how the EU-funded research projects are addressing it and to showcase the existing tools, technologies, methodologies and solutions used to plan, monitor, assess and manage Nature Based Solutions
The workshop will take place in CAGLIARI the 6th of june. 
Do not hesitate to contact us if you want to present your tools/projects/services as speakers, we can still change the agenda and include you!
Stéphanie Decker - Nature4Cities Project Manager