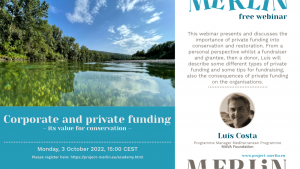 Monday, 3 October 2022 -

15:00

to

16:00 (Europe/Brussels)
This webinar, presented by Luis Costa, discusses the importance of private funding for conservation and restoration. From a personal perspective as a fundraiser, grantee then donor, Luis will describe some different types of corporate and private funding and provide tips for fundraising. He will also discuss the consequences of private funding on the organisation.
Luis Costa
Luis is in charge of the freshwater, terrestrial and species aspects of MAVA's Mediterranean Programme. A biologist by training, he joined MAVA in October 2016 with more than 25 years' experience in conservation. Luis is a founding member of Portuguese Ornithological Society (SPEA) and formerly its Executive Director (2004-2016). He has also worked at the Nature Conservation Institute, overseeing its aquatic bird census and wetland conservation plan, and authoring MedWet's standard methodology for inventories.