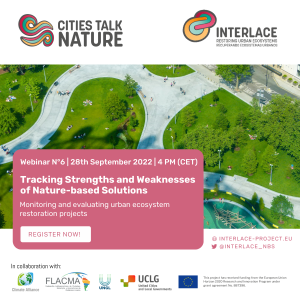 Wednesday, 28 September 2022 -

16:00

to

17:30 (Europe/Brussels)
On September 28, 2022 our sixth webinar took place in the framework of Climate Alliance's Annual International Conference. Titled "Tracking strengths and weaknesses of Nature-based Solutions: Monitoring and evaluating urban ecosystem restoration projects", the webinar aimed to orient urban practitioners and stakeholders in evaluating their Nature-based Solutions.
·   Isabel Melo from the Humboldt Institute Colombia introduced the "INTERLACE Pilot Assessment Framework for Restorative Nature-based Solutions", which aims to support practitioners to evaluate and oversee Nature-based Solutions projects. Download Isabel Melo's presentation. 

·       Martha Liliana Perdomo, General Director of the Botanic Garden of Bogotá, shared practical experiences in the implementation, monitoring and evaluation of Nature-based Solutions projects. Download the presentation in English or Español.