Event posted by

Valentina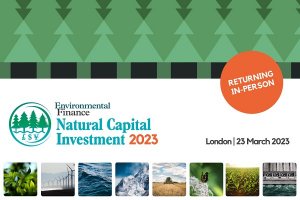 Thursday, 23 March 2023 -

0:00

to

23:45 (Europe/Brussels)
Environmental Finance is pleased to announce that its fourth annual Natural Capital Investment conference returns in-person, taking place on 23 March in London.
With the interest in ESG investing at an all-time high, institutional investors are shining a light on a previously sidelined indicator of environmental health: biodiversity.
But despite an increasing number of funds being created, natural capital investment opportunities remain limited, and biodiversity needs to be built into consideration of all companies and their investors.
Attend this conference to discuss the challenges and opportunities for financial institutions, investors, corporates, and service providers in this evolving space.