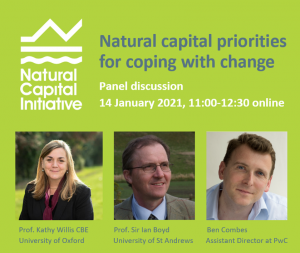 Thursday, 14 January 2021 -

11:00

to

12:30 (Europe/Brussels)
Please join us for a free online panel discussion with thought leaders from science, policy and business to discuss natural capital priorities for coping with environmental, economic and societal change.
Meet the panellists
Professor Kathy Willis CBE, University of Oxford
Professor Sir Ian Boyd, University of St Andrews
Ben Combes, Assistant Director at PwC
Chaired by Dr Laura Bellingan, Royal Society of Biology (NCI Chair)
Send your questions to the panel
Re-imagining the next decade
The pandemic has focused attention on the interconnectedness of people and nature, and the need for good environmental management. As well as the appreciation of access to nature and greenspace, awareness of issues such as food quality, wild nature, biodiversity risks, sustainability and fairness have been prominent. However, the severe negative economic impact of lockdowns on personal and national finances, and the uncertainties ahead, create a fiscally tough environment that could favour old favourite, safe-bet rapid return on investment options. Lately the popular focus on a green recovery has created a window for innovative thought-leadership on priorities for natural capital research, business and policy. It is essential that the societal, economic and environmental spheres are brought together to contribute to a broader re-imagining and shaping of the next decade.
The panellists will share short proposals on their priorities for natural capital research, policy and practice required to underpin a sustainable recovery and a better future. This will be followed by a chaired panel discussion with questions from participants. The discussion and distilled priorities will be communicated widely to act as a springboard for future dialogue and collaboration.
The Natural Capital Initiative is a partnership of the Royal Society of Biology, British Ecological Society, UK Centre for Ecology & Hydrology, and the James Hutton Institute.